Will Tech Really Help Us Embrace Our Humanity?
With fears about "AI stealing our jobs," information filtered through algorithms, the countless problems exacerbated by social media, and of course, the uncertainty of a global pandemic, it's hard to feel as hopeful as Tim Cook did in this now-famous 2017 MIT speech.
That said, in 2020, we're starting to see some shifts taking place—on social media, smaller, closed groups have been gaining traction over the past couple of years.
Soft skills like collaboration and empathy are "in" again and people are increasingly seeking deeper connections with others, moving away from the polished perfection associated with influencers and brands.
Here, we'll look at some of the ways we're starting to use technology to extend our "human-ness" and improve its role in our lives."
Technology & Well-being
Historically, technology has always been good for humans. Medical advances have enabled most of us to live beyond 40. Industrial innovations paved the way for better working conditions and higher incomes. And, the internet, of course, has changed just about everything.
According to a McKinsey report, there are three technology categories that stand to improve human well-being across several categories in the near future: data and AI, connectivity and platforms, and robotics.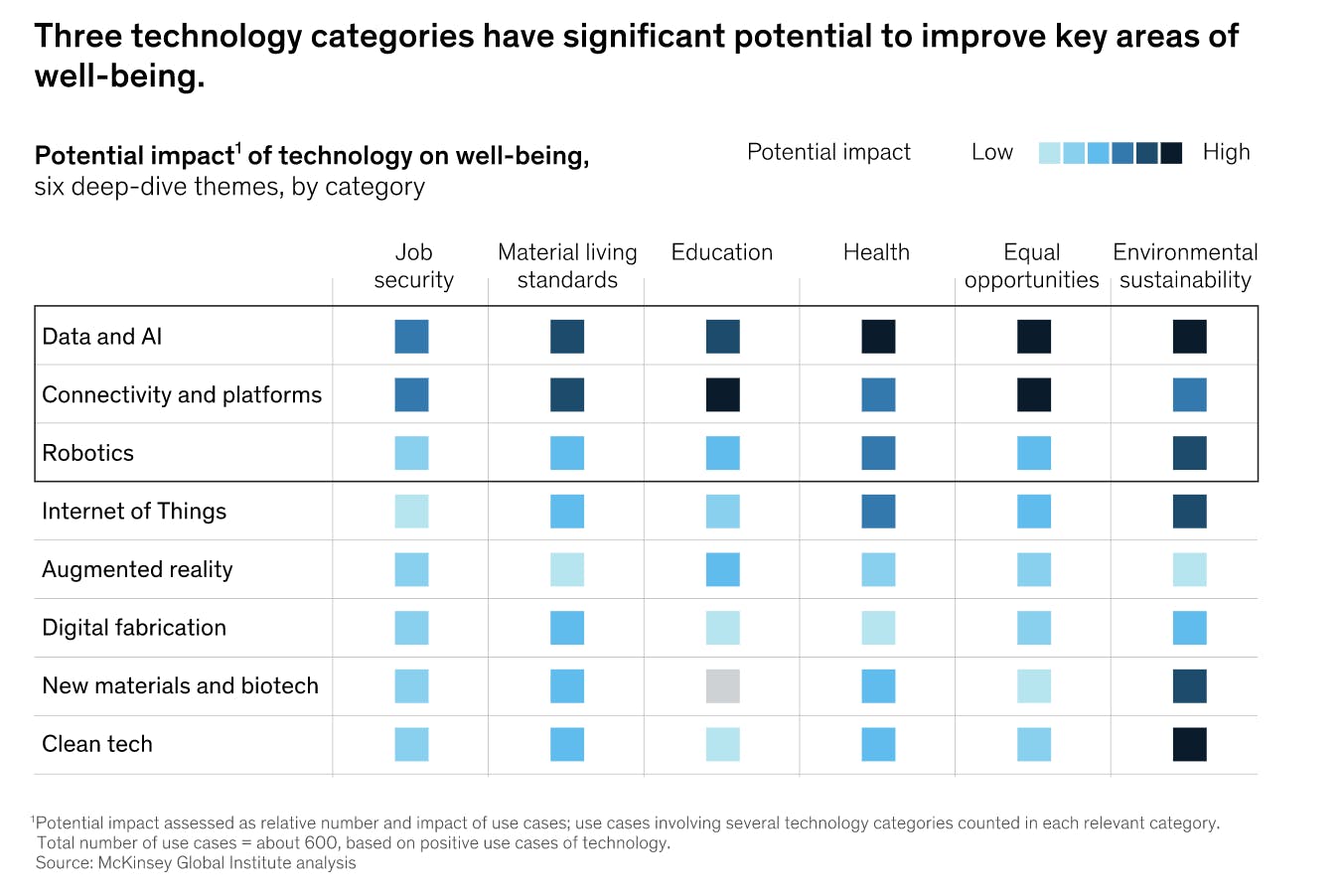 While these three areas aren't exactly at the cutting edge of technology anymore, here's a quick summary of how analysts expect they'll improve our lives:
Data & AI
Big data and AI, of course, are huge money-makers for tech giants and global enterprises, but they can also be used to improve hiring practices, free humans from manual tasks like data entry, and provided tailored learning solutions to help workers keep their skills relevant.
Connectivity and platforms
The impact of things like social media, video conferencing, and WiFi access have been well-documented, however, sectors like finance and medicine are now leveraging mobile networks to provide underserved communities with access to services they've long been excluded from. Additionally, advances in this space have made remote independent work accessible, recruiting easier, and is increasingly being used for upskilling workers.
Robotics
Robots are increasingly becoming an accessibility tool, opening up more opportunities for people with disabilities to communicate with others and get around more easily.
In these next sections, we'll take a look at how technologies are changing the human experience online and at work.
Connectivity and Social Media Quality Controls
Speaking of connectivity and platforms, recent changes to the social media landscape have made some waves among brands and influencers, to be sure. Instagram's algorithm has shifted to prevent branded content from reaching organic users.
Facebook has responded to privacy concerns post-2016 by shifting its efforts toward messaging platforms, Groups, and Events--all aimed at nurturing closer connections. And while these changes certainly help Facebook continue to sell ads, they also respond to shifting public perception.
A 2019 report from Edison Research and Triton Digital revealed social media use among 12-34-year-olds across several channels either stopped growing or started to wane. Another report found that 29% of respondents felt "overloaded" by the experience.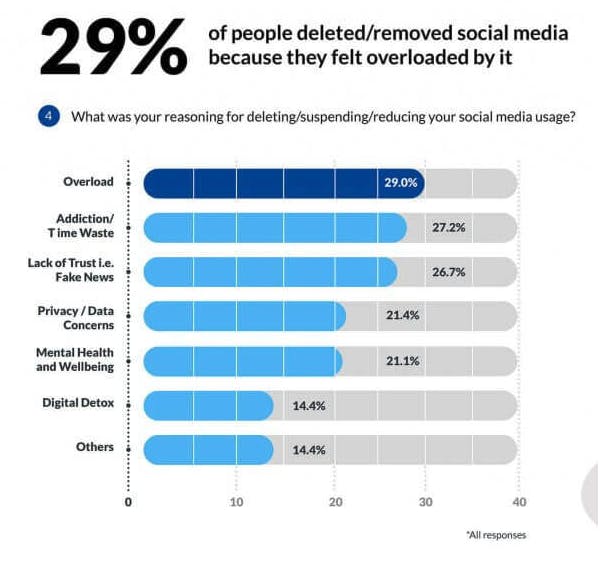 Brands Catering to Communities & Subcultures
A 2019 survey from creative agency, ZAK found that about two-thirds of respondents prefer closed groups to open forums, as it allows them to "share more openly."
This has likely always been true, however, when social media was brand new, the ability to connect with as many people as possible felt exciting. Now, we're collectively working toward using digital technology as a way to build community.
While you can create communities on channels like Facebook or LinkedIn, Reddit Groups and Private Slack Channels remove the obligation to "post content" and focus more on the discussion.
Here's an example from a digital marketing group: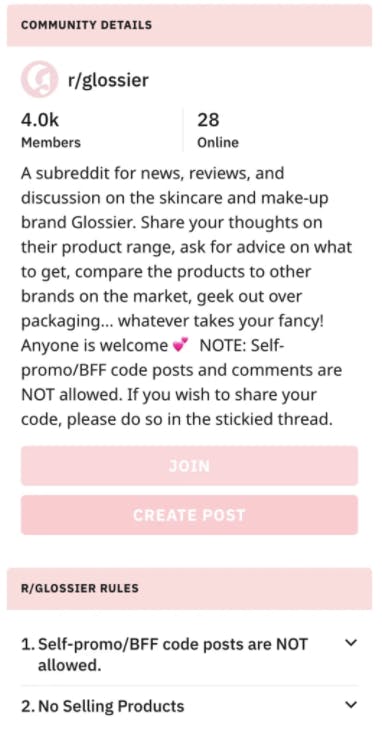 According to a SproutSocial survey, 79% of consumers say brands have a unique ability to bring people from different backgrounds together around common interests. However, for those looking to leverage closed channels, there needs to be a greater focus on relevance.
As you can see in the graphic below, marketers often have a different idea of what people want to see.
Pay close attention to user behavior, dig deep into audience insights, and interview real customers to determine how to deliver the most value to niche communities.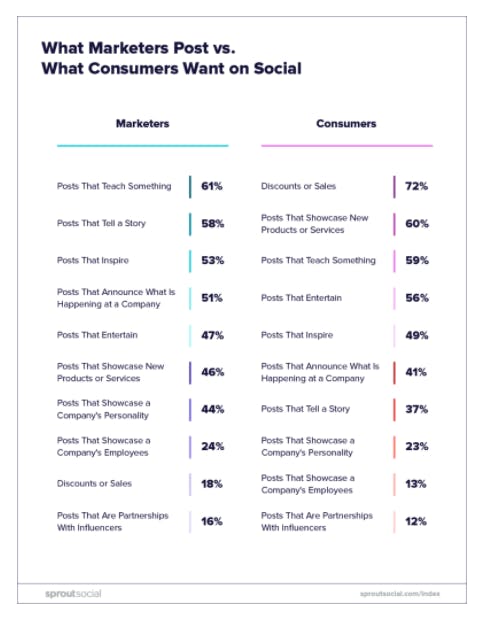 Public social media channels aren't going away any time soon. They're still a valuable resource for discovering new products, websites, and sources of entertainment. However, increasingly, we're getting a better sense of what kind of content belongs on the main feed compared to what interactions are better-suited to private groups.
You might think about the breakdown as follows: public feeds should be used to generate awareness, capture leads, or drive traffic to blog posts.
Private channels are perfect for building relationships--whether that's a one-on-one interaction or among members of a closed niche group (aka no blatant promotion) Here, your goal is to provide value--whether that's exclusive content, access to industry experts, or a space to connect with like-minded people.
Technology is Helping Us Embrace Our Humanity At Work
Communications platforms, cloud-based collaboration tools, and shared access to documents have made it possible for more people to work remotely or independently. In fact, about a third of US workers do some type of remote, freelancing, or project-based work.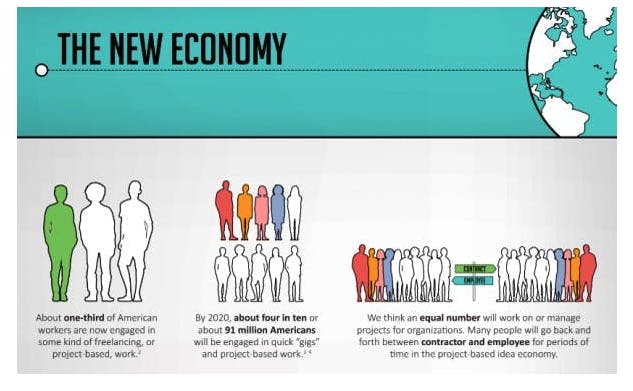 While many workers and organizations are well-versed in this stuff, more traditional companies will need to consider how to reimagine "work" to attract and retain employees that value freedom and flexibility.
This graphic from Deloitte breaks these considerations into a neat three-step process.
What can be automated so that workers make better use of their time? An example might include offloading simple customer service tasks on chatbots like answering common queries or helping users locate the information they need.
Who does the work? Freelancers? Full-timers? Robots? All of the above?
Where do people work? How do they get things done? What tools are needed to support collaboration and efficient workflows?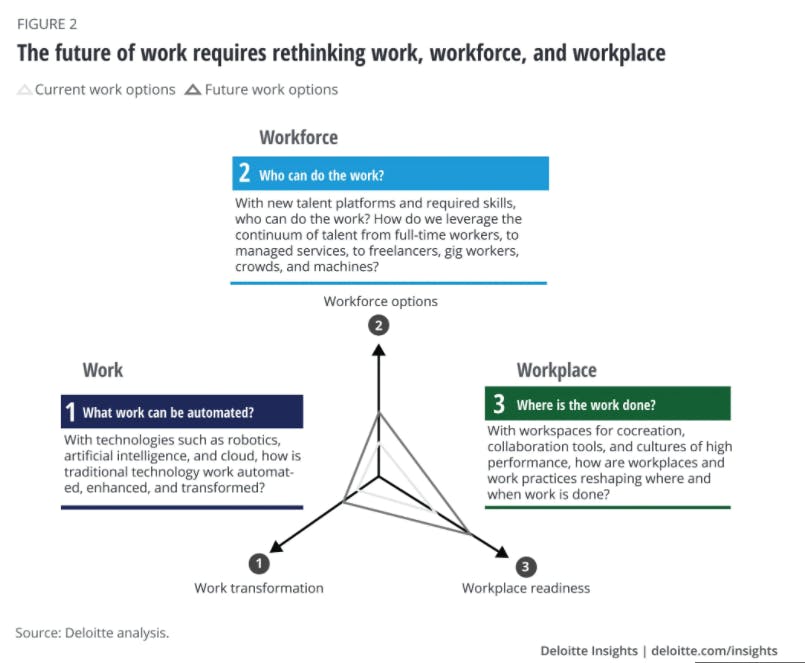 Better Talent Solutions
For better or worse, we've seen the rise of AI-driven hiring tools like candidate-screening robots and automated resume review--which could put job seekers at a disadvantage. That said, technologies like smart talent platforms can match candidates and companies at a faster rate, reducing lulls between jobs.
Machine-learning and AI tools can also play a role in helping companies fight the unconscious bias responsible for workplace inequality. For example, Textio offers a solution that applies machine-learning to job postings to remove biased language that inadvertently attracts more male applicants.
Business leaders are increasingly gaining the understanding that education and learning are key to keeping pace with rapid change.
Everything Considered, the Pandemic Stands to Shake Things Up Again
While the trends we've discussed were rising well before the pandemic was on anyone's radar, there's no doubt that this unprecedented situation is accelerating changes in our online behavior.
What's interesting is, people are looking toward channels like Zoom or Houseparty to facilitate social interactions, as opposed to the "big socials," again pointing toward a desire to connect with select groups over the general public.
On the brand side, live events have gone completely virtual. Video networking events, online happy hours, and video-based educational resources are working their way into the professional landscape. And, of course, most work is happening at home.
At this point, it's anyone's guess how our relationship with technology will evolve, though we're hopeful that we'll find new ways to connect and bring meaning to work.