What is a Sales Funnel?
First things first. Let's talk about what exactly a sales funnel is. Simply put, the funnel represents a visualization of your visitors' journey from stranger to customer.
Generally speaking, you'll see the sales funnel represented as a graphic with multiple stages. Some experts say the sales funnel contains three stages while others say it contains as many as seven or eight.
While the number of stages and what they are called vary considerably, the concept remains the same. At the top, you'll find new visitors who don't know much about your brand and at the bottom, you'll have people right on the verge of making a purchasing decision.
Funnels vary by goals, by industry, and how your brand defines a conversion. But, regardless of whether you're a simple "attract, convert, close" kind of person or an "awareness, interest, evaluation, decision, purchase" type, you need to understand your sales funnel if you want to optimize it.
Keep reading to learn more about sales funnels and how you can use them to influence how visitors get to know your brand—and eventually, become loyal customers.
Sales Funnel Basics
Do a quick Google search for the term "sales funnel" or "what is a sales funnel" and you should see something like this: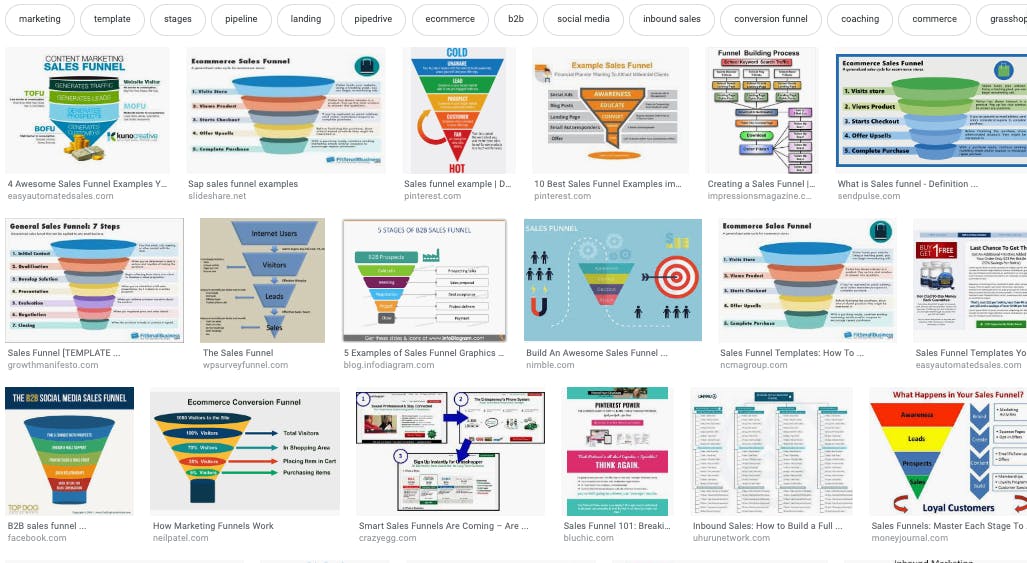 Though sales funnels come in a wide range of variants, they all follow the same basic concept. There's a top, middle, and bottom--each requiring a slightly different approach when it comes to marketing and communications.
Let's have a look:
Top of the Funnel
At the top of the funnel, goals tend to focus on generating brand awareness, attracting traffic, or drawing new leads into a larger nurturing effort. Marketing efforts are less centered around selling and more focused on being helpful, interesting, and trustworthy.
Content should center around high-level topics with broad appeal. So, instead of looking at features and key benefits, you'll want to spend time creating content that shows off your company culture.
Think video clips, behind-the-scenes content, and general tips and tricks. A few common types of content you might use to introduce your brand to a new audience:
Blog posts
Webinars
Videos
Newsletters
Middle of the Funnel
In the middle of the funnel, things start to heat up. Here, the goal is all about direct customer acquisition. Content should focus less on building this sense of interest and more on demonstrating real value.
In this stage, prospects are trying to figure out whether they want to buy from you. So, you'll want to offer up content that gives them more information, as well as paints a clear picture of how your solution will help them reach a specific goal.
Content used in the middle of the funnel might include the following:
Case studies
How-to guides
Demo videos
Product descriptions
Blog posts
Detailed product demos
Testimonials
Personalized explainers
Video case studies
Videos showing products in action
Bottom of the Funnel
Bottom of the funnel content should provide a final push toward the conversion. This content is often used by the sales team and tends to be more technical while highlighting specific features, benefits, and use cases. Make sure you use calls-to-action to prompt prospects to take action
Examples include the following:
FAQ videos
Customer testimonials
Virtual walk-throughs/product demonstrations
Case studies
Pricing information
Technical specifications
Retention
At this stage, you've already convinced the customer to commit to conversion. But, the work is far from done. In order to retain customers, you'll need to focus on keeping them happy so that they convert into repeat customers and brand advocates.
Here, your aim is to keep the customer engaged with your product or service—whether that's trying to get them to buy more items from your online store or simply not cancel their subscription.
In this stage, you'll want to create content that ensures that your brand stays top of mind—long term. It's about keeping that relationship alive—ideally in a way that feels personal and relevant.
A few methods:
Emails
Thank you videos/messages
Special Offers
Surveys or review requests
How-tos—related to products they've bought
Help documents
Onboarding videos
Video tutorials
As you can see, each stage of the funnel requires a slightly different approach. Beyond moving from top to bottom, it's also important to note that the funnel changes a bit depending on the industry you're in, how much your products cost, and other factors. Here, we'll look at how sales funnels change based on business type:
eCommerce Funnels
We like this example, courtesy of Shopify, as it shows a few different examples of how an e-commerce brand might think about the customer path.
If you have an online store, you're likely attracting your audience based on a variety of methods from Facebook and Instagram ads to Google Shopping campaigns and content marketing.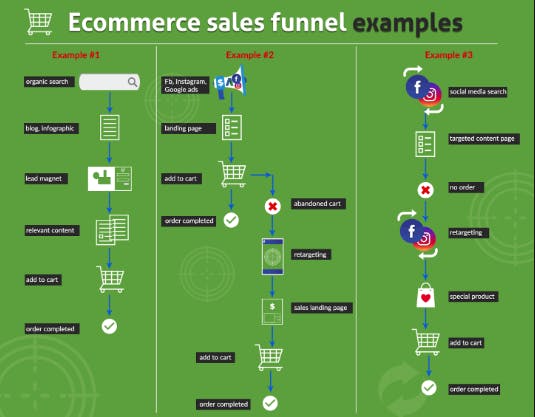 In this case, the e-commerce brand needs to first, create content and offers that appeal to the first-time buyer.
Social platforms like Facebook and Instagram are perfect for this, as they offer an easy way to get in front of an audience while showing products in action. In this case, you'll attract customers using a mix of paid and organic social media content, which then directs users to a landing page.
As you can see above, there are a couple of things that can happen here--the visitor might buy something right off the bat. Or, they might browse, add some items to their cart, and ultimately decide not to buy.
At that point, e-commerce teams can nurture the lead through retargeting (you know, those ads that follow you around the web) or through email marketing (if they signed up for an account). During the nurturing phase, you may want to present a new customer offer, make recommendations, or use video stories to provide a close-up view of your products "in the wild" so to speak.
It's also worth noting that, in e-commerce, the sales cycle is shorter than something like B2B or professional services, where the prospect may take a long time to weigh other options. If you sell clothing, customers can choose your brand and a whole host of others. Your big challenge is connecting on multiple touch points and maintaining brand loyalty.
SaaS Sales Funnels
Beyond getting leads to take things to the next level, SaaS companies face a retention challenge. Often, customers pay on a monthly basis or they're locked into a yearly contract. So, after the initial close, brands need to make a conscious effort to provide value and keep users informed long-term so they stick around.
If you'll look at this example below, that big arrow pointing backward represents that .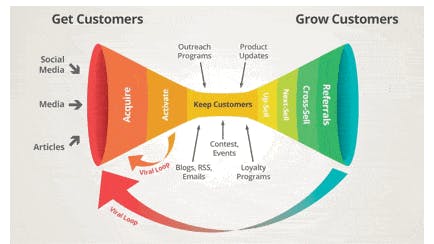 One of our SaaS clients, ONTRAPORT uses video to book onboarding and increase sales demo attendance. If you look at our case study page, they explain that they were booking a lot of online appointments, but found that leads and customers didn't always show up.
According to Brendan, from ONTRAPORT, adding Bonjorios to the sales funnel at two critical mid-funnel stages increased onboarding and sales appointment attendance by almost 15 percent.
Creative Sales Funnels
We should approach this one with a brief explainer. Our site tends to use the term "creative" to describe businesses like photography or graphic design.
While this might not look exactly like a sales funnel designed for the B2B set or eCommerce, the basic concept is similar. You're still using tools like email marketing, PPC, and social media to attract leads. And, you're still relying on nurturing that relationship toward a final goal of a conversion.
We'll borrow this funnel from one of our clients/integration partners, ConvertKit. They've put together a path freelancers/creatives can use to move leads through the funnel.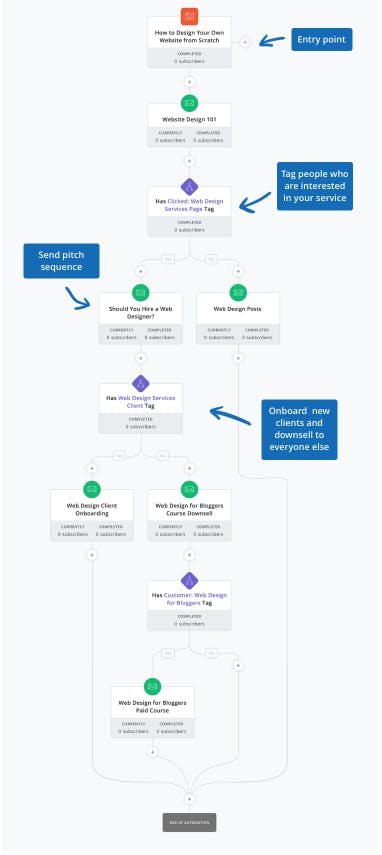 You'll notice that this sequence is a bit longer than the generic "attract, convert, close" model, but what they've done here is, map out the content a potential client might review before deciding whether the service meets their needs. Along the path toward onboarding, content should seek to answer common questions.
Another one of our clients, Anchor & Veil Photography found that adding video during the "attract" phase, or the top of the funnel, allowed them to quickly build rapport with their audience. If you watch their video, it's super personal.
Devin offers a "congrats" to customer Kathryn and her fiance, but this is a nurturing video, aimed at building trust. Let's say Kathryn requested a quote or wants to know more about the process. Devin's video suggests that Anchor & Veil is friendly, easy to work with, and genuine, it's a great first impression.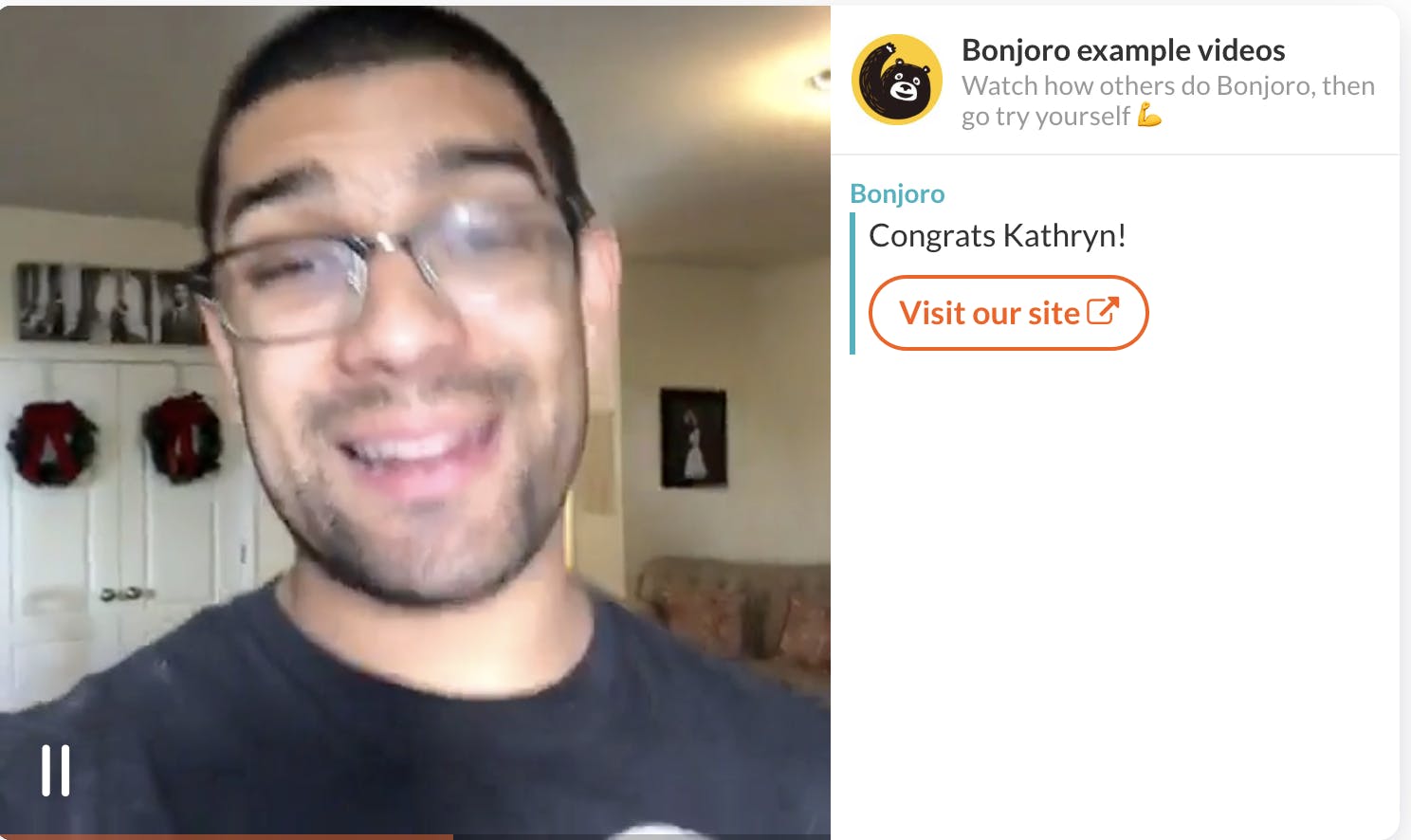 Bottom Line: The Sales Funnel Represents Your Plan of Attack
Whether you're trying to guide potential shoppers toward buying that game-changing pair of shoes or nurturing a high-stakes SaaS prospect into finally signing up for that live demonstration you've got on the books.
Sales funnel management means delivering relevant, personalized content to your audience from that initial introduction to the final close. It also means delivering that content at the perfect time.
Bonjoro integrates with several CRMs and email delivery tools, which can help you ensure that your video content makes it to the right person, when it matters most.
Sign up for a free Bonjoro account to explore how video can power up your funnels from the very top all the way down to the retention stage.