The Bumper Guide to using GIFS for Sales and Marketing
Be it an emoji-filled subject line or a viral meme, when it comes to embracing the lighter side of digital media, brands can have trouble toeing the line between sounding like the "cool mom" trying a new slang term and coming across as stuffy or overly formal.
And while brands do need to approach their GIF strategy with some caution, interactive visuals have made their way to the mainstream--and that spans a wide range of tones, aesthetics, and uses.
SaaS companies, restaurants, e-commerce sellers, and B2B brands are using GIFs to share mini product demos, create eye-popping ads, and make a personal connection with their customers--no cringing necessary.
GIFs can act as an interactive call-to-action, help you stand out on social media, and help your customers understand exactly what you have to offer. Here's more about how you can use this versatile medium:
GIFs for Marketing and Sales: General Best Practices
Brands are often wary of using GIFs because they're worried that they'll embarrass themselves by attempting to be relevant. But, again, getting on-board with GIFs is all about rethinking your perception of the medium.
While GIFs can be added to just about any marketing strategy, you must follow a few basic rules when working the medium into your communications.
Understand When Using a GIF Makes Sense
It's important to think carefully about how you use GIFs in your sales and marketing materials.
HelpScout came up with this helpful graphic you can use as a quick reference for when to use a screenshot versus a GIF or video to communicate an idea to a customer: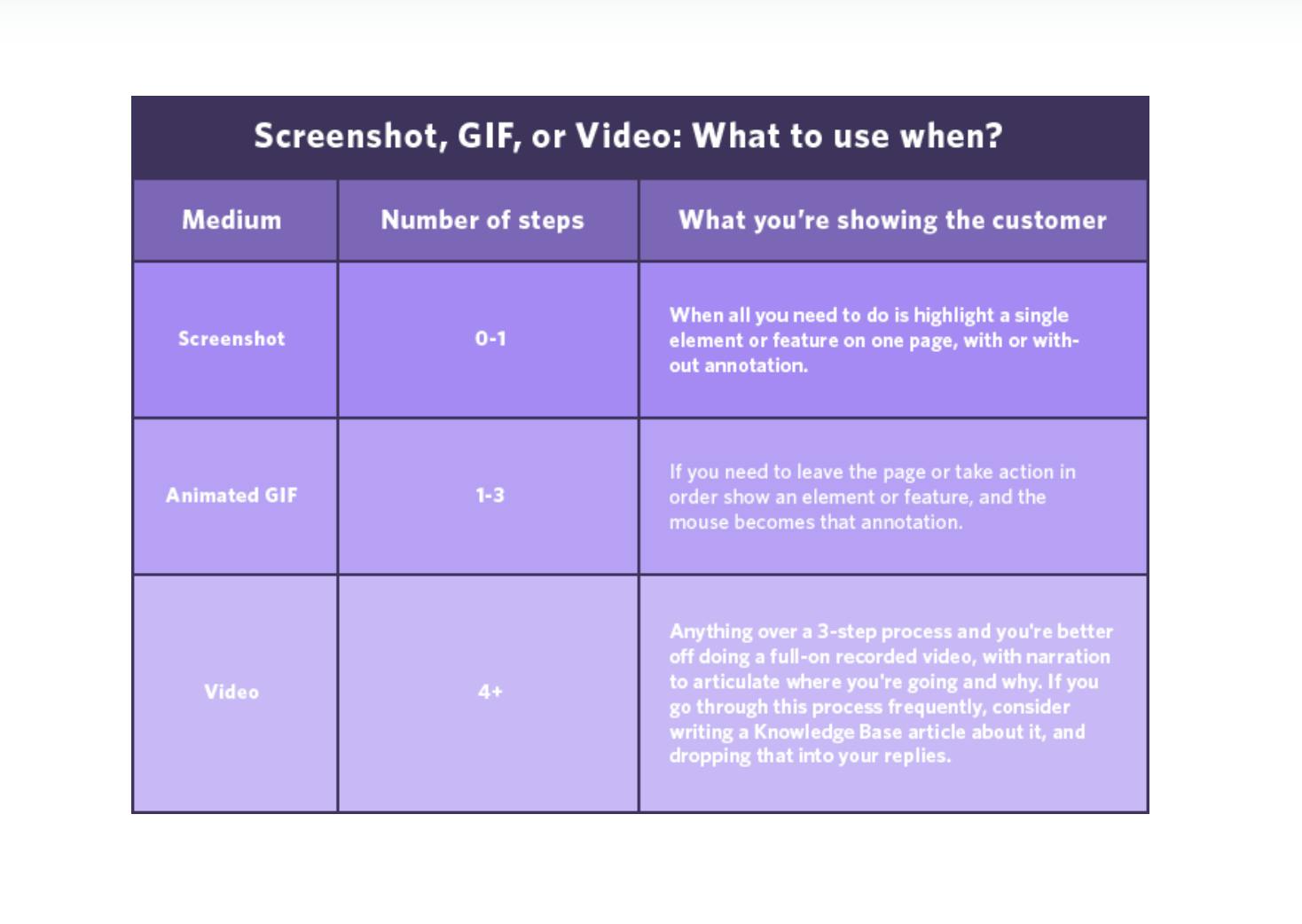 Can you represent this idea with an appealing visual?
Does this GIF align with your brand's voice?
Could a specific idea, feature, or benefit be enhanced by adding a GIF?
Would your audience feel compelled to share this?
How does the GIF speak to an emotion or create value for your audience?
Keep Things Short and Sweet
GIFs and videos are not the same. A GIF is almost like an emoji, a picture, and a video rolled up into one. The main thing to think about is, you're trying to communicate an idea in an instant.
Whatever you aim to get across in your GIF should be made clear in five seconds or less. Anything that demands more time is probably better off as a video.
Brand When Possible
If you're simply sharing a funny cultural reference on your socials, no need to worry about branding too much. However, when you're using them as a way to highlight your products, service, or brand, make sure you include a logo.
Cite Your Sources
When you use a GIF that someone else created, be sure to cite that source in your text. In most cases, you can approach this the same way you might cite a photo in a blog post, adding a link to where you found your material.
Ditch the Watermark
Some GIF-making websites stamp a branded watermark on your creation. Make sure you use a service that doesn't force you to advertise on their behalf, as it makes you seem less professional.
Know the Copyright Rules
In most cases, you should be okay using a GIF from a GIF finder like Facebook or GIPHY and crediting the source. However, GIF copyright rules occupy this legal gray area. As it stands, there's no law in place that determines whether GIFs made from copyrighted material qualify as an infringement. For now, GIFs fall under the definition of fair use due to what's called the transformative factor, which covers things like parodies and commentary.
For brands using GIFs to sell, the ethics are a bit murky. We recommend playing it safe and using original material for anything that is obviously an advertisement.
Steer Clear of Anything Too Referential
Stick with universal themes like reaction shots, cute animals, or branded content. While you might have a good idea of what your customer's shopping habits look like or which subject lines they're most likely to open, GIFs are a pop culture playground. You want to incorporate them in a way that makes your intent obvious.
How GIFs Can Help You Dominate the Inbox
Email marketing is still one of the most effective ways to communicate with your audience.
The problem is, people get so many emails daily that brands need to do more to capture subscriber attention.
GIFs are an appealing addition to the inbox, due to their ability to instantly capture an audience's attention and increase engagement. And, according to research from Litmus, a majority of brands now use animated GIFs in their emails "at least sometimes."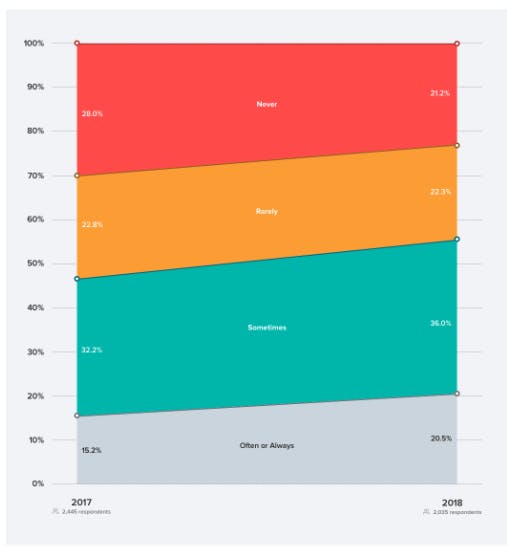 According to the Email Institute, emails with embedded GIFs received an increased click-through rate of up to 26%.
Marketing Sherpa found that adopting GIFs increased click rates by 42%, conversion rates 103%, and the total revenue by 109%.
And BlueFly reported emails with GIFs generated about 12% more revenue than those with static images.
As evidenced in the stats above, GIFs can help you get more out of your email marketing strategy. They make emails more interactive—thereby boosting engagement.
Use GIFs to Show Your Personality
GIFs are one of the most common ways people express themselves on social media, using them to react to events, news, and personal situations.
For brands, they present an opportunity to embrace authenticity, getting away from traditional advertising formats that might alienate customers. GIFs help you add a dash of humor to your posts and connect with audiences through the screen.
They're also an effective way of sharing your brand's personality, which can come in handy if you're running brand awareness campaigns or working to build customer loyalty. Instead of pushing products 24/7, GIFs allow brands to create something their audience can enjoy and share with others.
Let your personality shine through in your product posts. This example from Bonobos uses matching prints to reinforce the "be bold, be original" concept.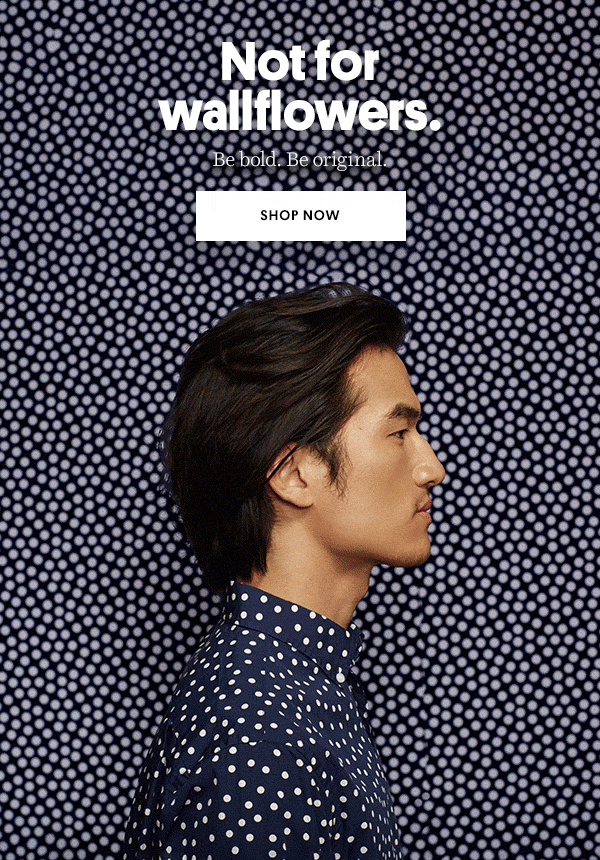 Or, try using GIFs as a way to show off your company culture or what happens behind the scenes.
An example we found on Wix's blog does a good job humanizing the brand. While there's not a ton of context for how workers spend their day, you get a glimpse into what the team looks like (always nice to see faces) and that there's a bit of fun built into the culture.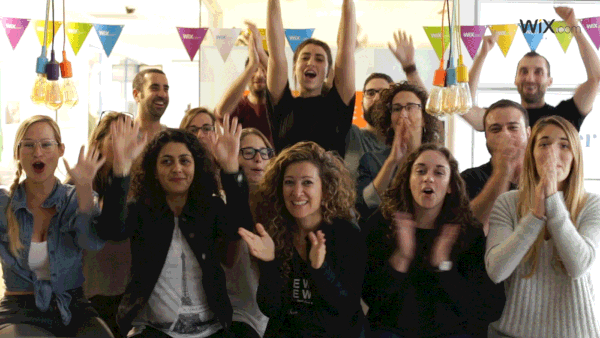 Why Not Say it With a GIF?
According to Psychology Today, there's a large body of research showing that visual cues make it easier for us to remember information. Where text can be misinterpreted, GIFs deliver clarity and emotional impact that connects you with your audience.
According to a 2017 survey, about two-thirds of millennials said GIFs made it easier to communicate ideas and feelings than words.
As such, brands can use them to communicate a message quickly or tell a compelling story in six seconds instead of six written paragraphs.
Use GIFs to create step-by-step how-tos, convey an emotion, and create interest by tapping into the mesmerizing combination of visuals and motion.
Show Off Your Products
As we've mentioned before, video is one of the best ways to get people to buy more stuff, since you're able to communicate how a product or service works and what it looks like from multiple angles.
GIFs strike the perfect balance between producing a full-on video and limiting yourself with still images. Plus, you'll have the potential to do more in a short time frame by combining different visuals that highlight multiple features.
Using GIFs as a selling medium can take many different forms, depending on your industry. For example, an e-commerce seller will likely focus on highlighting products, whereas a SaaS brand may choose to highlight benefits and condense complicated features into digestible tidbits.
Here are a few examples of product-centric GIFS, across verticals:
E-commerce
On the retail side, Kate Spade is an example of a brand that has really embraced the format. The brand shows off popular styles of bags, shoes, and accessories using GIFs combined with eye-catching graphics and bold use of color.
These designs get customers excited about new products in a way that seems miles ahead of a still photo.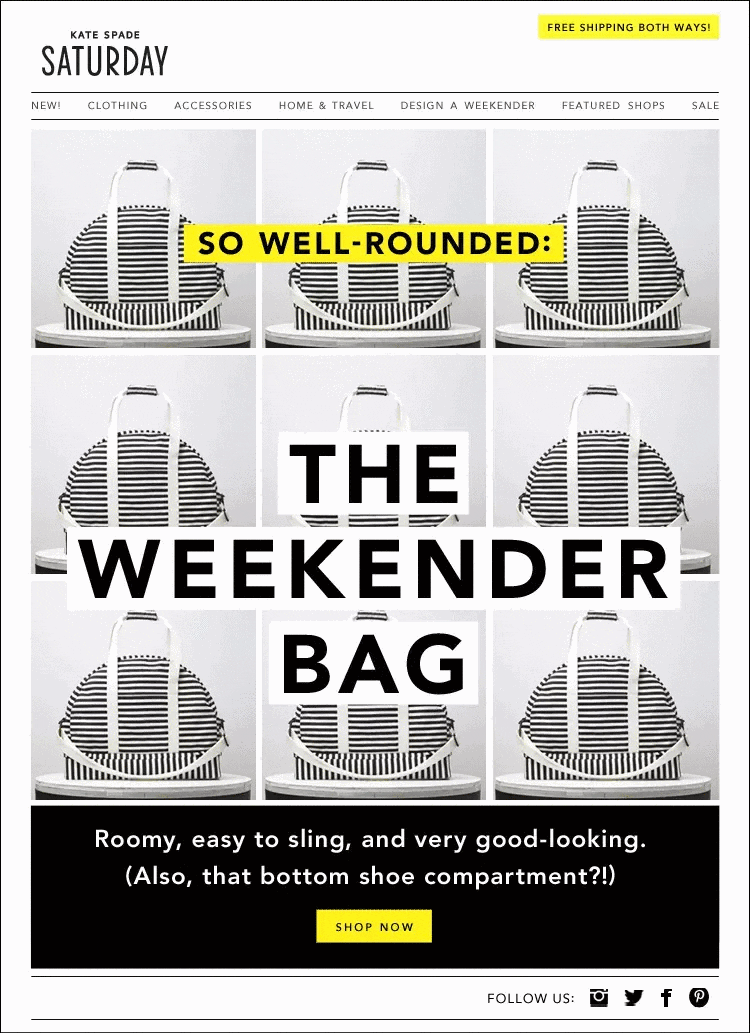 Another example is this promotional email from Boden. This GIF contains an element of gamification with the wheel spin graphic highlighting promotions. It's colorful and the motion makes us want to stay awhile to see what the next offer will be.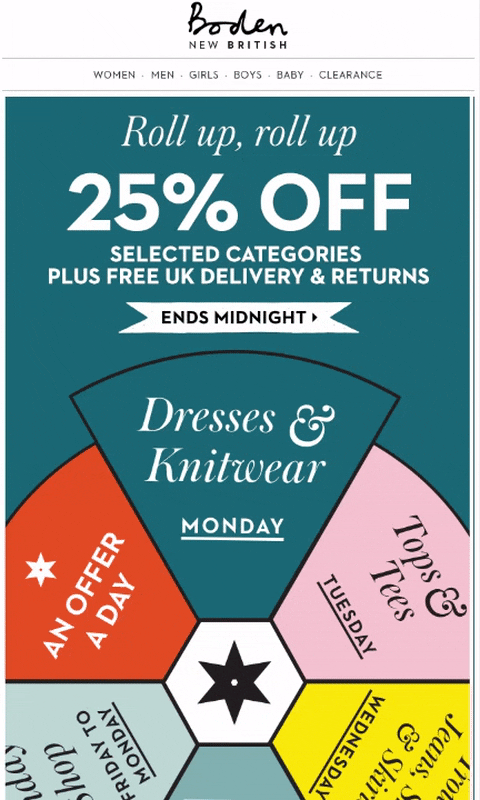 Food & Bev
A unique example comes from the beer company, Dogfish Head. They ran a whole marketing campaign based on short GIFs showing off all that goes into their seasonal ale.
This works well because it's on-brand. The brand isn't attempting to make a viral meme. Instead, the campaign comes across as very professional—or in their words—journalistic.
Though Dogfish Head is a relatively well-known brewery, we could see this idea working with online-only stores—think companies with niche products or a unique process.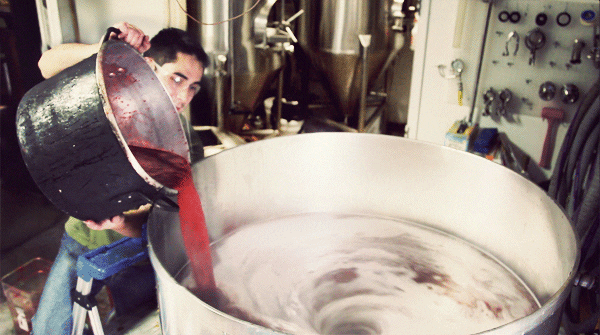 Technology
On the complete opposite end of the spectrum is Dell. While it's not especially whimsical or humorous, the computer company does an awesome job giving shoppers a clear picture of how their convertible laptop works.
The final result is much more impactful than explaining how the device moves from laptop to tablet via text.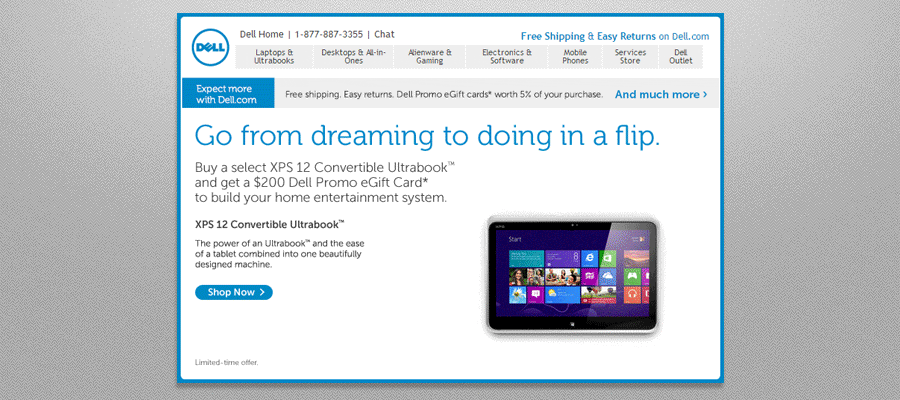 SaaS
Here's one from HubSpot that manages to take a slice of pop culture and work it into a post about SaaS pricing structure. Even better, the caption highlights a benefit – their clear, frictionless pricing structure.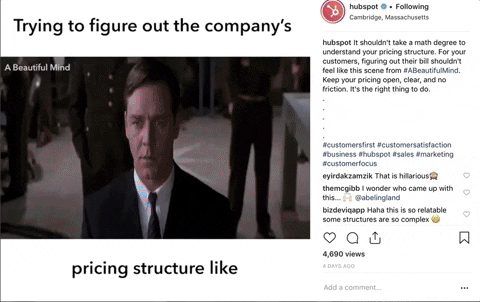 How-To GIFs Power Up Sales and Marketing
For SaaS companies, demo videos or tutorials are one of the best ways to let potential users know what your software can do. With video, you'll need to make sure you direct people to the right place--and make sure they click the play button.
GIFs present a workaround by playing automatically, allowing you to communicate just how each feature works in a matter of seconds. Fit them in a blog, on social, or embedded in an email.
MailChimp is a master of the GIF. Every time they roll out a new feature or update, they use GIFs to show customers what it looks like in action.
Here's an older (but still relevant) example from the brand that shows users how to use their list functionality. MailChimp has a ton of different features. By highlighting them individually in small doses, they make the platform more approachable for newcomers.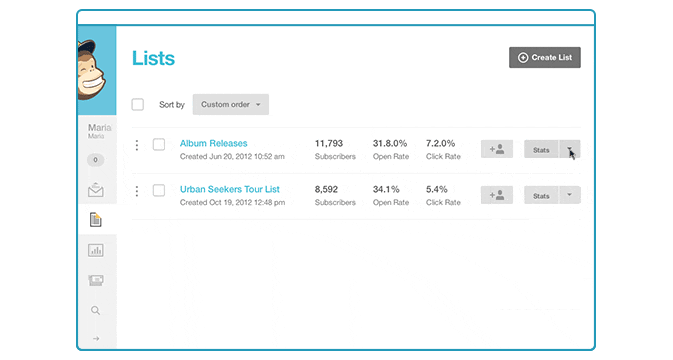 Give Text-Based GIFs a Chance
Not every occasion (or brand) calls for a busy, bright-colored GIF. Sometimes, understated just feels right. Take a look at what Typeform has done here: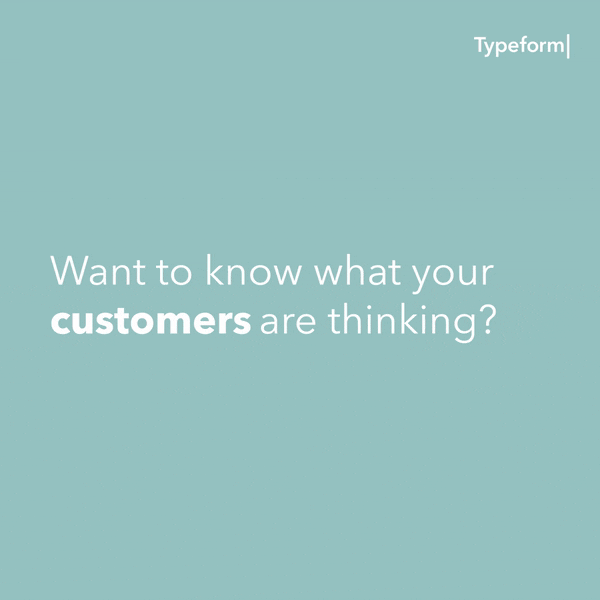 They give us just enough to capture our attention using the changing text. The key here lies in choosing contrasting colors, clean fonts, and sticking with your brand's logo and identity.
Additionally, you'll need to spend some time on the copy. Consider this a series of subject lines or calls-to-action.
Turn GIFs into CTAs
Drive your customers toward action whether you're reaching them in the inbox, on social, or from a blog post. GIFs are the perfect alternative to wordy CTAs and can be used to drive newsletter sign-ups, clicks, or some other next step.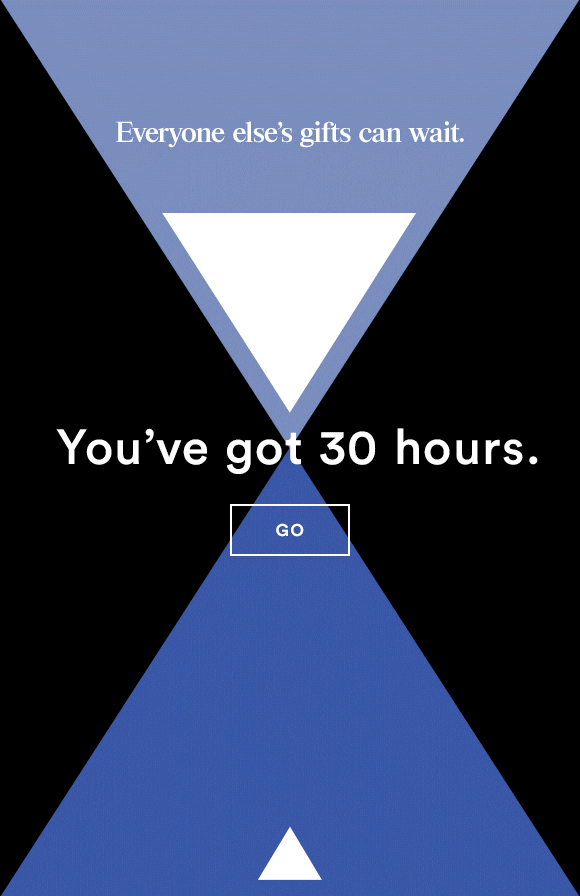 While the Ann Taylor example is a good use of the GIF CTA in email, this approach is also really effective in Instagram Stories or Facebook Ads.
The benefit here is, the animation guides the viewer's eye toward a specific action, without coming across as pushy or high-pressure. Think of it as a friendlier way to say, "hey, click here."
Improve Customer Support
GIFs also have a place in a customer support context. Many businesses handle customer support on social media channels or live chat, and GIFs provide a simple way to add a human touch—since they're a digital stand-in for non-verbal communication.
Since customer support has become increasingly automated, GIFs present an opportunity to share something funny with a customer, giving them the sense that they're talking to a friend.
Some ways you might use GIFs in your customer support communications:
Level up your social media communications
Share personalized tutorials in GIF form
Add some "humanity" to live chat
Let customers know you appreciate them
Introduce yourself to a new client
The list goes on. Just keep in mind, while GIFs are an excellent way to reach out to a happy customer or make new connections, they might not be the best way to respond to an angry customer. In that case, err on the side of caution and leave humorous GIFs out of the occasion, as it could make the situation worse.
Boost Your Blog Posts
These days, the content marketing game is trending more toward longer pieces that provide a deep dive into a topic. Particularly in the SaaS space, blog posts can get pretty darn long.
According to a 2018 industry report by Social Media Examiner, blog content containing relevant images helped participants retain 65% of the information when asked about it three days later. Participants that were asked to read the content without an image only retained about 10% of the information on average.
GIFs kick things up a notch. Not only do they help you break up long blocks of text, they can show your readers exactly what you mean by "acting it out."
Bottom Line: Embrace GIFs, But Be Responsible
Most companies, regardless of industry, could benefit from bringing GIFs into their marketing and sales strategy. A poorly used GIF can spell disaster for a campaign, but the problem isn't the medium, it's the selection.
GIFs are easy to make, affordable, and their file size is relatively small compared to the impact they have on your messaging. They also don't require much when it comes to editing skills, and can quickly communicate some of the universal truths about being a person.
The examples outlined above prove GIFs have a place in any modern business. It doesn't matter if you're a SaaS vendor, an e-commerce shop, or inventing a new vertical--GIFs are a powerful tool for connecting with customers.
To learn more about how Bonjoro can help foster deeper connections with customers, check out our core features.