Pitching Goes Virtual—How to Adapt to a Fully-Online Business Development Strategy
No matter what your plans were for 2020, chances are a pandemic wasn't on the agenda.
For business owners, salespeople, freelancers, and other creators, adaptability is becoming a critical factor for success.
However, it's understandable if you're grappling with how to adapt to a global pandemic.
After all, no one on the planet has gone through this experience before.
In this article, we'll go over ways to tailor your pitching strategy to win new business in an uncertain, fully-online environment.
Get Your Messaging in Order
Before you start reaching out to potential clients, make sure your messaging is in good shape.
Start by performing a quick audit of your website, social media accounts, and anywhere else, your audience might find you.
You'll want to scan for outdated business information, as well as content that doesn't quite feel right in today's grim climate.
Additionally, consider your audience's industry/demographics. In many cases, people are trying to maintain normalcy and keep their businesses afloat. So, as you consider your approach, ask yourself the following questions:
How has the pandemic impacted your audience?
What new risks, pain points, and concerns are your audience facing?
What can you do to help them?
Does your audience have new priorities as a result of the current climate? If so, how can you change my content to reflect those changes?
Does the coronavirus impact your product or service? If so, how can you communicate those changes to my audience?
Have you introduced any new products or services to your lineup? If so, how do those new items address changes in your audience's situation?
Make a list of these changes and consider how you can adjust your outreach messaging to address them directly and with empathy.
If you're not in the business of making masks, hand sanitizer, or out there saving lives, keep in mind, people do still need information, products, and services about the things they care about.
If you're a writer, it's okay to cover your usual beats and go after clients in your niche.
If you're a business coach, your focus should still be on arming clients with new skills. You get the idea. The big change here is that you'll want to frame your pitch with clients' new challenges in mind.
Define Your Value Prop for Right Now
In the last section, we discussed auditing your content, taking stock of any areas that require a refresh.
Here, we'll talk about rethinking where you add value.
According to Bain & Company, 61% of B2B companies reported that refocusing their messaging around the features and capabilities today was one of the more "doable" strategies for adapting to the current landscape.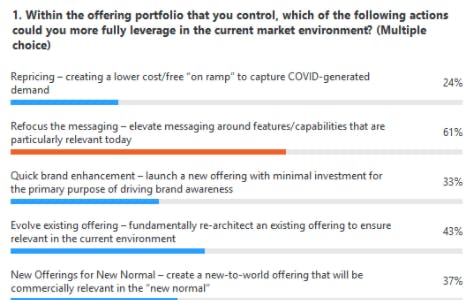 While your clients may have been focused primarily on themes like innovation, growth, or digital transformation a couple of weeks ago, today, it might be all about keeping things afloat.
So, how can you help your prospects now?
Can you pivot the same product to a different group of customers? Or, create a different customer experience for new and existing clients?
For example, you see restaurants pivoting by offering curbside pickups or allowing customers to shop their kitchens. Gyms and yoga studios are offering online classes, and we've even seen wine shops offering guided Zoom tastings.
If you're unsure what your clients need right now, your best bet is just to ask.
You might try sending a quick survey to your top clients or running an informal poll on social media channels where your audience regularly "hangs out."
Find out where they're struggling and what their new priorities are. Then, consider how you can adjust to meet those new needs.
Online Events & New Digital Offerings
Some freelancers and founders, like writers and web developers, have been working from home for years. It's easy to forget if you're a seasoned "WFH" vet, but most of the workforce is still adjusting to working at home.
As such, marketing yourself as an experienced remote worker can help you demonstrate your value to potential clients.
Consider how you might adjust your services to help clients succeed in this new virtual landscape. If you typically perform your services remotely, treat it as a differentiating factor.
If that's the case, consider how you might repackage some of your services to help your clients keep up with the changing situation.
For example, can you help them upgrade their website, build a social media strategy, learn how to use a "work-from-home tech stack?" If so, consider offering small online workshops or 1:1 services to help get clients up to speed.
Online Events & Community-Building
Virtual environments might not be ideal for every situation, but they do come with some benefits.
For one, they often make it easy for organizations to communicate and collaborate with their current audiences better.
There's also an opportunity to connect with new audiences or to build a community of loyal followers.
A few ideas:
Workshops
Webinars
Networking sessions. If you have a decent roster of professional contacts, you might consider hosting intimate networking gatherings. Create something valuable by keeping things small--allowing a handful of participants to connect with like-minded professionals digitally.
Niche groups. Think closed Facebook or LinkedIn groups focused on a specific topic or industry niche.
Organizing really thoughtful online events can help you establish authority in your niche and build a loyal following. Keep in mind, while you certainly can charge for some experiences, it may serve you well to offer others for free.
This way, you can showcase your knowledge to a wider group of potential customers who will be happy to give you their business when things begin to look brighter.
Online Courses & Lessons
Explore new channels that can help you adapt existing services to an online environment. You might turn your existing content into a pre-recorded course offered through your website or via platforms like SkillShare, Udemy, or LinkedIn Learning.
If your business caters to end-consumers, consider how you can entertain or inform audiences from home. Airbnb's current round-up of online experiences is a great place to look for inspiration.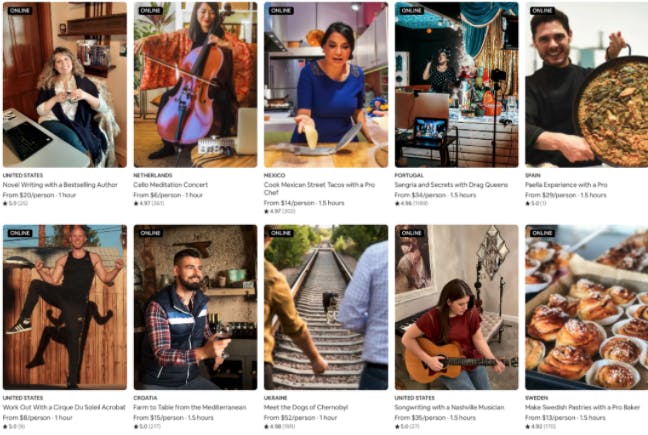 Alternatively, you might also look into taking your in-person business model into the Zoom-verse. For example, if you teach guitar lessons or do one-on-one life coaching in-person, you might look into expanding your services into a national, or global audience.
Keep in mind, whether you opt to share your knowledge in a live format or as a pre-recorded course, make sure you give yourself adequate time for planning.
Pitch Services with Care
Be aware of the fact that many prospective clients might not be in a position where they can sign new contracts, participate in a guided demo, or even chat with potential service providers.
And that's fine. Just because someone doesn't respond to you now doesn't mean they won't do business with you later.
According to McKinsey, focusing on customer experience during a recession is your best bet for bouncing back. Researchers found that during the 2008 crisis, shareholders received 3x higher returns from companies considered customer service leaders, than those considered laggards.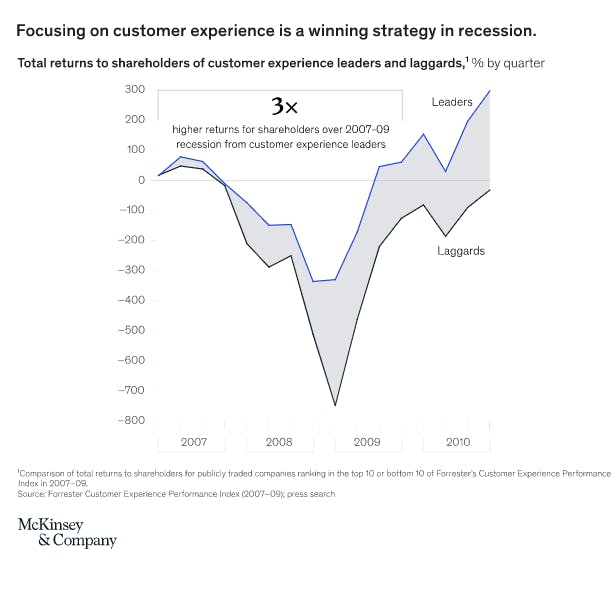 A few tips for connecting in an authentic way:
Reach out to former & current clients. Ask how they're dealing with this wild, new economy and ask if there's anything you can do to help. We recommend going for a "soft" ask, focusing on checking in with your contacts and starting a conversation.
If they don't have any work for you at this time, don't push it. Instead, invite them to participate in an industry network event or social media group you host. This gives you another opportunity to build goodwill--potentially helping them build some connections that could get them back on track, too.
Ask for referrals. Referrals are one of the best sources of new business yet few salespeople, freelancers, or business owners focus on referral generation as a strategy. You might work a referral request into an email or 1:1 video--a simple "Hey, if you know anyone who can benefit from X or Y service, pass on my info" will do. You might also consider creating a referral program offering a discount to anyone who can connect you with new business. A win-win on both sides.
Get social. The platform you choose depends on who your audience is and what industry you're in. For instance, B2C brands will likely do best focusing on Instagram or Facebook, while LinkedIn is better for professional services.
In either case, this is the perfect time to participate in conversations, share (useful) information, and ask for recommendations or leads. Up top, we mentioned creating an online community could be a way to benefit your audience, but it's also worth noting that participating in these conversations yourself can help you land new business, too.
Don't take rejection too personally, but do make a point to keep nurturing your existing contacts, focusing on experience over sales.
Try to keep it in perspective, many people are coping with a whole new set of stressors from job losses and caring for loved ones to trying to home-school their kids. Be respectful and avoid putting pressure on your prospects.
Wrapping Up
Life--both personal and professional--has changed dramatically in a short amount of time.
Whether you're running a startup, a coaching business, or offering freelance writing or design services, it's going to take a lot of creativity and flexibility to stay on the path toward long-term success.
Continue to rethink your offerings and consider what adds value, what doesn't, and how you can best meet your clients' needs right now.