How to Follow Up on a Sales Proposal (with Video)
Putting together a sales proposal is no simple task.
You have to perform market research, offer a powerful solution with actionable deliverables, and finally present your pricing with a persuasive call-to-action.
That being said, the last thing you want is to have your efforts overlooked, ignored, or forgotten by a prospect. Unfortunately, that's too often the case with sales proposals. We send them off, cross our fingers, and then wait – cue, crickets.
Most likely, the problem isn't that the proposal was poorly created. The problem is that we need to effectively engage sales prospects outside of sending the proposal itself. We need to be able to follow up with recipients in a way that's quick, engaging, and still professional….such as with a personalized video.
In this article, we'll take a look at how you can create a powerful sales proposal follow-up funnel with video content.
The result? You get a high response rate, and convert more leads into deals.
5 Steps to Follow Up on a Sales Proposal
As mentioned above, a sales proposal needs a healthy level of engagement – both before and after your initial pitch. Connecting with your prospects in a personal way not only increases response rate; It helps build relationships that can pay off further down the line.
Step #1: Goal-setting.
Creating an effective funnel relies on having a clear-cut goal that you can measure. In this case, the goal of your funnel is to increase response rate for sales prospects.
Before setting triggers and sending off your video (which we'll get to in a moment), you'll want to measure your current response rate. That gives you a benchmark for measuring progress after launching your new sales funnel.
Or, you may want to run an A/B split test to compare the two approaches: Send out similar proposals and rely on your traditional sales proposal funnel for one, and on your new sales proposal funnel for the other. This gives you a quantifiable way to assess your progress.
Step #2: Download Bonjoro.
Bonjoro provides you all of the tools you need to create your follow up funnel. You can:
Quickly and conveniently create personalized video content
Automatically send that video content to your prospects at just the right moment
Finally, see increased open rates and a higher overall response rate to your sales proposal
Bonjoro integrates with most major CRM's (including Salesforce, Intercom, and Drip), email platforms, and calendar tools. As a result, you won't have to switch up your tool set to utilize this platform, access your contact list, and stay synced with calendar events.
Plus, you can try it free for 14 days – giving you great insight into how Bonjoro could potentially up your game and multiply your response rate.
Step #3: Automate workflows.
Next, use Bonjoro to set up triggers that automate appropriate engagement with prospects.
For example, you may set a workflow that pings you to send off a video to all prospects three days after sending your sales proposal. Or, you may want to create a workflow that alerts you to make a video for prospects who haven't even viewed your sales proposal.
Here are some additional triggers you may want to create to automate workflows:
Send a video to prospects two days after they've opened your sales proposal, but haven't verbally responded.
Send a video to prospects who have expressed initial interest in your sales proposal, but haven't responded to additional follow-through.
Send a video to all prospects immediately after pitching the proposal, offering additional explanation and new content (such as a case study or case studies)
Send a video to prospects who have gone completely cold (no response for 30+ days)
Send a video prior to a scheduled phone call, just to create an additional relational touchpoint :)
To set up a trigger for creating video content, go into your Workflow tab in Bonjoro and create a tag such as "Proposal ignored." This will immediately trigger a task, alerting you to create and send a video to a specific contact. (As a side note, Bonjoro's Workflow tab works very similarly to Zapier's – and integrates well with apps on Zapier).
Or, if you'd rather send the video over without a trigger, you can manually add a prospect's contact information to Bonjoro and send the video over on your own time.
Step #4: Write your email message.
Next, you need to write email content – including a subject line and body copy – to introduce and complement your video message. Rather than reinvent the wheel every time, however, we suggest that you create templates you can re-use to follow up with various sales proposal prospects.
Here are a few ideas for warm, friendly copy that gets a response (By the way, feel free to use these in your own sales funnel!)
Template #1: Proposal ignored
Subject line: Got any questions about the proposal?
Message: Hi <First Name>, Just wanted to check in about the proposal I sent. I hope you found it useful! I'd love to answer any questions you have about the proposal and schedule a phone call. In the meanwhile, here's a quick video explaining some of the points in more detail.
CTA: Book a call
Template #2: Recap action items
Subject line: Recapping the proposal
Message: Hi <First Name>, I hope you found the proposal I sent useful! I wanted to take a moment and go over some of the key directives I outlined, and what they could mean for your business. If you'd like to see some additional case studies, click on the link below the video.
CTA: See case studies
Template #3: Pick an option
Subject line: Choosing an option that's best for you
Message: Hi <First Name>, I just wanted to touch base about choosing an option from the sales proposal I sent. I'd love to help you pick an approach that will work best for you. Here's a video that explains options #1, #2, and #3 in greater detail. I look forward to connecting!
CTA: Book a call
Here's what an email template looks like, along with recorded video content (which we'll cover next).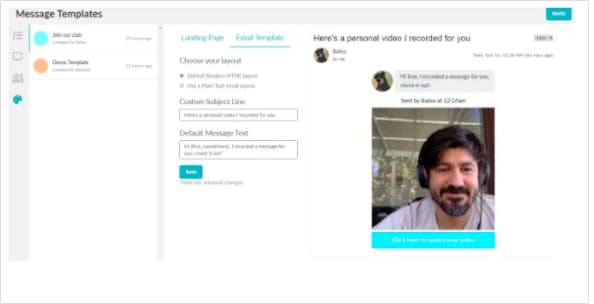 Using Bonjoro, you can save templates, customize them with your personal branding, and add a CTA button. Then, all you need to do is record your video and hit send.
Step #5: Record your video.
Finally, record your video content. This is your moment to connect with your prospect, give them simple, valuable information, and most importantly, create an additional valuable touchpoint in your sales funnel. Bonjoro allows you to record a video quickly and conveniently from your phone, laptop, or tablet using their native recorder, Chrome plugin, or iOS or Android app.
Creating an effective video, however, requires more forethought than simply hitting "record."
Here are some tips for video content to follow up on a sales proposal:
Be concise. Don't ramble or waste time getting to the point. Otherwise, your prospect will lose attention fast.
Keep it brief. Your video shouldn't be longer than two or three minutes – just about the length of time it takes popcorn to pop.
Remind prospects of the benefits of your proposal. Remember, your prospects will respond to your sales proposal if they know that you'll get them results. Be clear about the results you're promising – not just deliverables.
Slow down. Some people have the tendency to talk too quickly when recording a message or video. Remember to slow down and speak clearly.
Be friendly. One of the reasons video content is so effective is that it creates a far more relational touchpoint than a written email. Take advantage of the moment, and show personal interest in your prospect beyond simply making a sale.
Be creative. Think of creative places you might want to film your video. You can certainly film in office, but you may want to choose a fun background, head outside, or choose a space that reinforces your offer.
N.B. With Bonjoro you can even pull in custom fields from your CRM so that you can view specific information during recording – allowing you to carefully tailor your content to each prospect.
Once you record your video using the correct template, you're all set!
A Final Note on Sales Proposals
Believe it or not, the average response rate for proposals is around 5%. That being said, complementing your proposal with a video sales funnel can be a powerful way to boost that response rate by building relationship and delivering information in a fun, quick, and convenient way to your prospects. Again, if you'd like to give Bonjoro a try to see how video content can help you deliver sales proposals that get a real response, click here.