How to Email a Video [Quick Guide]
A well-made, or thoughtfully timed, video-email captures attention and inspires recipients to take action in a way that text-only emails often can't compete with. It brings new faces and concepts to users no matter where they're at—and works as an effective stand-in for face-to-face interaction.
We talk about the benefits of video all the time here at Bonjoro—they're great for conversions, customer loyalty, and can help people retain information better than text.
But, the problem is, how do you email a video without running into issues like large file sizes or appearing like spam.
In this short article, we break down all the best practices for emailing a video. We take a look at common queries like dealing with large file sizes, thumbnails, GIFs, to hosting your videos, including CTAs, and optimizing the experience so recipients can watch and respond to your videos without any issues.
Why Send Video Through Email, Anyway?
There are all kinds of reasons one might send a video through email. You can scroll through the use cases on our website for a few ideas. That said, the goal is to share information you might otherwise write in an email or say in a phone call.
Whether you want to answer a quick question, direct prospects to a landing page, or just check in with a client, bringing a friendly face into the inbox is a no-brainer. Video emails have higher open rates and are more likely to get a response than their text-based counterparts.
Which brings us to this question—how do you email a video? Should you send the whole thing by embedding the video? Or take viewers to a second location?
The answer is—it depends. Size comes into play, here. As does context. Keep reading, and we'll go over a few things to consider.
Email a Video with a Link
Okay, this is probably the easiest way to add a video to an email, stick a link in the body of the email, add copy, and send. What you'll want to consider first is your relationship with the recipient.
For example, if you're sending this to a prospect or as part of a cold outreach effort, people might not trust you to take them to a second location.
If you're using a known web-hosting service like YouTube or Vimeo, that might make customers feel more comfortable clicking through, since they're heading to a familiar domain.
That said, the actual email won't do much for consumers. Without a visual element, the copy needs to do the convincing, which certainly can work, but you lose out on the inherent benefit of adding the visual component to your message.
Finally, it's worth pointing out that linking to YouTube might not be the most professional way to introduce your brand—it's a free service that doesn't allow you to customize the player and shows ads.
Can You Embed a Video Directly in Your Email?
The answer is actually kind of complicated. No email client guarantees that video will play directly inside the email and big email providers like Gmail and Outlook don't even support embedded video.
According to Email on Acid, there's limited support for HTML5 video, though Apple and Samsung clients do play embedded videos—and those clients represent around half of the market share.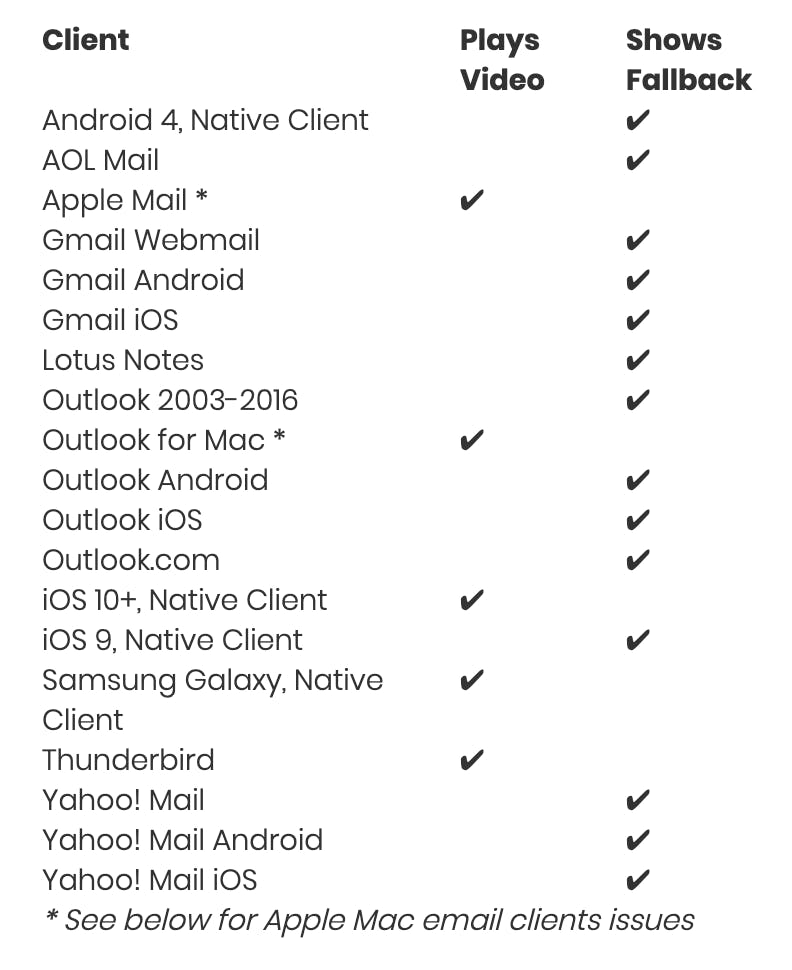 Other clients like Outlook or Gmail offer fallback images—or an image of the video instead.
An exception to the rule is, if you're emailing a YouTube video to a Gmail user, they'll be able to watch the video.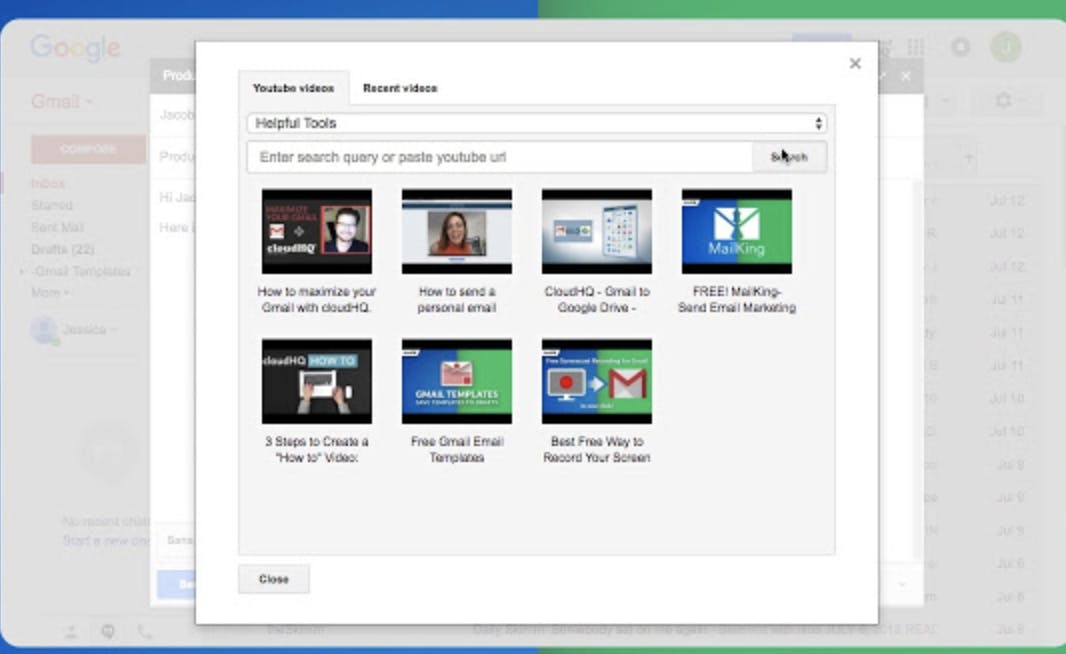 Unfortunately, you can't guarantee that all of your contacts are Gmail users. This is especially true if you work in the B2B space, as most email addresses will have branded domains. Meaning, you can't tell Gmail from Outlook or anything else.
How to Email a Video via Clickable Thumbnail
One of the best ways to send a video is to include a linkable thumbnail in the email. Recipients still receive a message with that visual component, but you don't have to worry about whether their client supports HTML5 videos.
You'll need a photo editing tool for this. Photoshop works great, but other options like Canva and Adobe Spark can work here, too. Photoshop is really only necessary if you're planning on adding branded graphics to your thumbnail image.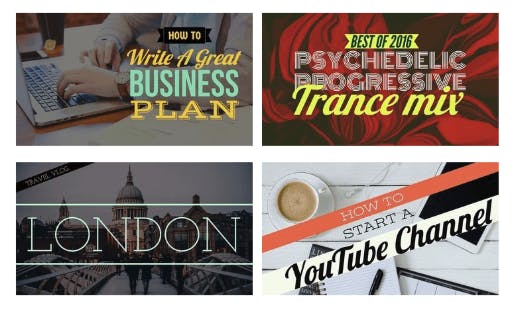 The basic 3-step process is as follows:
Take a screenshot of your video. For best results, we recommend choosing a shot that shows a smiling face or gives users a sense of what to expect when they open it up.
Add a graphic that looks like a play button.
Insert the image in the body of the email. Then, add a link to the image that takes the user to the hosting platform—that might be a video landing page, Vimeo, YouTube, or another solution.

Thumbnail Quality Considerations
If you're editing a photo to use as a custom thumbnail, here are the specs that YouTube recommends:
Use JPG, GIF, BMP, or PNG
Size Max: 1280x720px
Size Min: 640x360px
Aspect ratio: 16:9
File Size Max: 2MB
Should You GIF Instead?
If you want to kick things up a notch, apply the same approach with an animated GIF. Head over to our help section to see how to create GIFs to go with your Bonjoros. The motion will capture viewers' attention and help you stand out in the inbox, that said, GIFs aren't always compatible with the recipient's email client.
While the extra step of adding a link might seem kind of inconvenient (you might have to use Photoshop), there are a couple of key benefits associated with the process:
More Control Over Customer Actions
Sending the user to a specific landing page allows you to guide the recipient through the buyer's journey. For one, you're sending them to a space with few distractions--at least compared to YouTube or their cluttered inbox.
Deeper Reporting Potential
If you're sending a video through a platform like Bonjoro, MailChimp, or your marketing automation platform, you'll have the benefit of being able to track things like opens and views. You can tie the results to conversions and other goals but will need to fill in a few blanks for the full picture.
When you send the user to a dedicated landing page, that allows you to tap into on-site insights from Google Analytics and the like.
Meaning, you can track the results of your video outreach efforts from email to the point where they drop off or convert.
Send a Video Through Email with a Marketing Tool
Tools like Drip, MailChimp, Constant Contact, or a CRM can help you track results, as can Bonjoro. The type of tool you use here depends on the video. For example, Bonjoro is all about personal video. You'll record the video on the web or mobile app, customize, and send it out.
Here's an example (custom thumbnail and all) from one of our customers: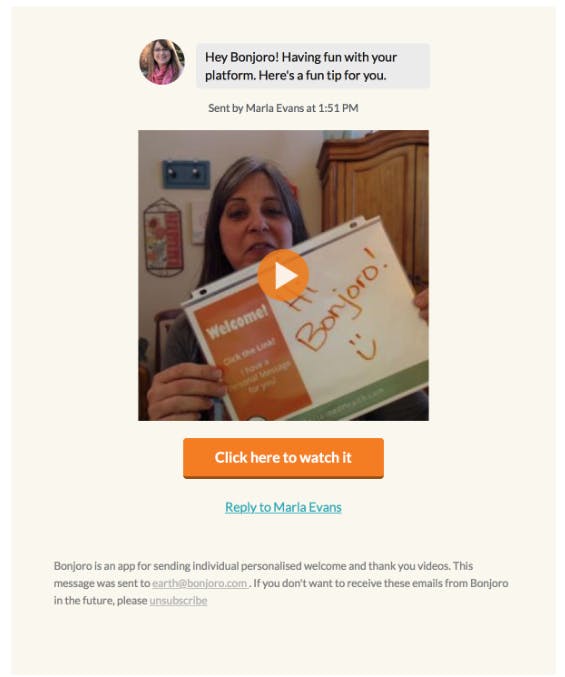 If you're sharing video knowledgebase content, you might want to try a slightly different approach. Here, we'll assume that you're sending an explainer video and it's a larger file. In that case, it might be smart to add the thumbnail to the email body and link out to the video. From there, you can direct viewers to a landing page for the next step.
How Do You Get People to Click?
Here are a few things to think about before sending your video out into the world:
Make it Clear There's a Video Inside
If you're sending a video, just say so. The simple act of adding the word video can increase open rates by 19%. We've seen this firsthand, too. Our top-performing Bonjoros included video in the subject line—and many of them were pretty simple. For example, one of our big winners was "I made you a video."
Spend Time on Subject Lines*
Convince and Convert found that nearly 70% of email recipients decide that an email is spam based on the title alone. Avoid this fate by making the subject line clear and descriptive. The aim isn't a bait and switch approach, so when in doubt, choose clarity over being clever (hopefully you can do both).
>> See our list of the Top 10 Video-Email Subject Lines right here <<
Send the Video that Best Suits the Situation
Not all videos are created equal.
Before you start sending users video emails, make sure that the video you send aligns with the buyer's journey. You'll also want to personalize the content based on the data you have including purchase history, the information provided in a lead generation form, etc. If nothing else, at least use the person's name to warm things up.
Is it an introduction or a follow-up? Keep things light and opt for a one-on-one video.
Are you sharing high-level information? Consider linking out to a landing page where users can watch the video and take action at the same time. Here's one from our archives: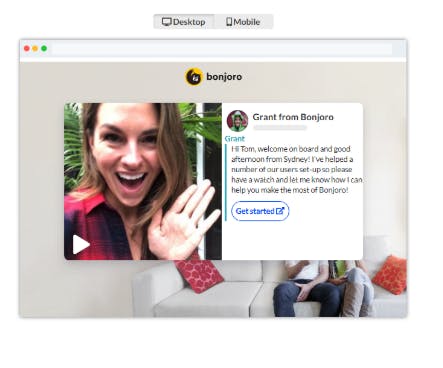 Wrapping Up
Sending videos out through email is a great way to increase engagement and build relationships straight from the inbox.
But, you'll want to make sure that you set yourself for success. When in doubt, opt for the old thumbnail-link approach. And make sure you link out to the place where you'll likely see the best results. If you're selling a product, link to a page where they can make a purchase. Want to drive reviews? Link to your Google My Business account or Trustpilot to make things easy.
Try Bonjoro Free for 14 days:
Speaking of making things easy, Bonjoro users can email videos from their account, no messing with YouTube or Photoshop required. Sign up for a free account to see for yourself.