How to Design a Review Generation Funnel in 8 Easy Steps
It's not exactly a revelation—social proof works.
You're probably more likely to eat at a restaurant with hundreds of five-star Google reviews versus another establishment with few recommendations.
We're willing to bet you also look at Amazon reviews before you "one-click checkout" and read up on local services providers before welcoming them into your home.
The point is, social proof is a great way to your validate products, services, and brand, inspiring others to take action.
Building a review generation funnel isn't difficult, but it is one of those things that can slip through the cracks. Meaning, brands lose out on free, effective marketing.
In this article we're going to show you how to ask customers for reviews at the perfect moment, to get a consistent stream of 5 star reviews on Google, Trustpilot, G2Crowd, or any other online reviews platform.
Why Focusing on Review Generation Pays Off
BrightLocal's 2019 survey found that 82% of customers read online reviews for local businesses.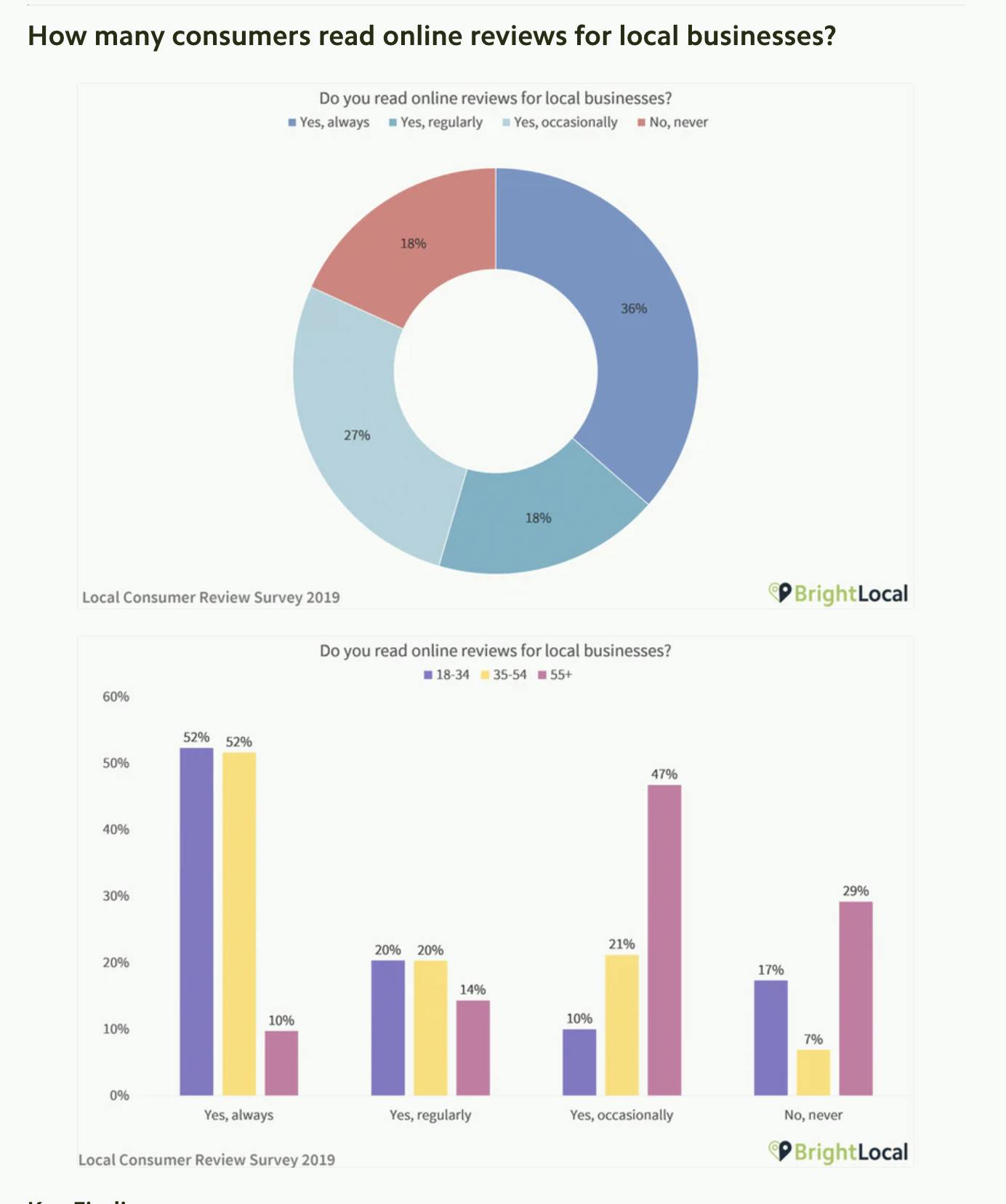 Though this specific survey focuses on local businesses, reviews are essential for all kinds of businesses from e-commerce brands to home service providers, SaaS solutions, and more.
For online businesses, review generation is one of the best ways to collect real, unstructured feedback from your audience, as it's not feasible to interview every customer to find out what's working (or not) when it comes to your business model.
One of the best ways to make sure that customers leave reviews is by establishing a process for asking for them.
In these next few sections, we'll walk you through a new process of setting up a review generation funnel from crafting your message to selecting which review platforms to pursue.
1. Define Your Goals
Sure, your goal is to get more reviews. But what does that mean exactly?
Munkstore, one of our e-commerce customers, built a review funnel centered around improving their Trustpilot rankings, but their goal wasn't as crude as just: "get more Trustpilot reviews".
What they did is break this goal down into specific parts of the review generation funnel that they could affect. Considering they already had an automated system for generating reviews their goal was to improve 3 parts of their funnel:
The open rate of the emails asking for a review
The click rate of customers receiving the review request
The number of total customers leaving a review (on Trustpilot in this case)
To do this, they switched their approach from a "one-size fits all" approach, and instead started sending personalised videos with Bonjoro, to ask for reviews at the perfect moment.
According to the brand, this novel strategy landed them the number one spot in Trustpilot's men's fashion category in a matter of months by personally asking their customers for reviews, and increased the following metrics:
Open-rate of emails: increased from 50% to 75.3%
Click-rate: increased from 19% to 32.4%
Review-rate (people leaving a review): increased from 10.2% to 19.4%
So how can you get the same results? Let's dive deeper into Bonjoro, and see how you can create your own personalised review generation funnel...
2. Set Up a Campaign
Inside Bonjoro, you can create campaigns around segments, funnel stage, or other criteria.
This makes it easy to set up a campaign, assign deliverables, and track your review generation campaigns individually.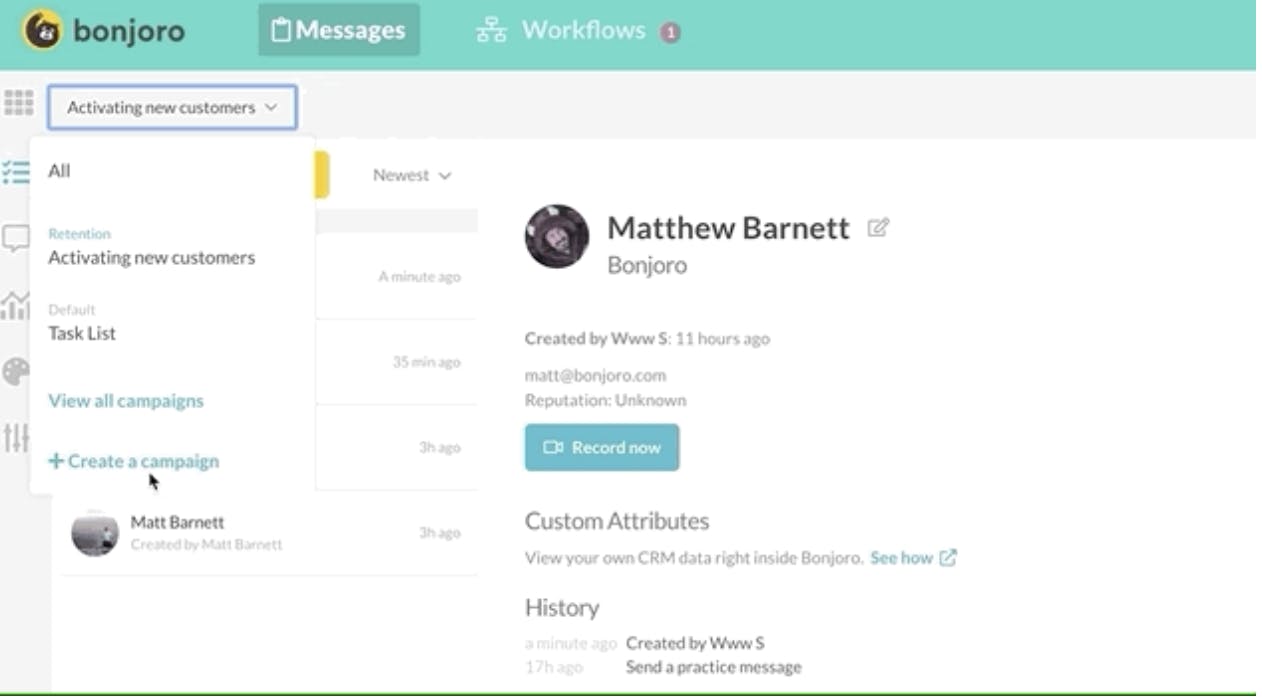 When you create a campaign in Bonjoro, you'll be prompted to add a few key details that help clarify your objectives.
Campaign type. In this case, you might call this a retention or review generation campaign.
Name. Trustpilot review initiative
Goal. Drive positive reviews on Trustpilot.
For full setup instructions, we go through the process in more detail here.
3. Build a Workflow that Aligns with Your Campaign Goal
The focus isn't just getting reviews, you want glowing recommendations. As such, you'll need to get strategic about targeting those customers who have already expressed satisfaction.
Inside your Bonjoro account, you can create workflows where customer actions like making a purchase or signing up for an email list will automatically create a task in the selected campaign.
If you're Munkstore and your goal is to get customers to leave a positive review on Trustpilot, then you'll want to come up with a list of signals that indicate satisfaction.
The signals will vary dependant on what type of business you run, whether it's eCommerce, online courses or coaching, software, or anything else.
These might include repeat purchases from your store, someone using your product every day, or a high Net Promoter Score (NPS) score on a previous survey.
Have a think about what these signals are for your brand, and create a Workflow based around that trigger signal.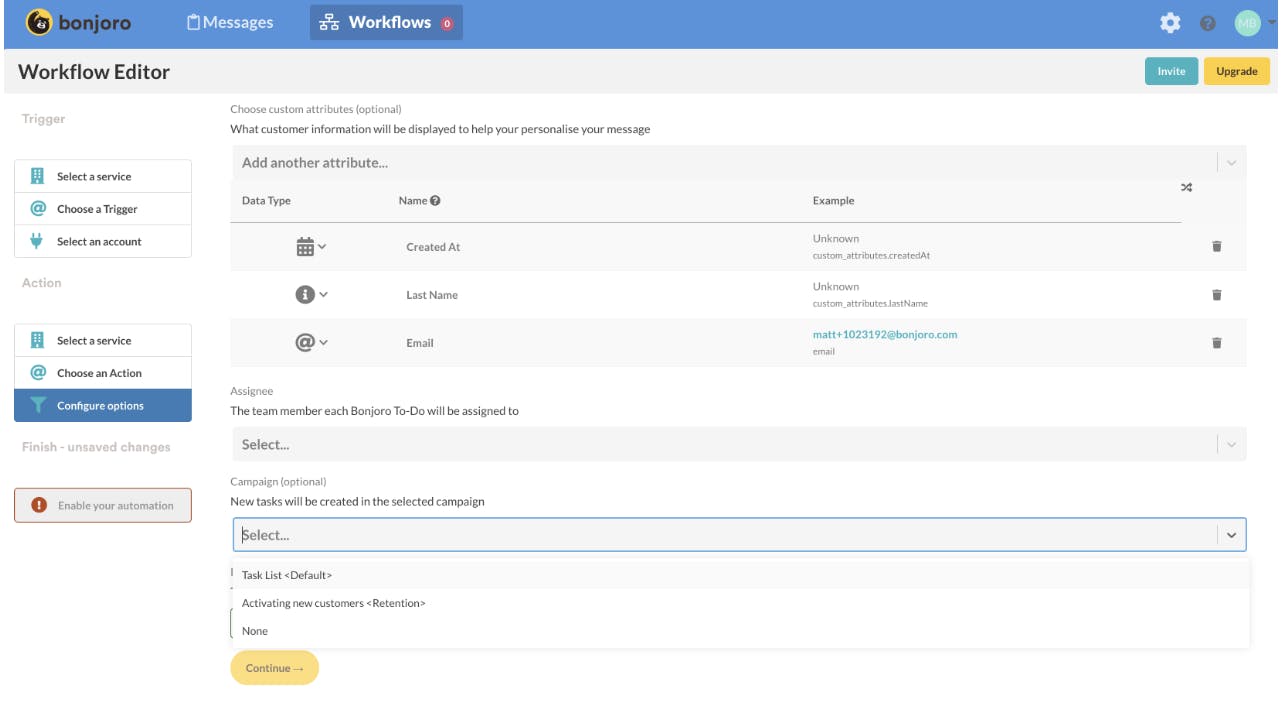 4. Craft your Video-Email Template
When it comes to sending personalised video-emails to your customers at fairly high volumes, you won't want to keep typing out the subject line and accompanying message with your video. That's where Bonjoro's Message Template system comes in.
With Bonjoro you can create a Message Template that pre-populates your video email subject line, and accompanying email copy, so all you need to do is quickly record your personalised video and hit send.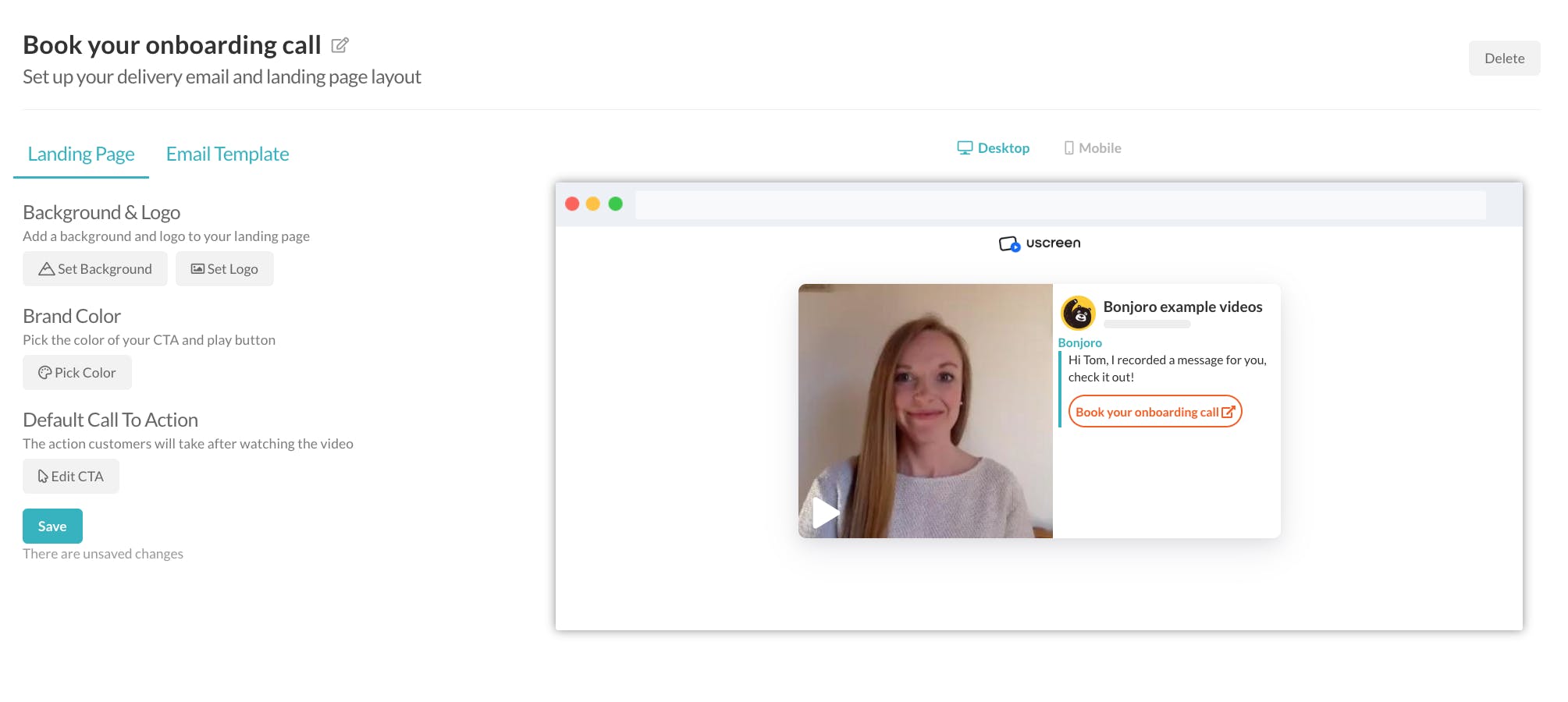 The message template, of course, varies based on your brand and the products or services you provide.
That said, you'll want to keep things simple, like Munkstore—introducing your "video ask" with a short, friendly message.
Here's how you might break this down:
Subject Line: Hey [name], can you help us out?
Message prompt:
Hi [Name], wanted to say a quick thank you and make a personal request. Watch the video to learn more and click the link if you have time to help us out.
Call to Action button: Review us on [platform name]
Record Your Video
The best way to generate reviews is to personalize the request. For an online company like MunkStore, sending a video versus a standard email had a major impact on building connections with customers.
It's an effective way to build rapport with your audience and extend the positive association with your brand—particularly in the context of an e-commerce brand where in many cases, customers never get to speak to a real person, much less see them face-to-face.
If you need tips on recording your videos, check out our Ultimate Guide to Personalized Video.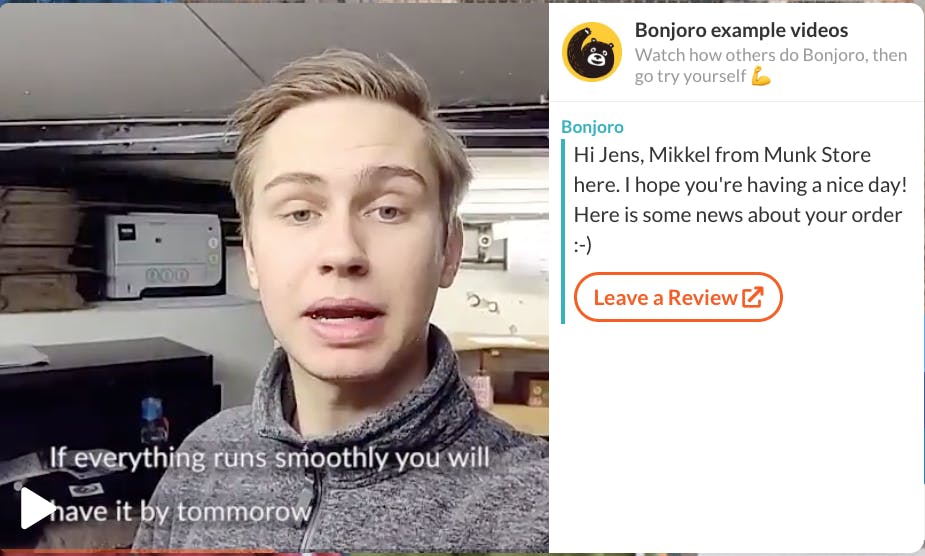 5. Let Customers Know Why Their Feedback Matters
To increase positive reviews for your business, take the time to tell customers how their feedback impacts your business.
Remember, when they're watching your video, you have their complete and undivided attention, so this is the perfect time to build a deeper connection beyond just asking for that review - tell them a little more about your mission, and how you will you use their feedback to improve customer experiences in the future or make good on your mission statement.
Video is the perfect medium for building a connection with your happy customer that will last long after they leave their review.
6. Focus on the Right Review Platforms
Before launching your review generation strategy, determine which platforms you'd like to target.
Consider whether you'd like to focus on growing your reputation on social media channels like Facebook, where likely, you'll find a large share of your customers. Or, you might seek to boost your local search rankings by focusing on collecting reviews associated with your Google My Business profile.
Restaurants might focus their efforts on TripAdvisor, Yelp, Google, and Facebook, as people use these platforms to find places to eat. SaaS brands might target niche sites like G2 Crowd or Capterra and those with a mobile app might set their sites on the App Store. Ecommerce brands might look at Trustpilot or the hosting platform like Shopify or Etsy. And online coaches and creators might target social media sites like Twitter, or creator hosting platforms like Patreon or Thinkific.
Keep in mind that while Google is all for asking for reviews, Yelp isn't so keen on the idea.

7. Don't Make the Ask Unless You're Prepared to Reply
The driving force behind your review generation strategy in the first place is to build your reputation so that more people feel good about taking a chance on your business.
The Bright Local Survey mentioned above also found that an estimated 89% of customers read a business's responses to reviews. According to Harvard Business Review,
TripAdvisor lays out a few ground rules for responding to customers that can easily be applied to public-facing reviews on any other platform.
Here's a quick rundown of their recommendations:
Don't "out" the reviewer.
Make sure your response is easy to read.
Write an original response. In other words, don't cut and paste responses from elsewhere be it other commenters or private conversations.
Avoid including commercial or promotional content.
Keep it relevant. Stay on topic and focus on what you can do to deliver the best possible experience to your audience.
Even with careful targeting in place, there's no guarantee every review will be positive, so have a strategy in place to deal with that.
8. Prepare Responses to Feedback in Advance
Additionally, SproutSocial recommends preparing some messages for common review situations in advance, so you and your team can ensure you respond in an appropriate, on-brand manner.
That doesn't mean using canned responses for each platform, rather, establishing a set of guidelines for how you'll respond to complaints—what to offer, how to write an apology, and what not to say.
You could even think of using video as a customer support medium, so rather than just asking for reviews with video, you could respond to feedback more thoroughly and humanly with a personalised video.
Wrapping Up
By following the steps outlined above, you'll have a process in place that ensures you don't miss opportunities to earn free word-of-mouth marketing, learn more about what your audience wants, and most importantly, let your loyal customers know that you appreciate them.
If using personalised video to generate 5 star reviews sounds up your street, Bonjoro offers a Free 14 Day Trial of it's video platform which you can try out today.