How an Online Makeup Artist Got a 100% Booking Rate
In late 2019 Noleen Sliney, a makeup specialist and advocate for helping men and women look and feel their best, attended a masterclass in a membership community about ways to get your content and message seen.
The speaker in the session brought up an idea Noleen had never heard of before:
"One thing I always recommend is for brands to leverage personal video emails…"
Noleen was fascinated by the idea, and a few days later, as she was compiling her list of vendors, she heard about Bonjoro, a personal video email company, from another speaker during an online event for memberships sites.
It felt like fate.
Noleen decided she would give this new video strategy a go with her upcoming membership launch.
How Noleen launched her new membership with personal video
Noleen already had a strong email list of past clients, and recent leads who had downloaded a resource from her site, so she uploaded her list to Bonjoro via the CSV upload feature, and got started.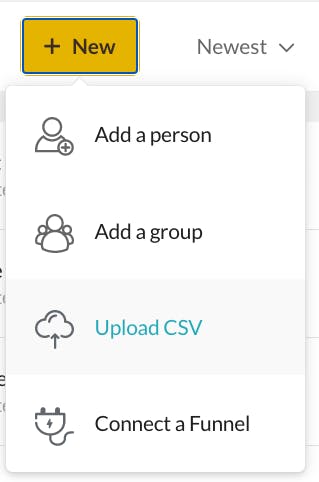 To make sure this new approach was going to be worth her while, Noleen decided to run a test with her new memberships launch. She would send half her emails as standard text emails and half her emails as personal videos via Bonjoro.
The results changed Noleen's approach to customer communications forever.
Her text email group had around 30-40% open rates and 30% booking rates.
Her personal video emails, sent out to dozens of prospects, had a 100% open rate AND booking rate. You read that correctly, 100%. Every single video recipient booked a call with her!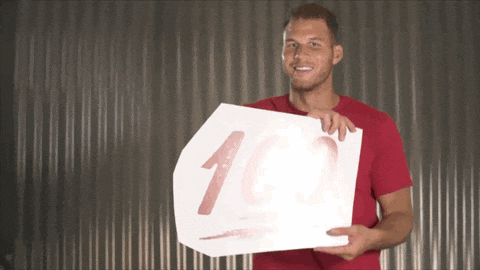 Because Noleen has incredible conversion rates once she has calls with people (90% when we spoke), this methodology would go on to change her business.
Want to see her magic touch in action? Here you go…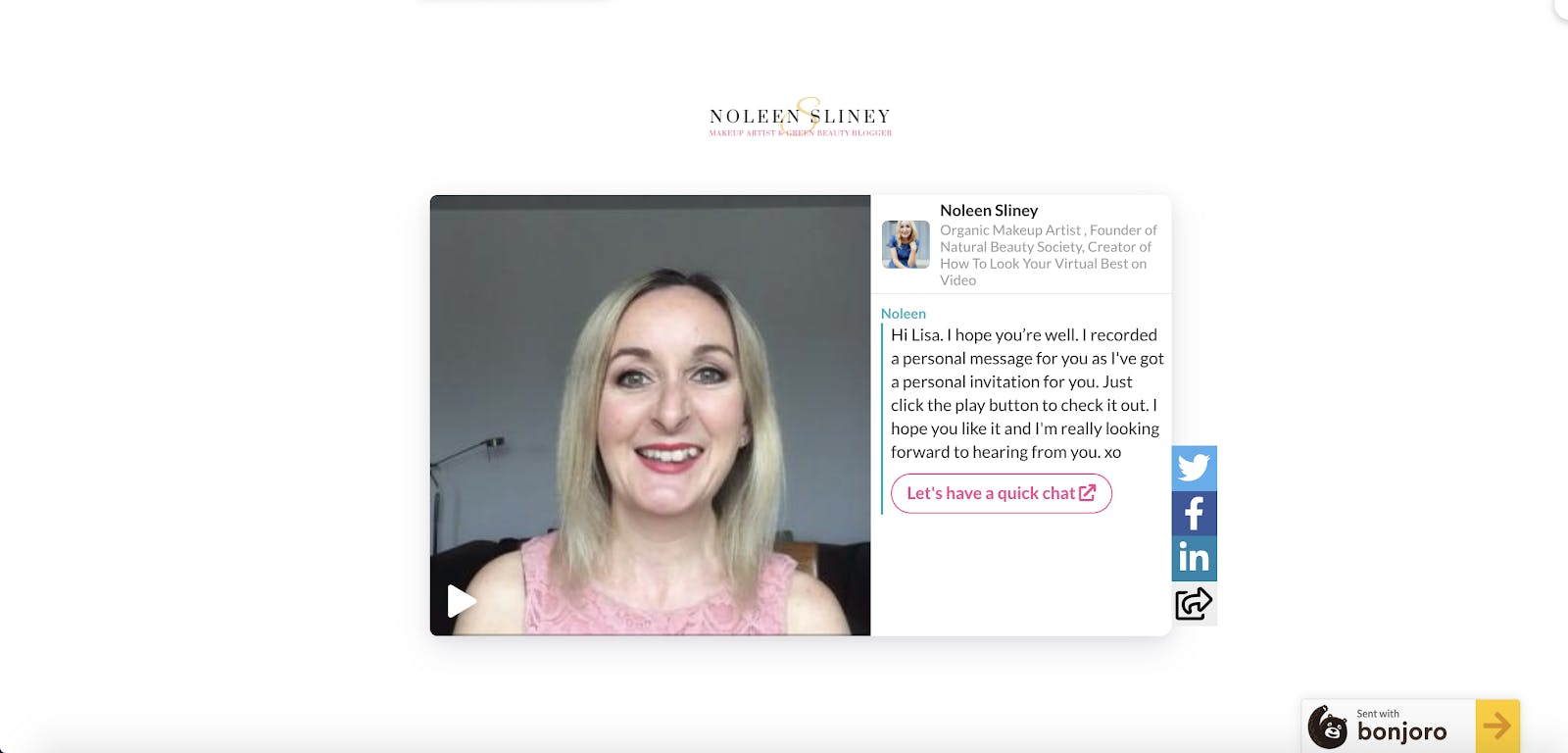 She also uses personal video to thank new customers…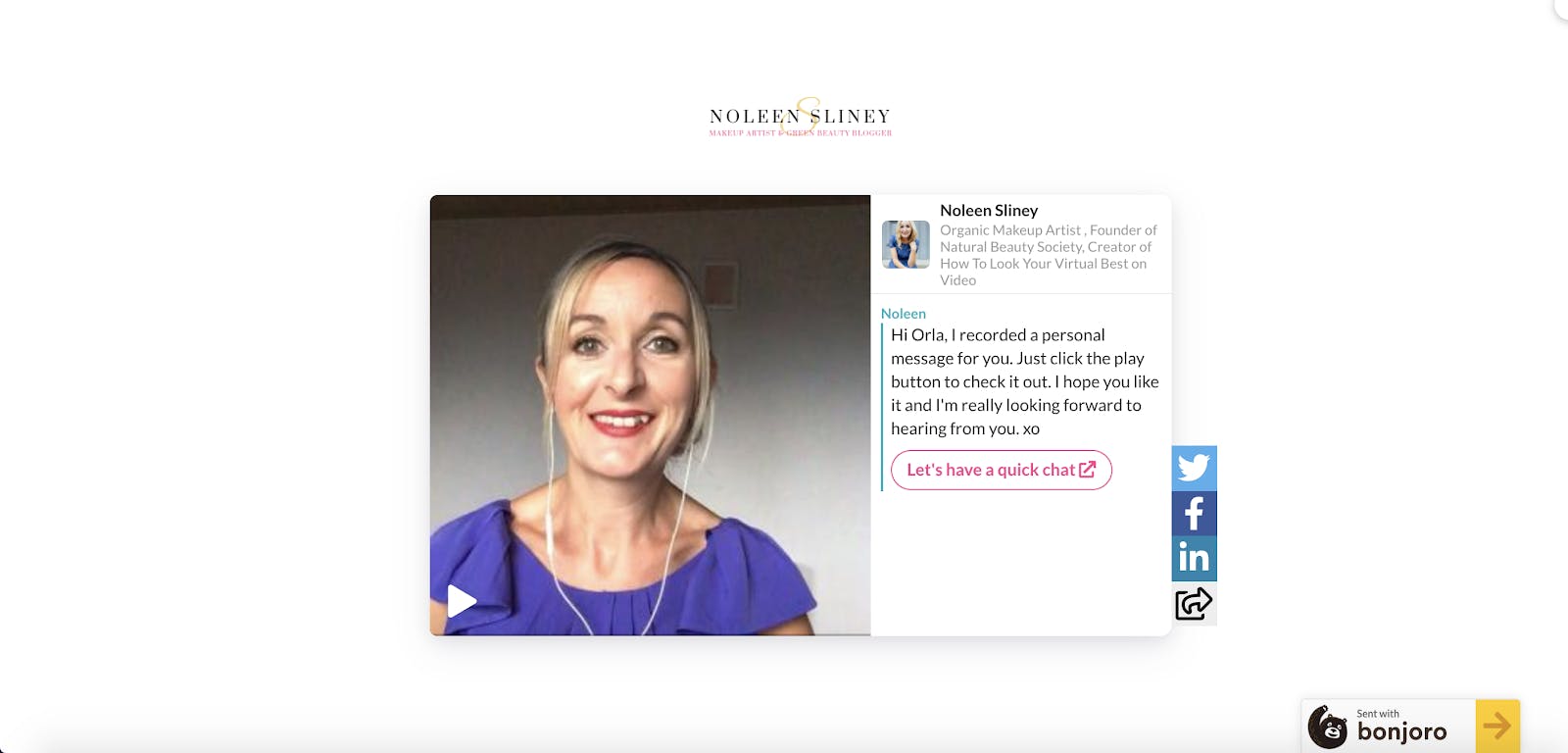 And to invite past clients to new workshops/events…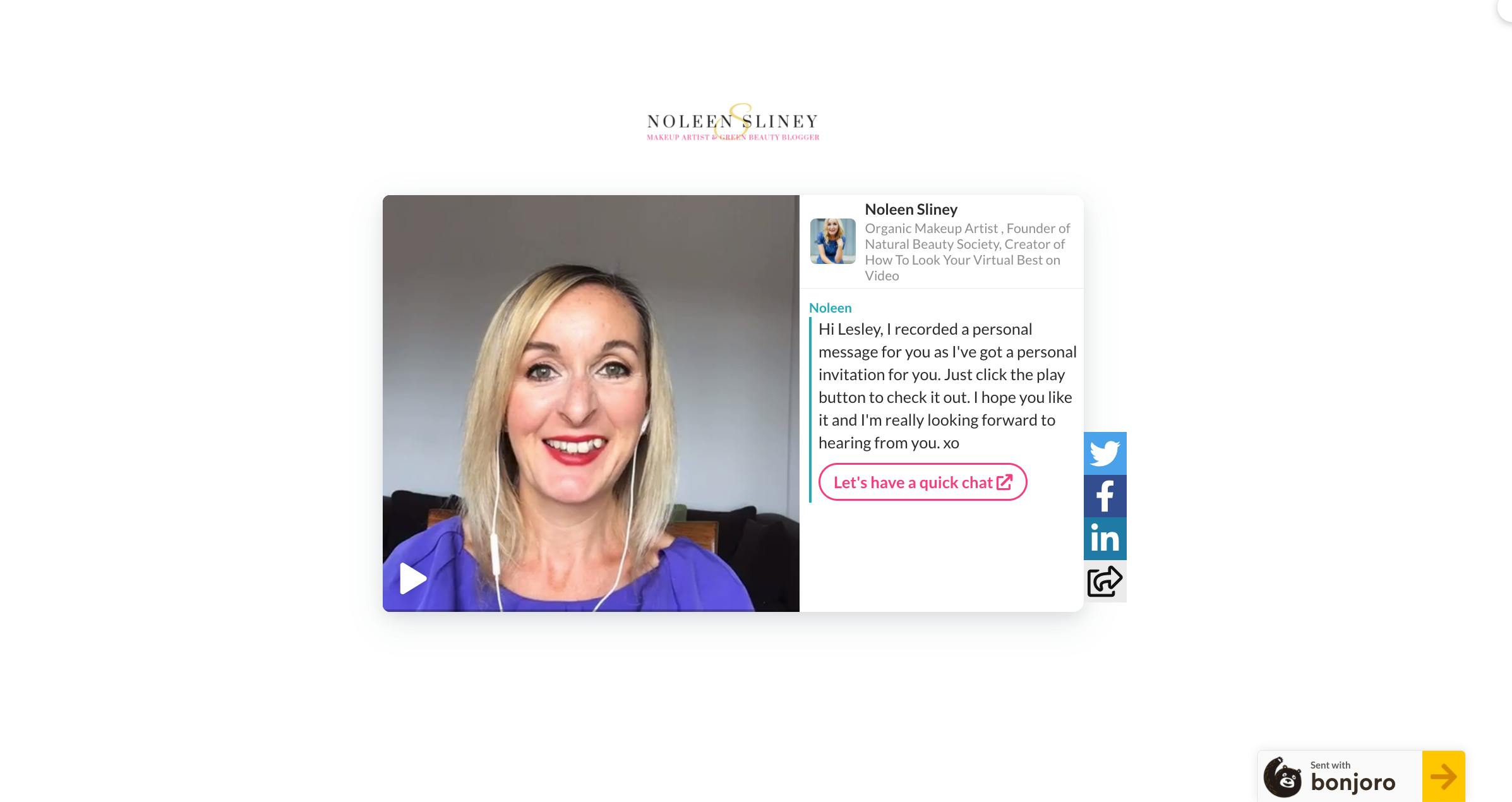 Here's why Noleen's personal videos work so well
So why do Noleens personal videos work so well? Here is my analysis…
They use personal context:
Notice how in her event invite Bonjoro to past customers she goes, "I remember from the last event how much you were interested in organic and natural beauty…"? Using personal context like that makes the prospect or customer feel valued and elevates your engagement.
Whenever possible try and use context, be it where they live, past interactions with them or information provided to create a more curated experience. If you use one of our native integrations, use our custom attributes feature to bring in any custom fields from your CRM/ESP!
They have a strong "why":
If you watch that first video that Noleen does that got her the 100% bookings, you will see that she explains the why behind the value of what she is talking about. She doesn't merely say, "I am doing a launch and it's going to be great because the content will be top notch". Instead she talks about the value of empowerment, having a space where you can feel encourage, motivated and helped on your journey to be your best self.
Noleen helps people realise that joining her membership is about more than just beauty tips. It's about a community of support and love and kindness to make your days just a little better. That is powerful, and that is why it converts so well.
She is instantly relatable:
In her videos she often jokes that we can't all be 20 year olds with perfect skin out of the gate. She knows her audience and by being open and inclusive, she makes her watchers feel like working with her might be different from just the litany of flawless faces on YouTube. Her insights, might be applicable and helpful to them.
It has been shown through Harvard Business Review studies that relatable videos perform better than those done in perfect lighting or perfect attire. People trust people who share commonalities with them.
Noleen's top 3 tips for winning with video
The beauty about succeeding with personal video is it doesn't take anything fancy or special. It just takes effort in trying to learn about your customers and showing up and doing the videos. Noleen was kind enough to present some of her tips on how to get the best results with video.
Here are her expert insights:
Don't put it off, start today:
When I asked Noleen in an interview for her best insights, she mentioned this insight without a second thought. "Just start. People always are waiting for the stars to align, or will this or that work. Just start. Do it today."
I think getting mired down in the number of options and tools out there is a very relatable problem for entrepreneurs. But I agree with Noleen here. Especially when the risk is low and the upside is high, test things out, and when it comes to personal video, at the very worst you spend some time to make your customers or prospects feel valued. At the very best, you create customer advocates who not only buy your new products time and again, but spread the word to everyone who will listen.
Create community/Build Relationships:
I have noticed a common thread in nearly all of Bonjoro's most success users. They create community. They take time to learn about their members, users, prospects etc. and then leverage that information to build relationships. Noleen talked about building community and relationships through a coffee shop example.
"Take your favourite coffee shop or local restaurant. My guess is, it's not only the coffee/food that keeps you coming back but the experience. Maybe the barista remembers your name and asks if you want the usual. Maybe you see they have reserved your regular spot for you. Maybe they ask how your kids soccer game went. They make you feel like a part of the tribe and for that, you are a loyal patron".
Make people feel special:
Noleen's videos are impactful because they make her watchers feel special. Noleen has a gift for relating to her audience, showing she cares about their wellbeing and showering them with kindness and gratitude.
When you create videos for your watchers, ditch the script and try and make each and every prospect or customer feel valued. One of the most surefire ways to grow your business is by investing in your customers.
Bonus Tip from Bonjoro:
Interested in learning more about how you can build raving fans and customer advocacy like Noleen? Here are two awesome books on that very subject!
Superfans: The Easy Way to Stand Out, Grow Your Tribe, and Build a Successful Business
And
Fanocracy: Turning Fans into Customers and Customers into Fans
How to launch your own membership with personal video 👇
Launching a new membership yourself, why not try personal video as part of your conversion funnel?
Sign up for a free 14 day trial of Bonjoro right here, and watch your own conversion rates go from average to sublime!