Bonjoro case studies--turning customers into superfans with video emails
Personal video is huge when it comes to turning cold leads into superfan brand advocates. Compared to methods like phone calls and cold emails, face-to-face messaging makes the customer feel confident about doing business with both you and your brand.
So, how are others using the Bonjoro platform to get results? Well, they're using the tool to onboard new clients, nurture leads, and in some cases, just say "thanks."
For more details, here are six super short case studies showing how our clients— from SaaS to sales — use Bonjoro to surprise, delight, and convert their customers.
Lead nurturing: Increased trial conversions
Promoter.io is a SaaS company that turns customer feedback into actionable insights.
They signed up with Bonjoro because they wanted to increase the number of sign-ups that converted to customers.
Promoter's Caitlin Daily told us she initially had some reservations about getting in front of the camera. "I'm not one to put myself out there, but once you start, it becomes second nature".
And—she says that she was surprised by how effective her new approach was: "I was surprised by the responses I got back from leads! I would get messages saying it that my video was such a nice surprise and greatly appreciated."
Caitlin and Promoter spent months A/B testing Bonjoro videos vs. their standard trial onboarding, and found it made a marked difference to conversions to paid plans. Caitlin believes it's all about cut-through and trust: "Personalization is key! Bonjoro videos are giving them something unique that sets you apart from other services that they're currently researching."
You can watch an example video from Caitlin by clicking the image below.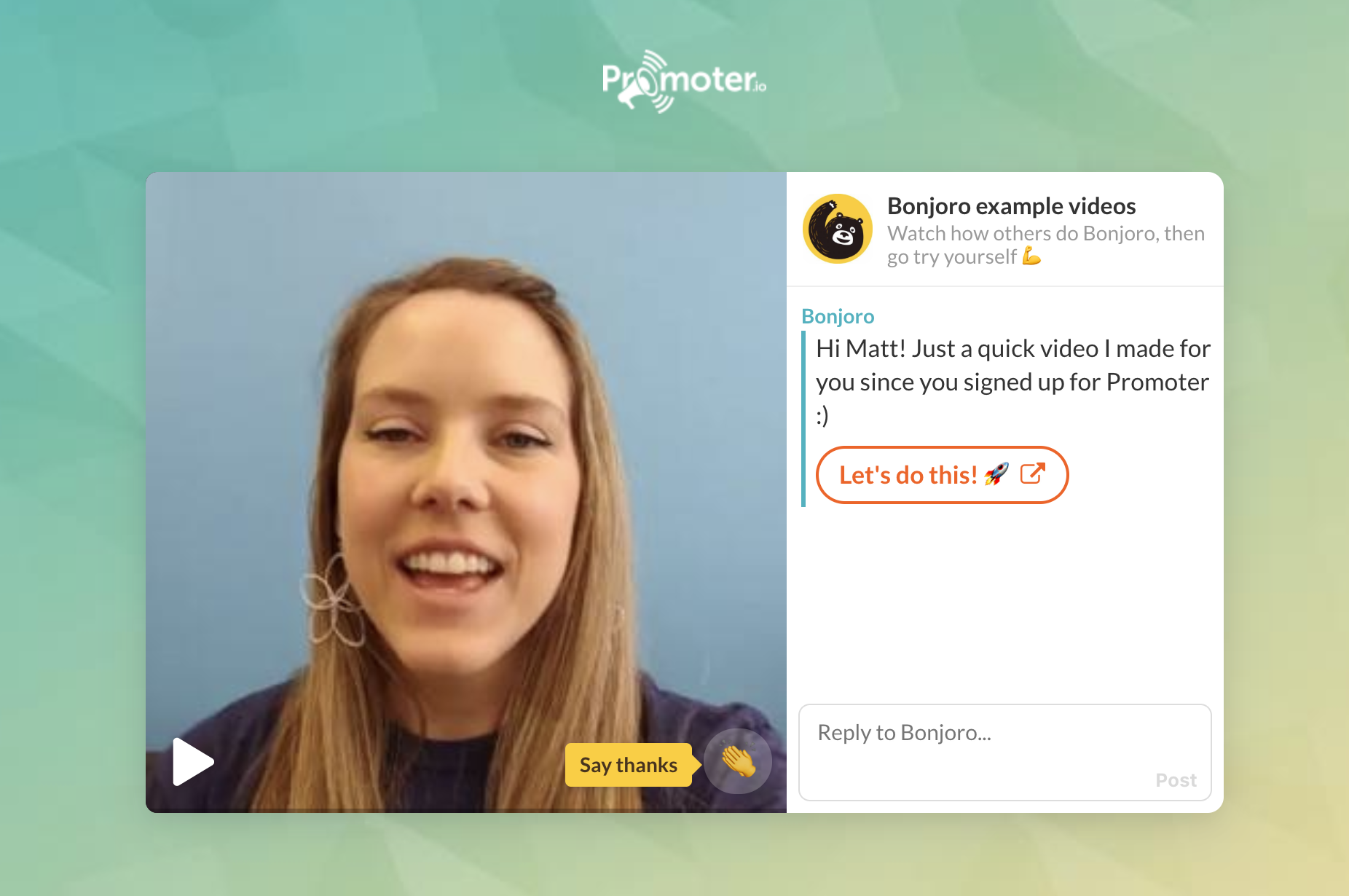 Onboarding: Stickier, more engaged customers
Alex Guevara, Design Pickle's Customer Success Manager says Bonjoro has changed their outreach process for the better. They use the platform to personally welcome new users, mentioning their name, what they're working on, and make sure customers are set up to get long-term value.
Alex says that before Bonjoro, the company was onboarding new clients with cold calls, which was time-consuming and there was no guarantee that the right person would answer.
He also says that everyone on the team has gotten competitive—who can get the best response, highest open rates, and so on. Design Pickle proves that Bonjoro can not only improve relationships with customers, but it's also a great way to promote internal culture.
Click the image below to hear from Alex himself about how Bonjoro has helped Design Pickle push their Customer Success efforts to new heights.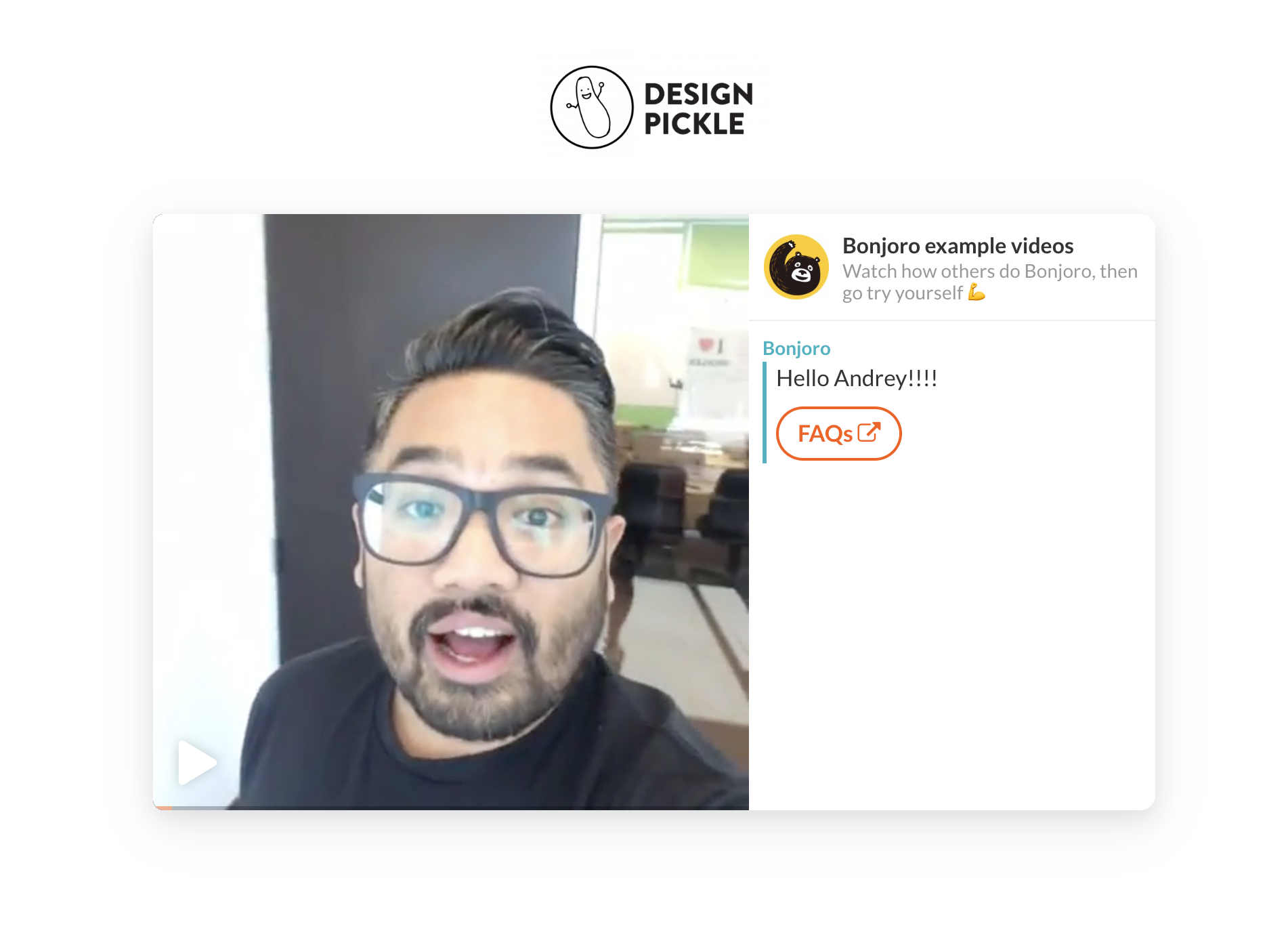 Onboarding: Increased sales, and fewer refunds
Jacques Hopkins uses Bonjoro to onboard new students of his Piano in 21 Days program.
Jacques initially signed up because he felt disconnected from his students and wanted to bring a personal element to the process.
Jacques was worried that recording Bonjoros would be too time-consuming, but he's seen some impressive results.
He's moved from selling 2 or 3 courses a day to 5 to 15 and has reduced refund requests from 3.2% to 1.7 %.
Check out an example Bonjoro video from Jacques below, to see how simple it is to make that connection with new leads.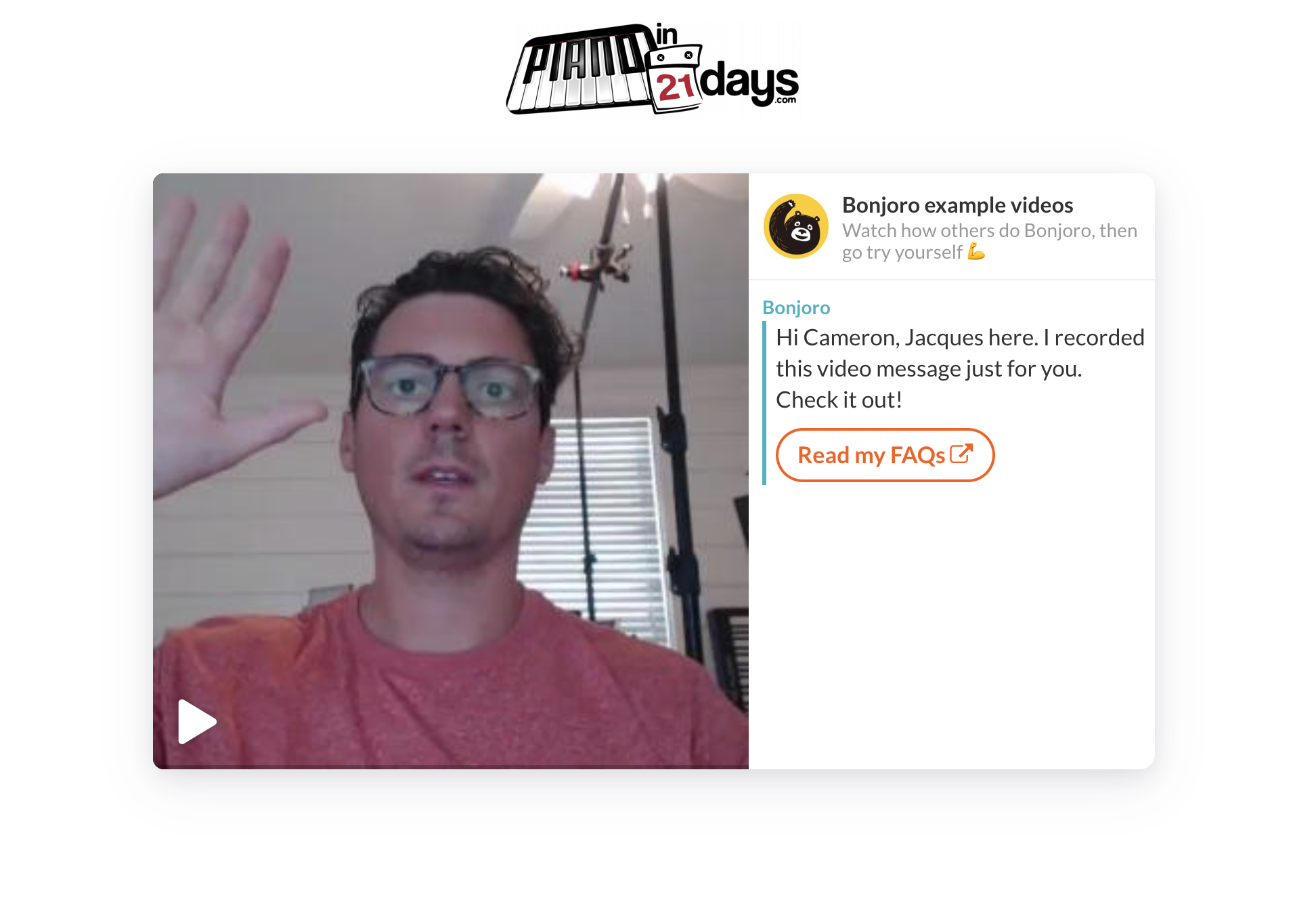 Thanking buyers: Increased event attendance
MarketEd.live's Paul Ince says that the event marketing company's most significant pain point was, people just weren't reading their emails.
It's frustrating when you can't get your message across, but it's almost a fact of the marketing ecosystem. We receive so many emails daily that it takes something special to cut through the noise.
Paul says Marketed.live primarily uses their Bonjoro account to deliver personalized thank you notes to their buyers, even swapping out Christmas cards for holiday-themed Bonjoros. What's impressive is, some campaigns have seen nearly 100% open rates.
Watch Paul's video below to see how he delights customers with personalised Christmas videos - a nice touch that leads to more sales for his events each year.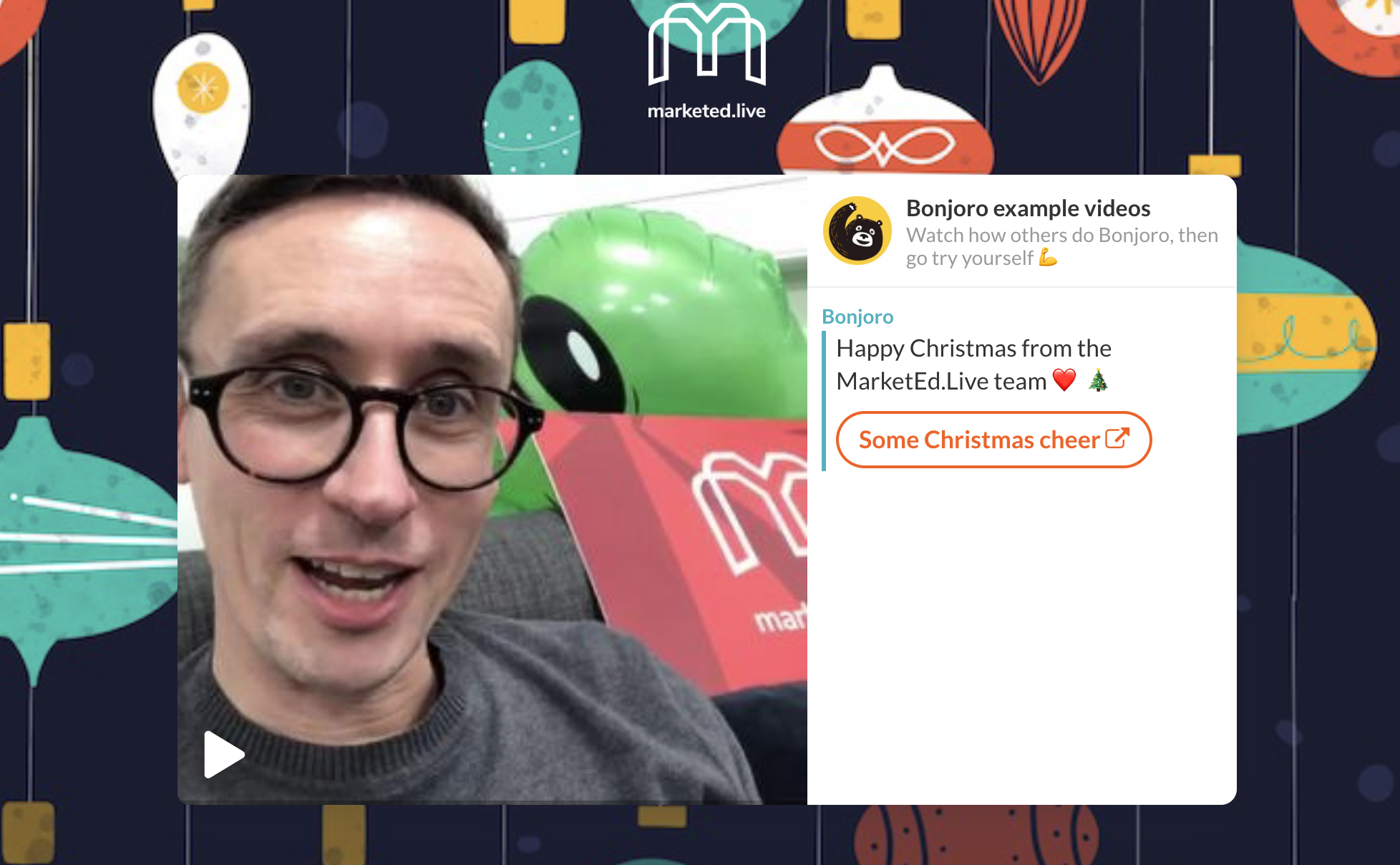 Thanking buyers: More 5-star reviews
Munk Store's Andreas Lodahl says he initially signed up for Bonjoro to make their customer service strategy feel so personal that the online experience would feel like a physical store.
Andreas says that since they started using Bonjoro, their review rate has gone way up—and Munk Store is now the top-rated men's clothing store on the Danish TrustPilot.
"Munk Store put a lot of time into our customer-support, so the customer has the feeling of buying in one of our physical stores except it is online. Since August 2017 we've wanted to be the #1 on Trustpilot on our categories. So far we are the #1 in the 'mens fashion'-category, so we've already come a long way. Bonjoro has helped our Trustpilot-effort tremendously - despite it wasn't one of our intentions at first using Bonjoro."
Bonjoro boosted MunkStore's Trustpilot stats from:
Open-rate: 50% -> 75,3%
Click-rate: 19% -> 32,4%
Review-rate (people leaving a review): 10,2% -> 19,4%
What's more, Bonjoro videos have become Munk Store's "thing," as this level of personalization isn't all that common in Denmark.
Check out how Andreas delivers next-level customer service to each new online customer.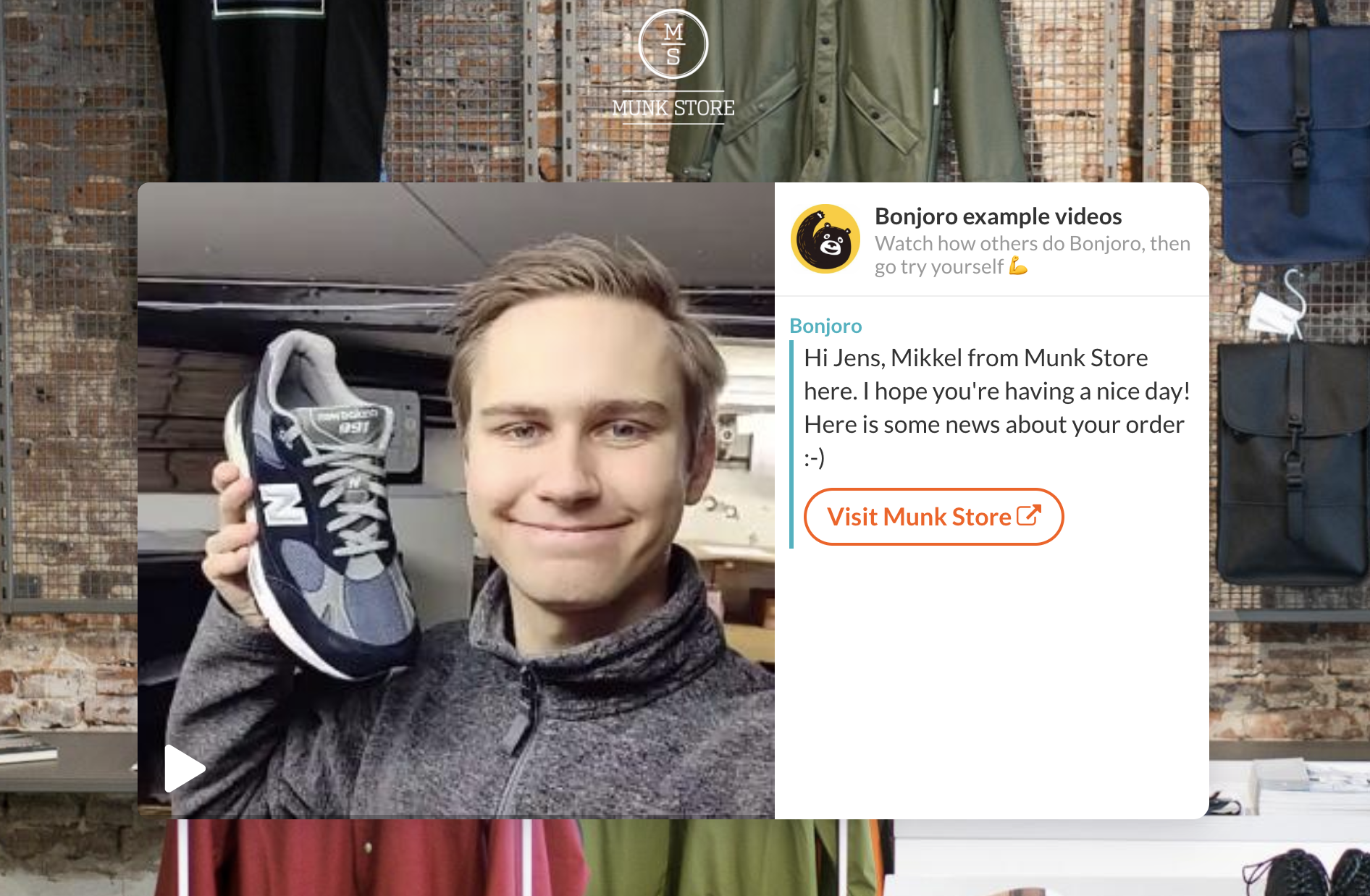 Reactivation: More sales from past customers
Go Camp Pro provides training courses for summer camp staff.
Travis Allison says that his team signed up with Bonjoro to reactivate past customers.
Travis says that incorporating the videos into Go Camp Pro's outreach strategy has resulted in a 25% jump in registrations. It's also led to conversations further down the line—customers remember receiving a video months later.
This is an excellent example of how personalized content makes brands stand out—it might take a little extra time to record a video, but that ability to stick with people is enormous.
Travis uses friendly check-in videos like the one below to keep past customers in the loop, and engaged with his business.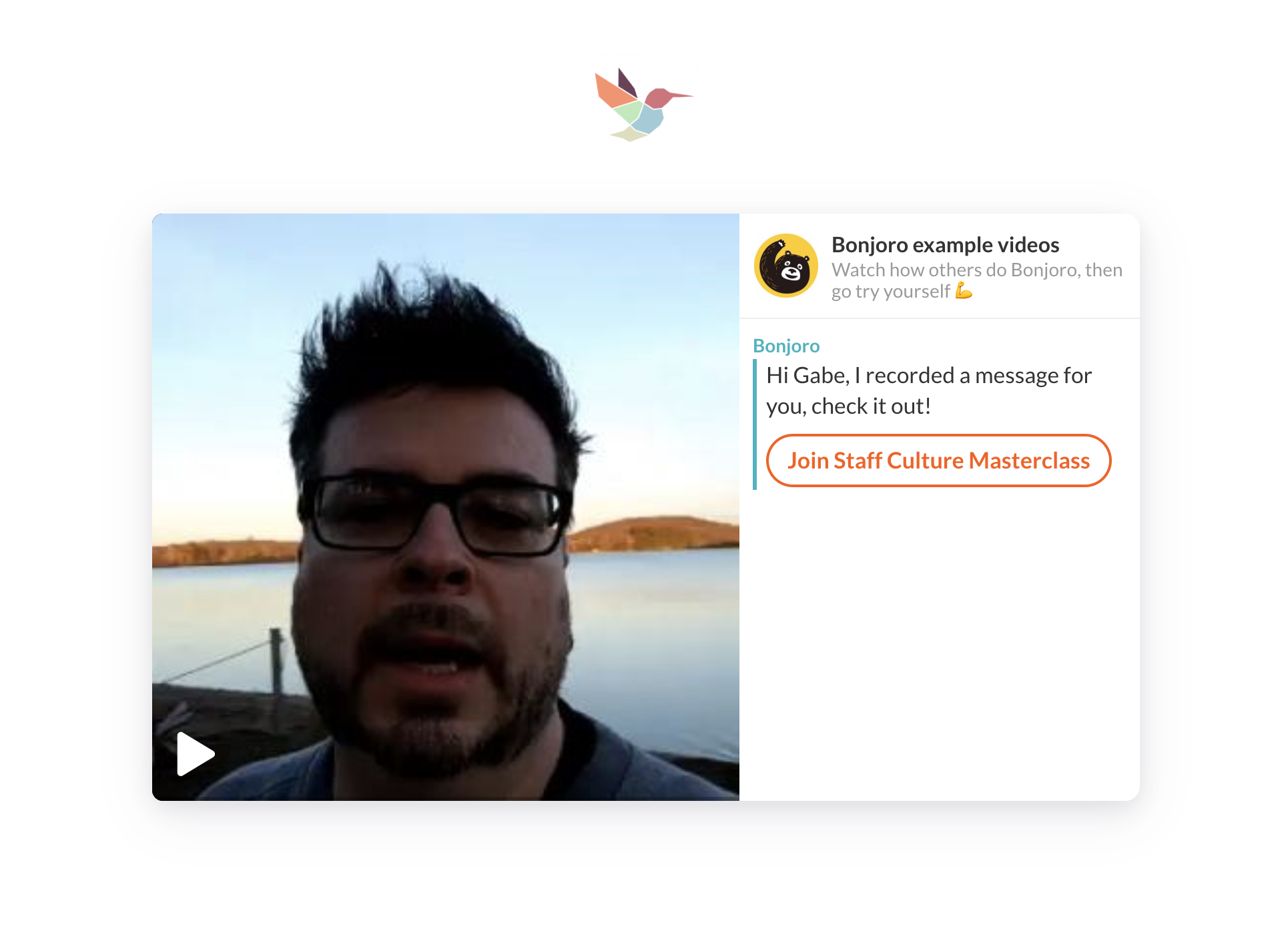 [Bonjoro FAQ's] – Get the lowdown on the world's hottest B2B video platform
Why do I need to use Bonjoro - can't I just record a video and attach it to my emails?
There are several ways that Bonjoro brings more to the table than trying to DIY the situation. Here's a quick rundown of Bonjoro's primary advantages over attaching a video.
Recording/Sending. We make it super easy to record and send videos in seconds, rather than fiddling around with attachments, YouTube and all sorts of other hashed together tools.
Branding. You can customize the look of your Bonjoro videos to suit your brand. This looks way more professional and is much more scalable for your business.
Calls-to-action. Drive more conversions with a call to action at the end of your Bonjoro video messages.
Message Templates. Use message templates to save time sending your videos. Drill down into your template results to figure out what drives the best results, and share best-practice within your organization.
Integrations. By far the biggest value-add that Bonjoro has is automation. We help you automate who and when you should be sending videos to.
Does Bonjoro send from my own email?
Yes. Bonjoro connects quickly and easily with Gmail and Office365 addresses. We can even link to your email client via verified domains. This is all super easy, but you can contact our 24hr Live Chat if you have problems.
Do you have 24hr support?
Yes. We have team members manning Live Chat in all timezones in the USA, UK, and Australia.
Just ping us any time you have a question, and we'll get back to you, typically within an hour, smile guaranteed.
Who is Bonjoro for?
Bonjoro is built for all online entrepreneurs, marketers, salespeople, and customer success teams who want to go the extra mile for their customers.
If you're looking for a better way to drive conversions, activate new customers, boost retention, or create the superfans who help you grow, Bonjoro is for you.
How much does it cost?
Our entry-level plan is actually free. Here, you'll get one CRM automation (such as pulling new leads into your Bonjoro account), full result tracking, and you can record as many videos as you want. The only catch, your videos keep the Bonjoro branding.
Upgrade to the Essentials plan for $25 per user per month and you'll now have access to multiple integrations, one message template, three CRM automations, and custom branding of your Bonjoro videos.
And finally, we have the Grrrowth plan, for companies on the rise. This plan is $45 per user per month, plus $15 for each additional team member. Here, you'll get custom branding, unlimited videos, unlimited CRM automations, and unlimited message templates, so you can craft as many Bonjoro campaigns as your business needs.
Will Bonjoro integrate with my other apps?
Bonjoro integrates with several leading CRMs and ESPs, as well as platforms like Patreon and HubSpot.
We connect with about 20 standalone apps, but we also work with Zapier, which opens up compatibility with over a thousand other tools from Slack to Google Docs and a whole lot more. Check out our full list of integrations here.
What are the benefits of personalized video?
The benefits of personalized video come in several different forms, from lead nurturing to explainer videos, to just saying thanks to a customer.
What it all comes down to is, you can still foster a human connection with your customers—no matter where they are in relation to you. Personalized messaging goes a long way in establishing trust, but the main thing here is, you're showing prospects that you're not just an email signature or an algorithm, and that goes a long way.
Get Started with Bonjoro
Bonjoro gives you everything you need to convert and delight your customers and turn them into superfans of your business.