BombBomb vs. Loom vs. Bonjoro vs. Vidyard GoVideo: Video Platform Comparison
Table of contents
If you're in the market for a video solution that will help you connect with prospects, and build relationships with customers, this article will guide you through everything you need to know about some of the key players in the personal video market: Bonjoro, Vidyard GoVideo, BombBomb, and Loom.
They're all geared towards slightly different industries and use-cases, so let's take a look at each of them, and find out which one will suit your business best.
Let's kick-off with Bonjoro...
Bonjoro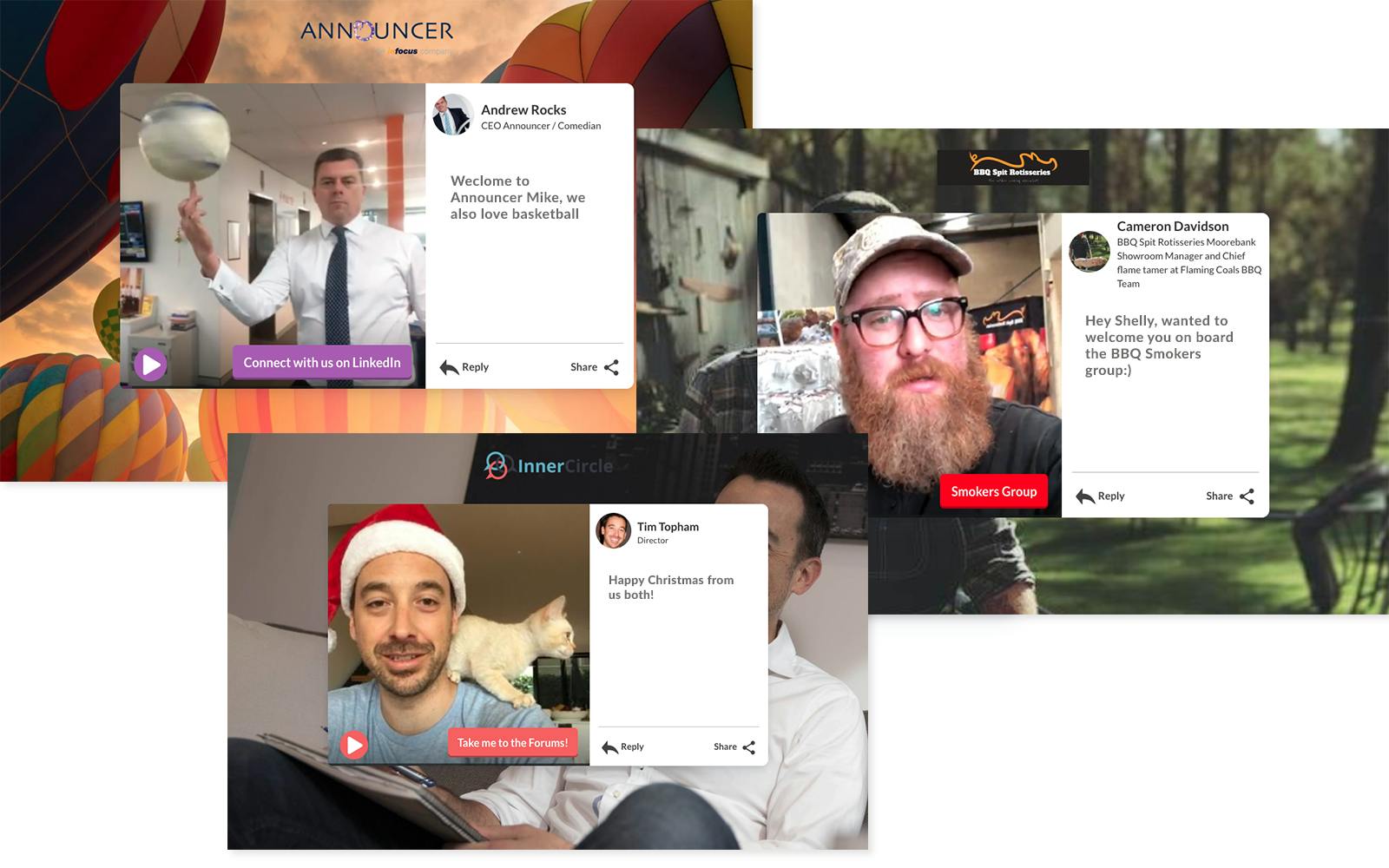 Bonjoro is all about is helping SMEs and growing companies stand out and get true customer engagement in a world increasingly dominated by automated communications.
Bonjoro lets you create and share personal videos from both desktop and mobile apps. You can track interactions with your Bonjoro videos in real-time, integrate Bonjoro with your existing sales & marketing tools in a matter of minutes, and add eye-catching call-to-actions to your Bonjoro videos to drive business critical outcomes like demo bookings, landing page views, and purchases.
Bonjoro is designed to fit neatly into your existing sales and marketing funnels, via a deep and well developed list of integrations with many mainstream ESPs and CRM's; think Mailchimp, Hubspot, Active Campaign, InfusionSoft, ConvertKit, Drip, Intercom, and many more. So whether you are using personal videos to convert outbound prospects and inbound leads, or you're sending onboarding videos to welcome new customers, or you're just looking to deepen relationships with your existing customers, Bonjoro has you covered.
Key Features 💪
Bonjoro does things very differently to the competition. Here's just 5 game-changing features you'll find in the Bonjoro lineup:
1. Record from any device - Bonjoro pretty much covers all of the bases when it comes to recording and sending videos to your prospects and customers. They have the best mobile apps on the market by a huge margin (iOS and Android), and recently launched a slick new Chrome HD screen recorder too, which means you can now record helpful videos for your customers and team and share on any channel (email, SMS, social) with a simple link.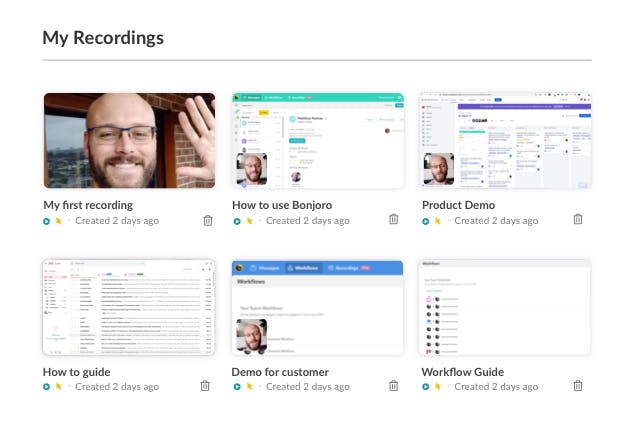 2. Workflows - The most powerful step in Bonjoro is connecting it with the tools you already use. When a customer or lead performs a specific action, for instance, makes an enquiry, a "task" is created in your Bonjoro account to then send this customer a video message. You can then record that message in seconds from the Bonjoro web recorder, or mobile app.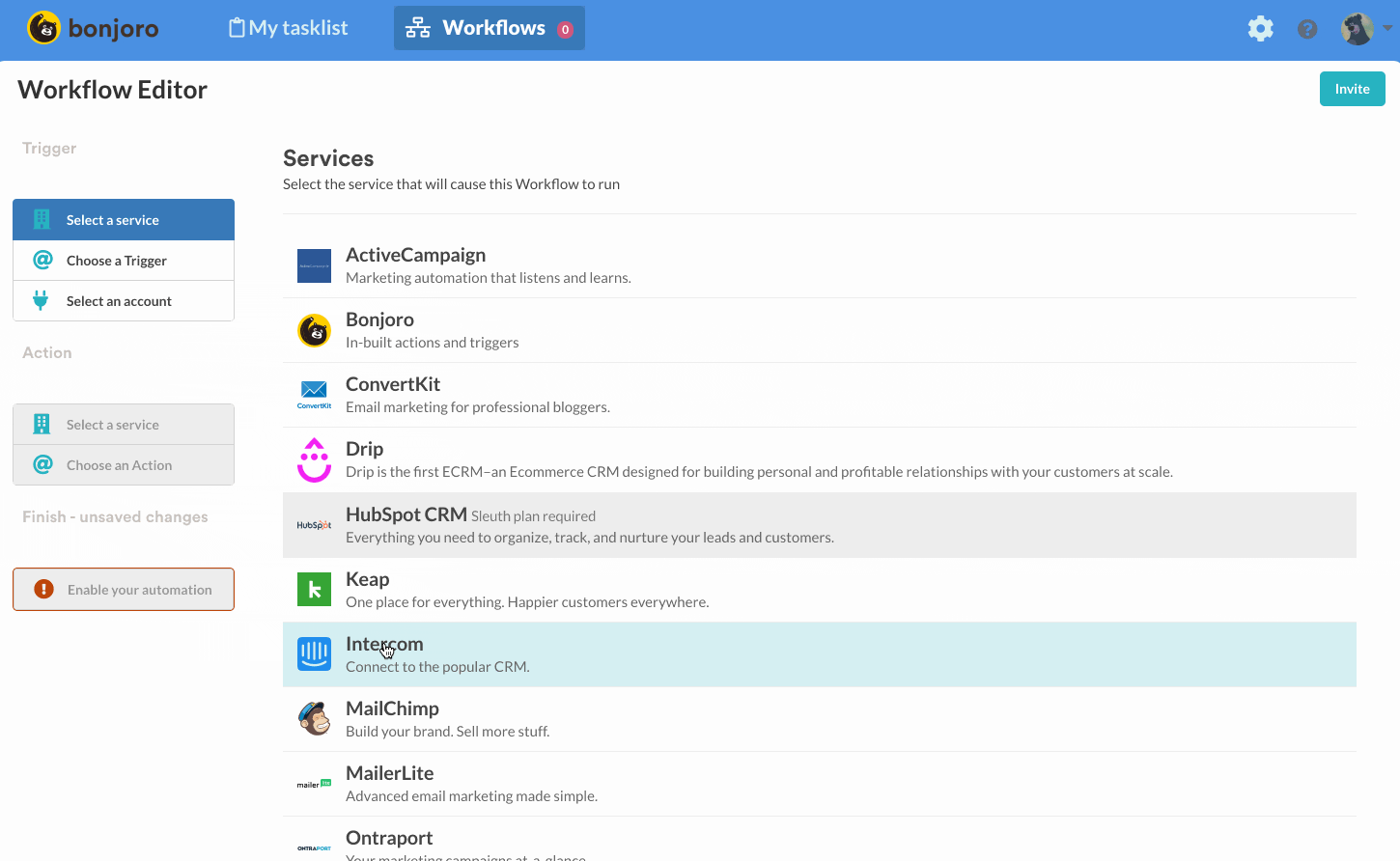 3. Message Templates - This is a really smart system which allows you to link regularly used subject lines, email copy, landing pages, and calls-to-actions to save time recording and sending your videos, and A/B test which approaches work best.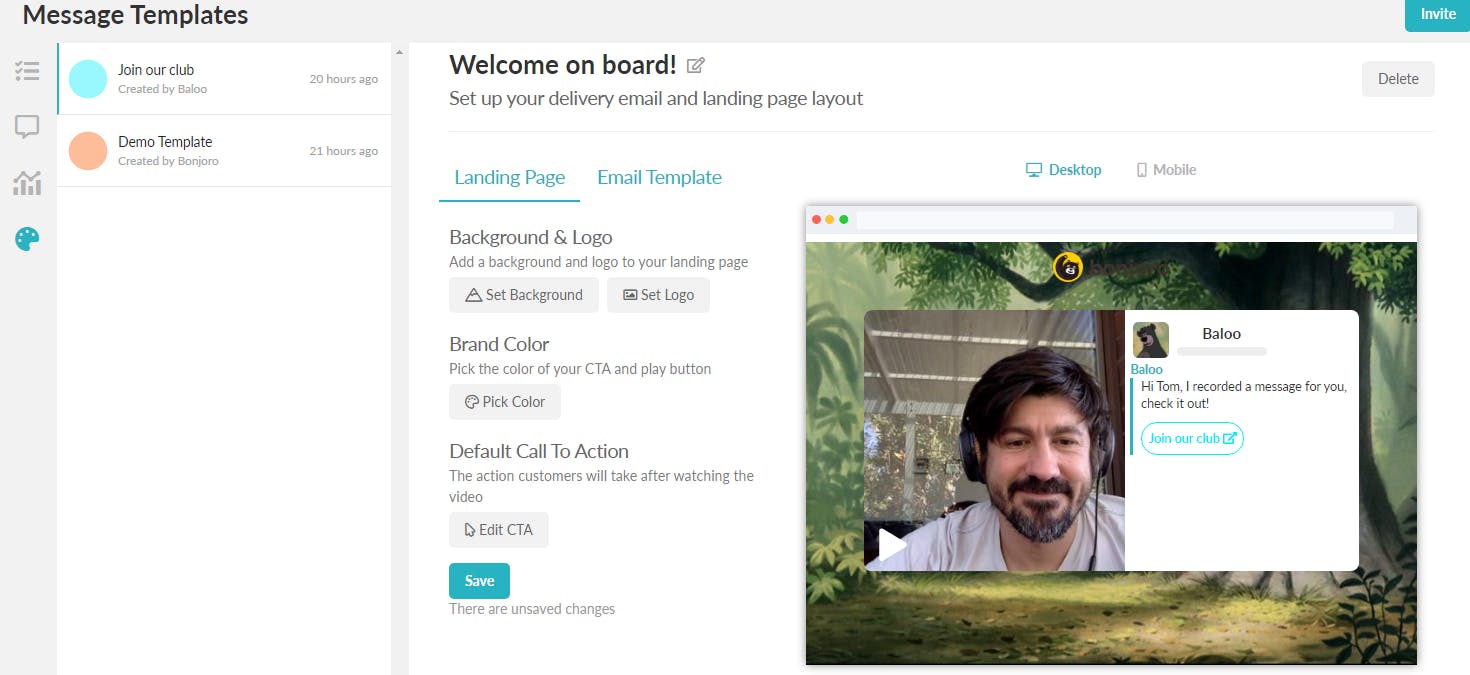 4. Roll-ups - A true world first. Roll-ups is a simple, time-saving way to send personalized, custom branded, video-emails to larger groups. Just select which contacts you want to roll-up, and send one video to all of those contacts.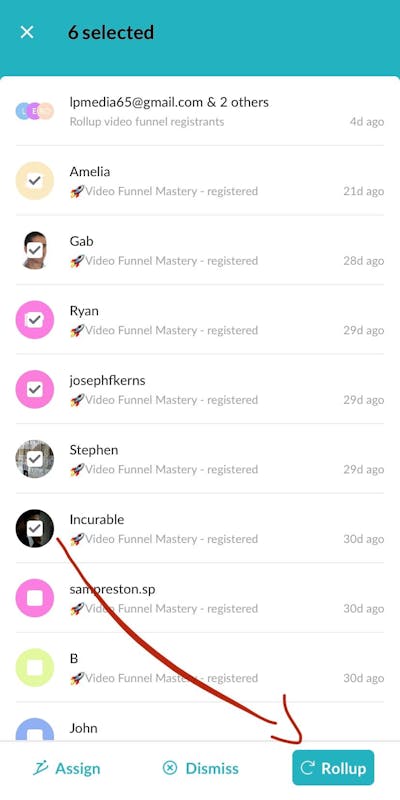 5. Customer Context - Pull custom data into Bonjoro directly from your CRM, so you have context on who you're speaking to, and what actions they have taken on your site, right at the time of recording your video. You can also quickly check their website just before you record your video, to prep up on their company - just one of the many ways Bonjoro makes sending personal videos super easy.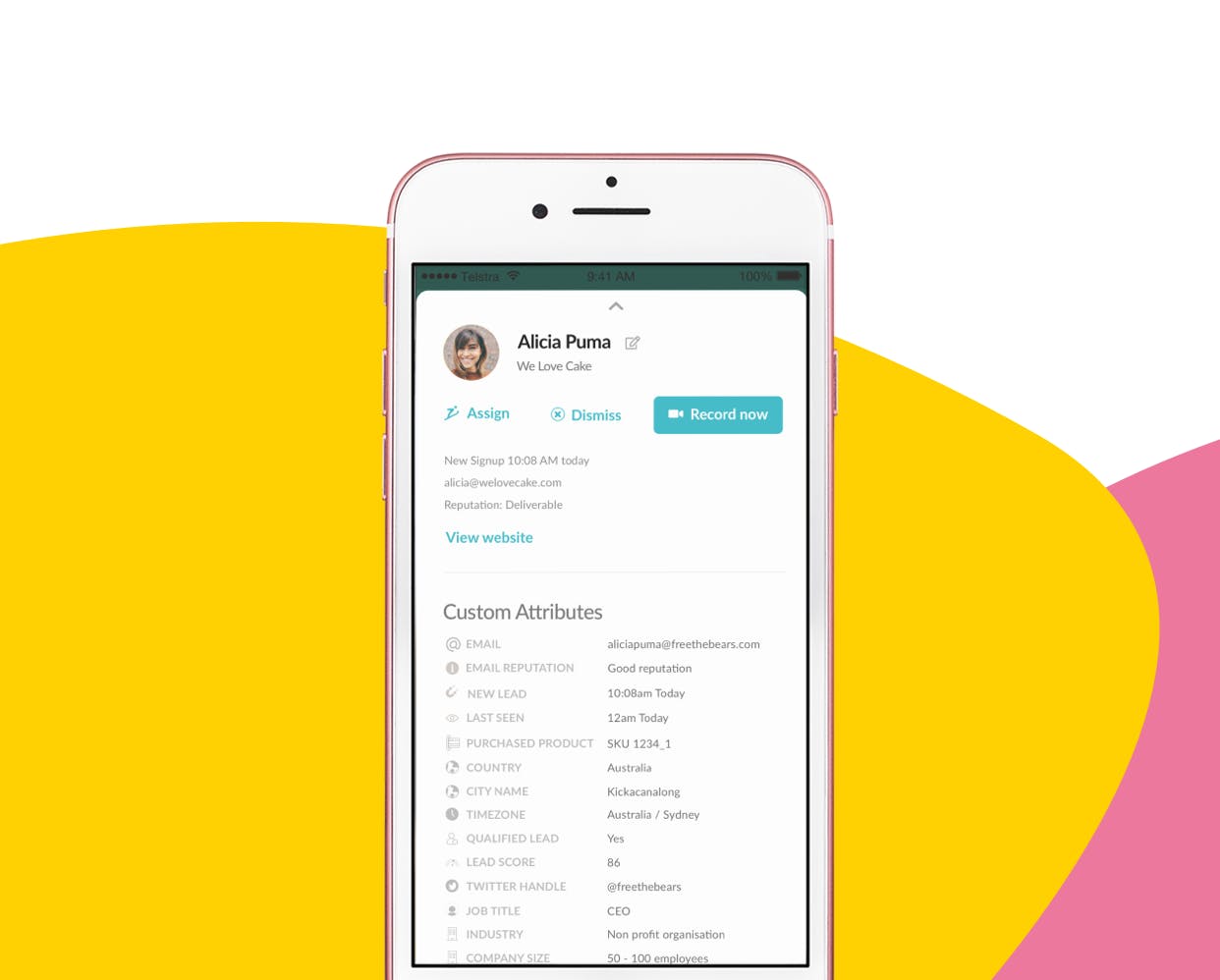 Biggest Negative 😞
Bonjoro doesn't have any video editing (e.g. trimming) options or allow you to apply filters to your videos. We've heard on the grapevine that they are working on something though, so watch this space!
Who Should Use Bonjoro?
The short answer is anyone who can benefit from 1:1 video. But more specifically, most of Bonjoro's customers tend to fall into the SaaS, e-commerce, online coaching, education, or creative categories. These folks use Bonjoro in a range of ways--think recording a personal video to say "thank you" to a customer, creating customised onboarding videos, or using videos to warm up cold leads.
Bonjoro even wrote a 35 page Playbook of high-converting ways their customers use video in their business, called the Video Funnel Playbook (no email required).
The common thread here is that these companies do business online and often have to send out cold emails, make calls, and create marketing campaigns that aim to build trust with people they might never meet in person.
If you like the sound of Bonjoro you can sign up for a free 14 day trial right here
Vidyard GoVideo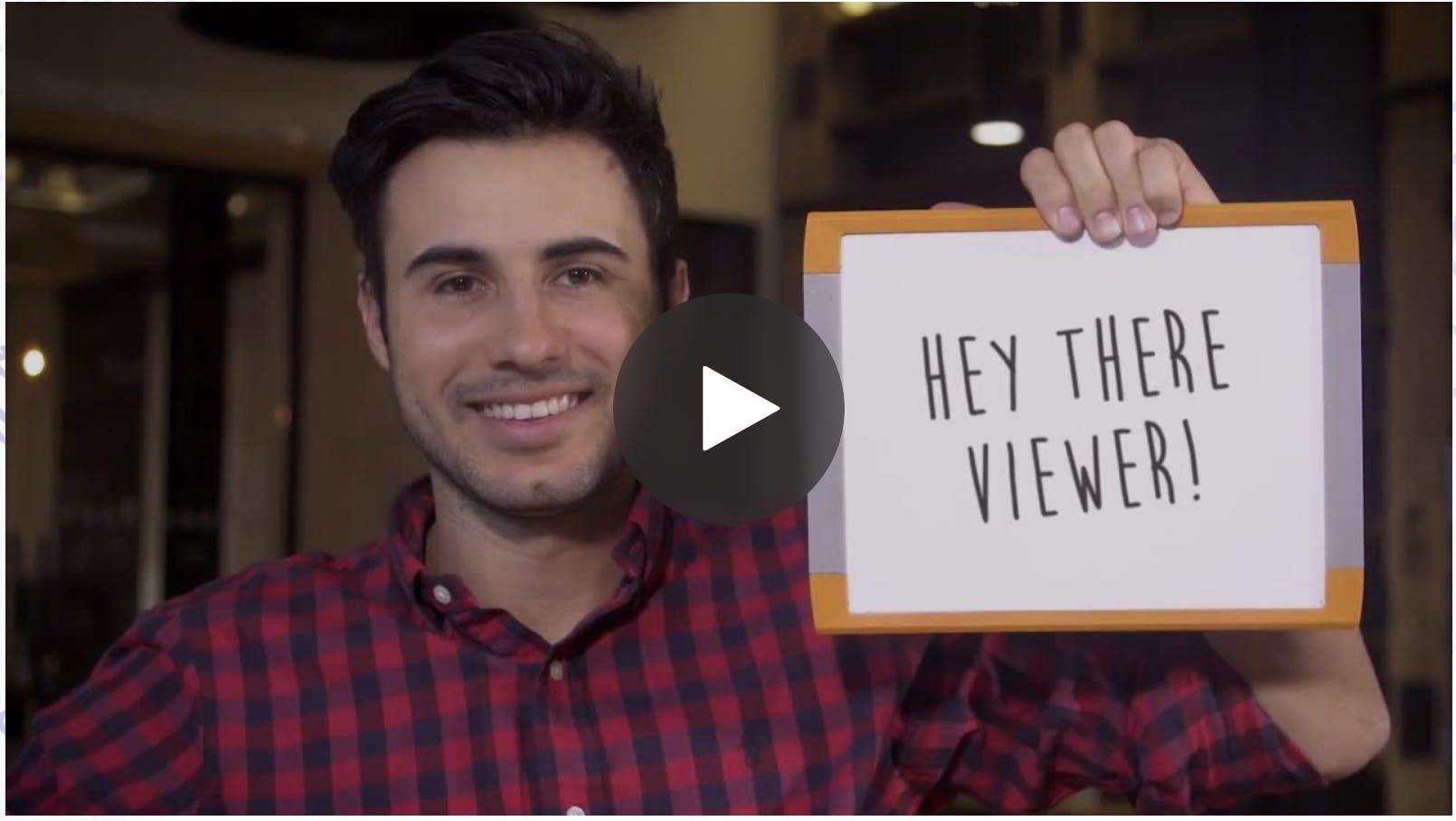 Vidyard has a suite of tools that works in a sales or marketing context, with most of those tools geared towards the enterprise-level marketing team with some video production know-how and a significant marketing budget.
However like Bonjoro, they have personal video messaging, called GoVideo. Vidyard GoVideo is essentially a Chrome plugin that allows you to record your screen, yourself, or a mixture of both, grab a link to that video and embed it wherever you want: email, Facebook etc.
Based on review sites like Capterra and G2Crowd, Vidyard GoVideo is well-regarded among salespeople who say that the ability to add videos to their prospecting and lead nurturing processes has changed the game when it comes to hitting quotas.
Key Features 💪
Intuitive and well designed Chrome desktop recorder that lets you record videos right from in your browser (see screenshot below).
You can share your videos using Gmail, Facebook, Twitter, LinkedIn or by simply copying the video link once you finish recording.
The ability to integrate GoVideo into Vidyard's wider video hosting stack if you have the resource and budget required.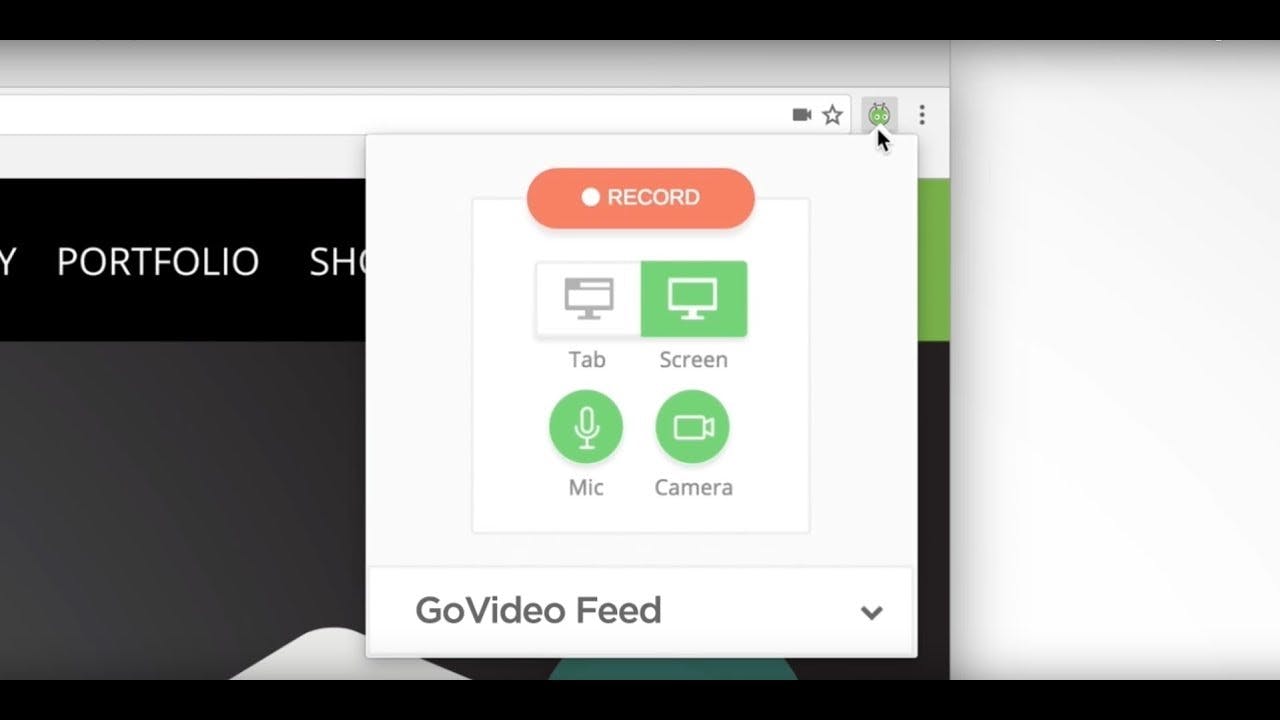 Biggest Negative 😞
They only offer annual plans for GoVideo (see Pricing section further down), with their standard plan starting at the equivalent of $80 per month, some $55 above Bonjoro's comparable plan. Fine for bigger sales teams, but probably out of reach for most SMBs and startups who are only just getting started with video sales & marketing.
Who Should Use Vidyard?
Vidyard, like Bonjoro, works in a sales or marketing context. However, it's worth mentioning that Vidyard's bread and butter is a video hosting platform that allows users to create video ads, webinars, SEO content, and a whole range of digital assets, so it's safe to assume that GoVideo will probably remain a lightweight option to complement those tools. We'd recommend Vidyard for the enterprise-level sales teams already using Vidyard's existing suite of video-hosting tools on the marketing side of the business.
Loom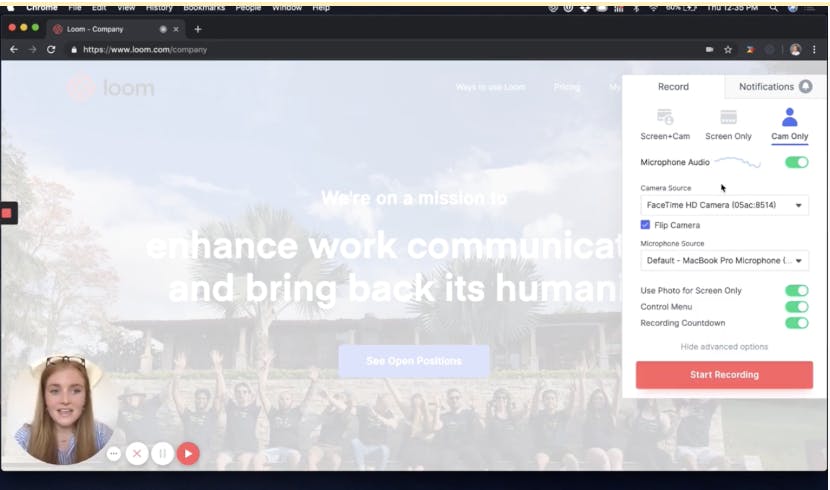 Loom is a Chrome based screen-recorder, where users can easily record workplace communications rather than type them out in an email or chat.
Compared to the other entries on this list, Loom is more focused on internal communications. As you can see in the above screenshot, you can access your video recorder by clicking on a Chrome extension, any time a thought comes into your head, or a colleague sends you an email where it's just easier to respond verbally.
Loom, as compared to something like Bonjoro or BombBomb, is relatively pared back—but that's almost its key selling point. Loom aims to make video an easy alternative to typing emails, reserved for those times it's more effective to use your voice than to try to get your ideas out in the form of an email.
This way, teams can (hopefully) cut back on the number of conference calls or meetings and be more productive throughout the day.
Key Features 💪
Super easy to record your screen with their beautifully designed Chrome extension (I'm not 100% sure, but I think Vidyard based GoVideo on Loom's original, and ingenious design)
HD video quality via their new Pro plan if you want to use your video in the public domain, or really make an impression with a customer.
Simple video editing tools (see the "Trim" option below), that allow you to crop all the mistakes and pauses out of your videos, so viewers don't waste time watching out-takes.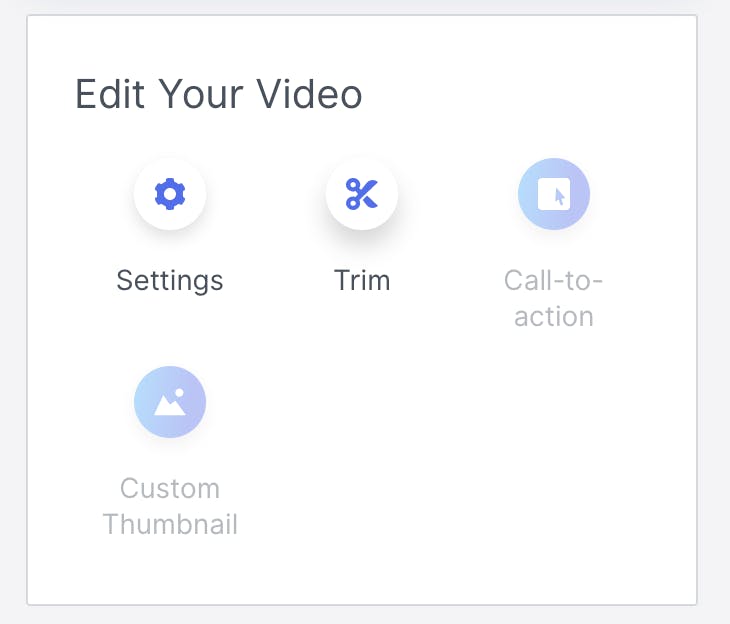 Biggest negative 😞
Loom only offer a Chrome extension at the moment, so if you don't use Chrome, or you want something that works from every desktop and mobile device, Loom won't quite hit the mark.
Who Should Use Loom?
Loom is good choice if you'd like to experiment with sending video messages or you do plan on using the platform exclusively for internal communications—like a video voicemail for your coworkers.
While you can use the tool to create screenshots, there's no feature included for marking up the screen to help clarify specific points. We hear this is on the roadmap, so one to look out for.
And it's worth noting that they recently released a paid-for Pro plan, which comes with more video editing options, HD videos, and the ability to add CTAs to your videos, so they're clearly branching out and trying to make the tool more robust for wider use-cases.
Where Loom lacks vs. the competition is when it comes to integrations and mobile usage - there's currently no way to integrate Loom with your existing sales & marketing tools, and no mobile app for recording video on-the-go like with Bonjoro's slick mobile apps for iOS and Android. Though, admittedly for most B2B screen-recording use cases where you're recording a simple how-to, help-guide, or bug report, for example, desktop often makes the most sense.
BombBomb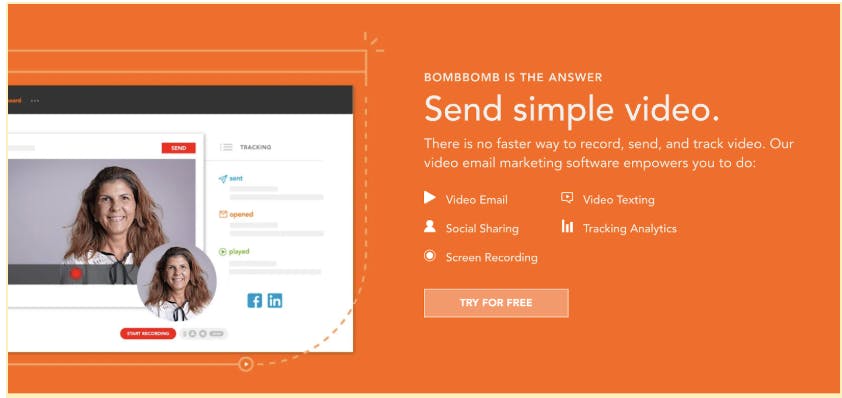 BombBomb is a video messaging and marketing platform built to accelerate and personalize sales processes. As is the case with many of the video recording platforms on the market today, BombBomb is designed to deliver a personal touch to the inbox. Like Bonjoro, BombBomb's key focus is on 1:1 videos, not mass mail-shots to large databases - so don't think of either of these tools as like Mailchimp for video, they're much more about developing trust, and driving strong customer relationships.
The platform integrates directly with a handful of mainstream tools; Gmail, Salesforce, and Outlook, but it's main focus is on Real-Estate, Mortgage and Automotive specific integrations. BombBomb is all about making sure you make face-to-face connections with your contacts, and they do an excellent job when it comes to simplifying the process. For instance, BombBomb syncs up with Gmail, allowing you to put together a video while writing an email.
Key Features 💪
Gmail app and Chrome extensions that make it easy to integrate video with your standard outbound and inbound email comms.
The ability to automate your video follow-ups with emails and forms created inside the BombBomb platform.
A tool designed specifically for Real Estate companies called Prompt - think canned videos which go out at key moments in the Real Estate buying process, designed to help you close more sales and retain more customer relationships.
Biggest negative 😞
They only offer Annual plans, and their entry level plan starts at the equivalent of $49 per month, which is $5 more than Bonjoro's top level plan that includes many of the same features as BombBomb.
Who is BombBomb For?
Where Bonjoro mainly works with creators, online coaches, SaaS, and e-commerce brands, BombBomb targets a different set of industries; Real Estate, Mortgage, Automotive, and their UX and integrations stack is very much geared towards these markets.
Overall, BombBomb is easy to use and is well worth checking out for users in the Real Estate and Automotive space who want to add 1:1 video to their sales efforts. However, the lack of direct integrations with other mainstream ESPs and CRMs means some teams may want to look elsewhere. Bonjoro is a better option if you're looking to integrate with Mailchimp, Active Campaign, ConvertKit, Drip, Leadpages, and many other mainstream sales and marketing tools.
BombBomb vs. Loom vs. Bonjoro vs. Vidyard GoVideo: Pricing Comparison:
Bonjoro
Bonjoro offers four plans, with pricing for companies of all sizes. Here's a breakdown of the plans, and who they are best suited to:
The Free plan limits you to 50 unbranded videos a month. Best for newbies and light users.
The Basic plan lets you send up to 50 branded videos per month. Best for light solo users wanting custom branding.
Above that their are two unlimited video plans.
The Pro plan, which alongside unlimited videos, ups your number of Workflows and Message Templates to three. Best for individuals & teams running multiple video funnels - for example, one for new leads, one to thank buyers, and one to engage inactive customers.
The Grrrowth plan ups the number of Workflows and Message Templates to 10, and lets you remove the "Powered by Bonjoro" badge from your videos. It also includes Roll-ups which is quick, time-saving way, to send Bonjoro videos to groups. Best for power users running multiple funnels, and teams using personal video at scale.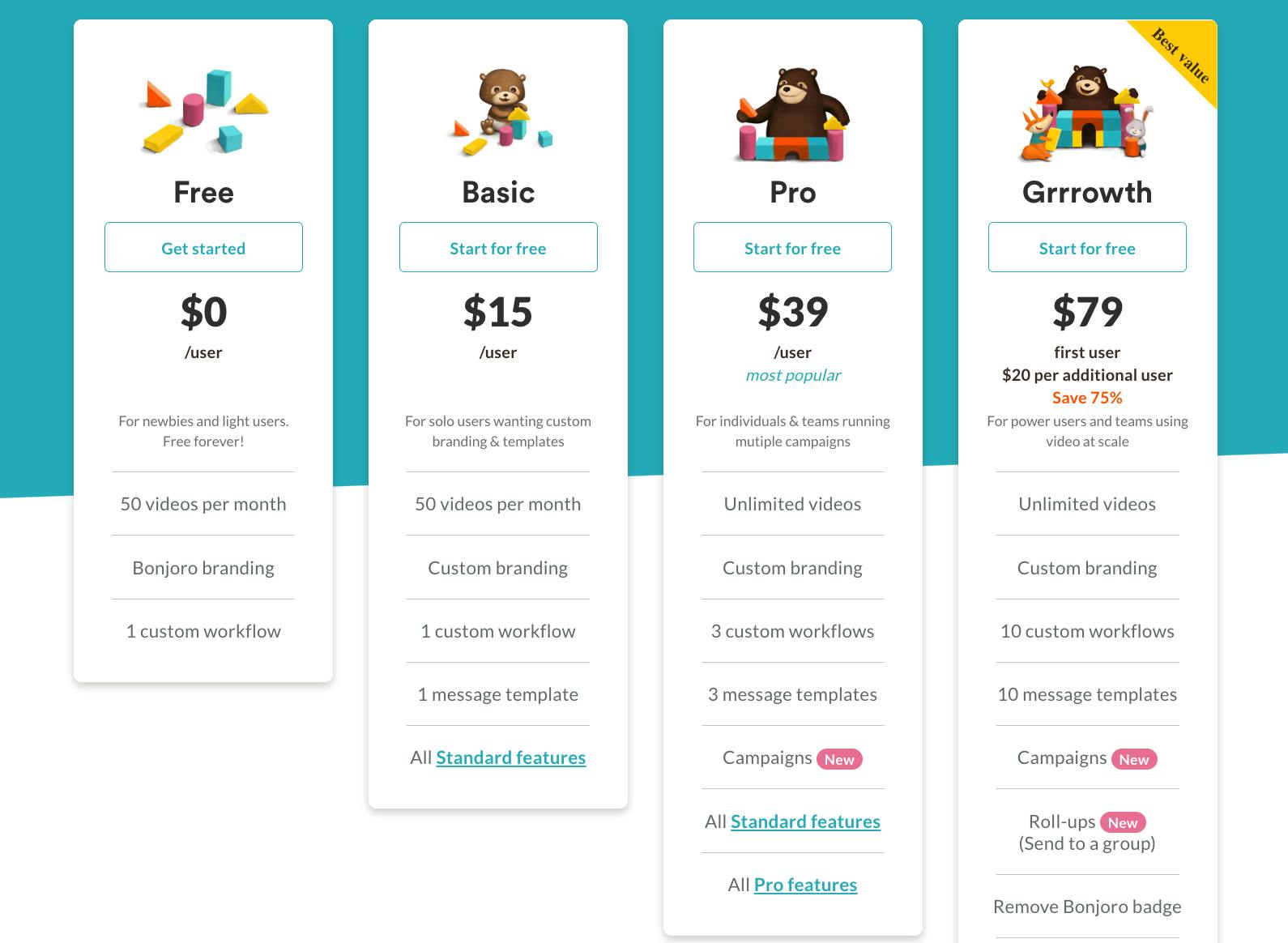 BombBomb
BombBomb is geared towards Real Estate and offers annual subscriptions only.
Individual limits you to 2500 video emails a year
Individual Plus ups this to 3500 a year and adds automated follow up emails and forms, and front-of-line phone/email support.
Prompt, like we mentioned above, adds a Real Estate specific programme, which automates the sending of pre-recorded videos at key moments in the homebuyer lifecycle.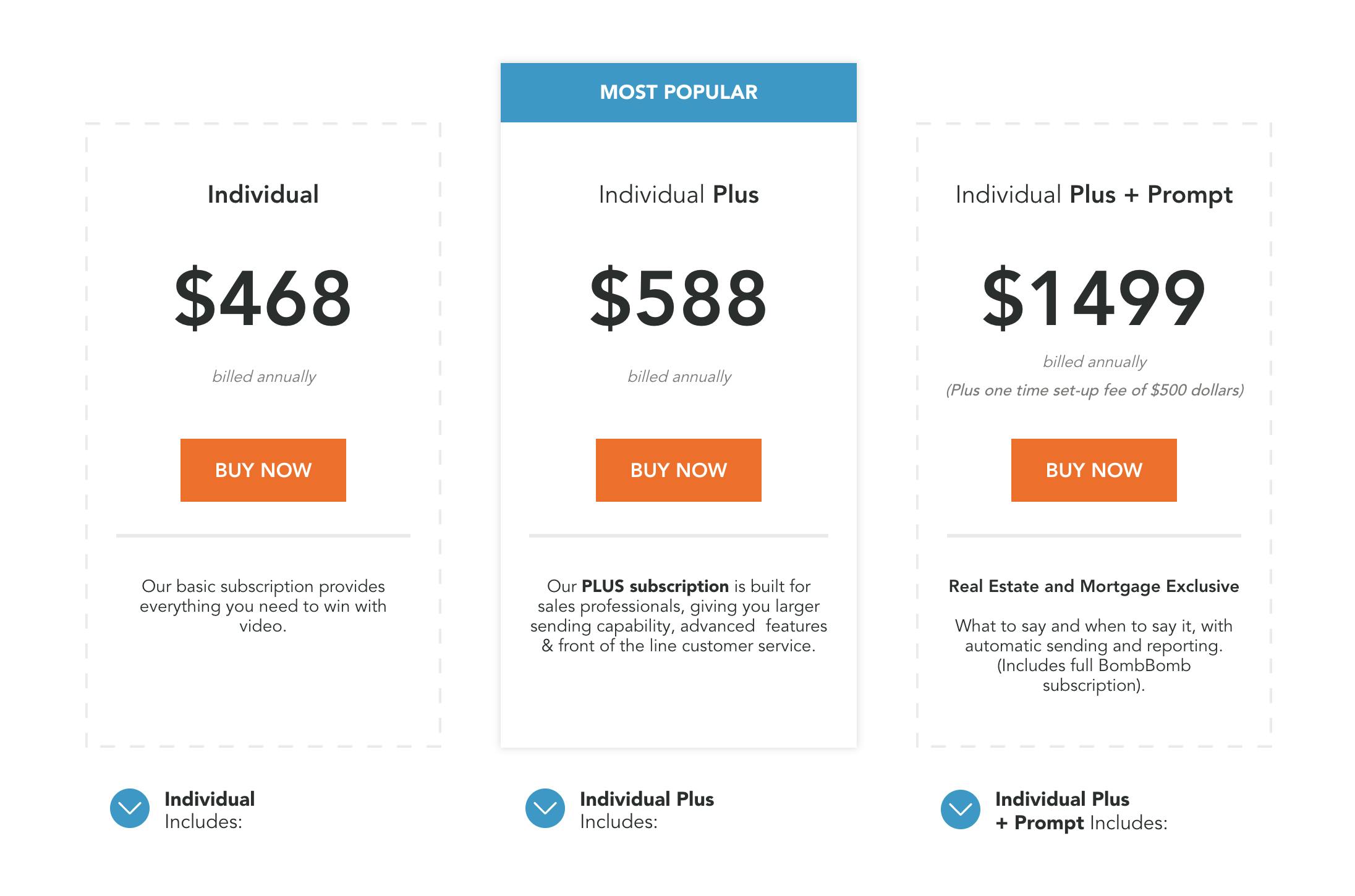 Loom
Loom excel when it comes to simple, clean messaging, and this extends to their pricing.
You can see everything you need to know right in the screen-shot below. The $10 Pro plan adds HD videos, unlimited storage, more robust editing tools, and video call-to-actions to their existing free screen recording tool.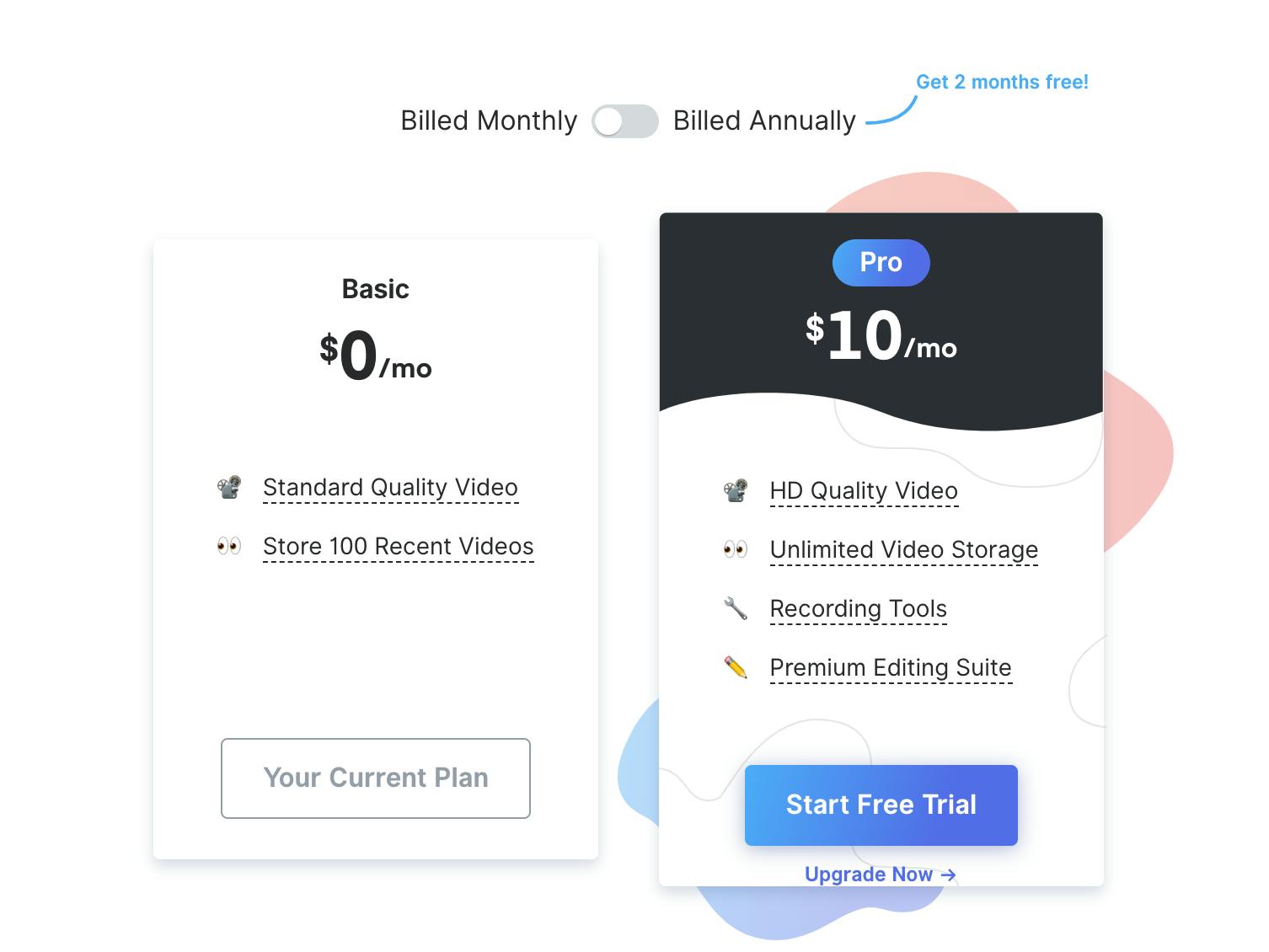 Vidyard
GoVideo, Vidyard's sales video tool starts at $0 per month, but is pretty limited compared to Bonjoro and BombBomb at that price point. You don't get the ability to add Call-to-Actions on your videos, which is fairly integral to video sales, so you'll very quickly be upgrading to the $80 per month plan, which is only offered on annual contract basis, so an initial outlay of $960 per user.
To be fair, they have a great Hubspot integration, so if you're a sales person running on Hubspot, with enough cash in the bank, Vidyard GoVideo is certainly worth checking out.
But vs. Bonjoro, you don't get anywhere near as much for your money, so for SMBs and startups Bonjoro is certainly a much better option.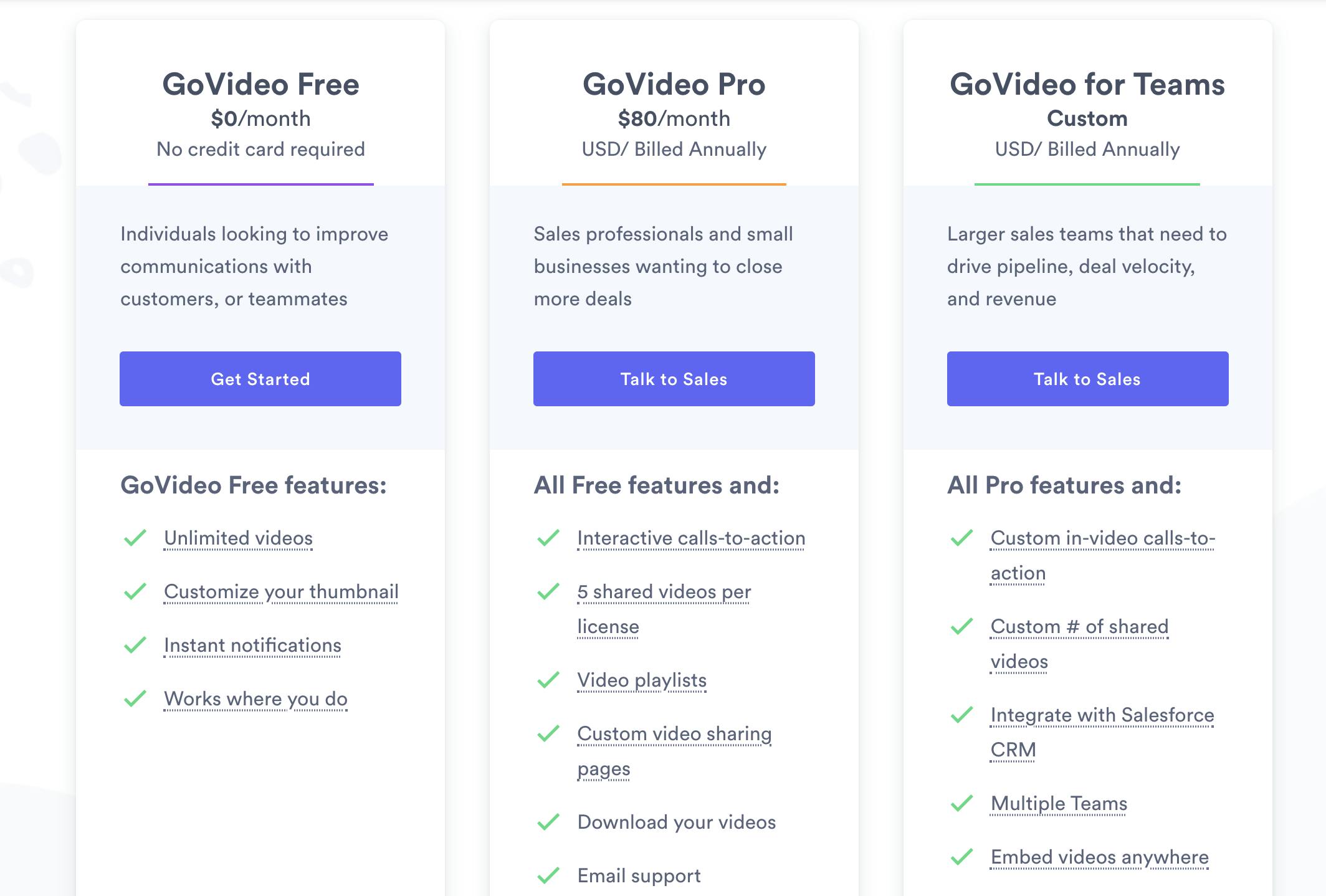 Wrapping Up
Depending on your specific needs, one platform might make sense over the others.
Larger companies will get a whole host of business tools by signing up for Vidyard—though the price tag might not be realistic for smaller companies operating on a limited budget.
Bonjoro work primarily with small-to-medium-sized online businesses, where using one-to-one video at key moments in their customer funnels helps them gain a competitive advantage. Bonjoro integrates with most mainstream CRMs, and email marketing platforms, so you can just drop it into your existing strategy and start tracking results. Where Bonjoro really stands out now though, is their recent addition of Roll-ups, a simple way to send in-the-moment videos to multiple customer contacts at once - a bit like Snapchat but in a business context. Roll-ups means that personal video is now truly scalable for businesses of any size, from those with just 10 customers, to those with 10,000.
Loom is more geared towards internal comms, and customer support, where you can quickly and easily share screen-recordings to answer questions, or guide users on issues. The lack of integrations however, means that it's a bit more siloed from your existing sales and marketing funnels.
BombBomb is definitely a great tool for sales & marketing, but is very geared towards Real Estate users (especially on the integrations side), and the price tag might be out of reach for smaller online businesses such as Business Coaches, Online Educators, Ecommerce or Creatives - Bonjoro tends to cater to that bracket much better.
If you like the sound of Bonjoro you can sign up for a free 14 day trial right here.