10 Ways Every Online Seller Should Be Using Screen Recordings in 2020
To celebrate the launch of Bonjoro's awesome new free HD screen and webcam recorder, we've put together a list of the 10 best ways online sellers can leverage screen and webcam recordings in 2020 and beyond.
Many of these tactics are massively underused, but hugely effective, and some even work on auto-pilot once you'd recorded them once.
But WAIT!
Before you dive in, make sure you grab a free copy of our infamous Video Funnel Playbook. Get your copy here (no email required), and see how one business made an extra $16,400 revenue in just 4 weeks using one of the funnels inside.
OK. Read on...
Uses for Marketing
If you work in marketing, screen recordings give you a simple and quick way to elevate your current content, and make your future content more engaging than ever. Here's three ways you should be using video right now.
Embedding videos into your blog posts
If your latest blog post mentions anything about your product or website that can be shown visually, why not...show it visually. Here's a few things you might use a video for in your blog posts:
- a walkthrough of your latest feature/s
- a full product demo
- a video summary of your full blog (like this - see screenshot below)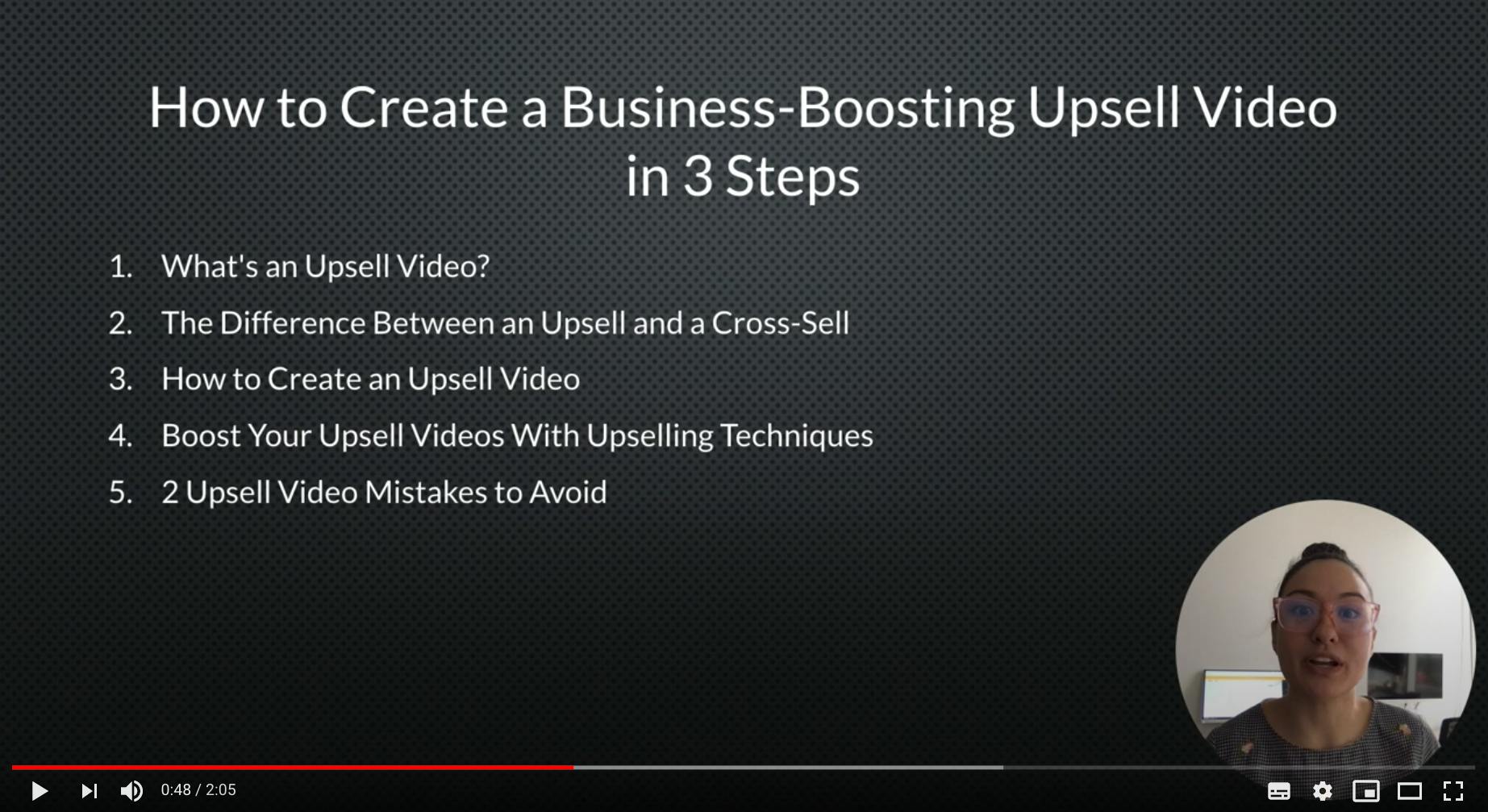 - a quick "how-to" of something useful to your target reader
This final one is so under-used and underappreciated, but the best marketers I've seen are doing it the most to lift the lid on how they are really doing stuff.
Giving your reader a clear and actionable demonstration of your own trade secrets is the best way to offer value, and put them in a position to trust and listen to your offer.
Here's a blog I wrote last year about how to build an affiliate marketing channel, where I completely lifted the lid on how I do things here. Using video helped me show the reader how exactly to do things without writing hundreds of extra words.
Email campaigns showing new features
Whilst it's still not possible to get embedding videos to play directly in an email, embedded video thumbnails into newsletters is still a great way to get your recipients to engage with specific updates.
Bonjoro's new HD screen recorder has a simple button where you can copy your video and thumbnail into an email. Just hit "Copy into Email" and then paste it where you need. The thumbnail will then link directly out to your screen recording, where your customer can engage with the content without having to jump through any more hoops.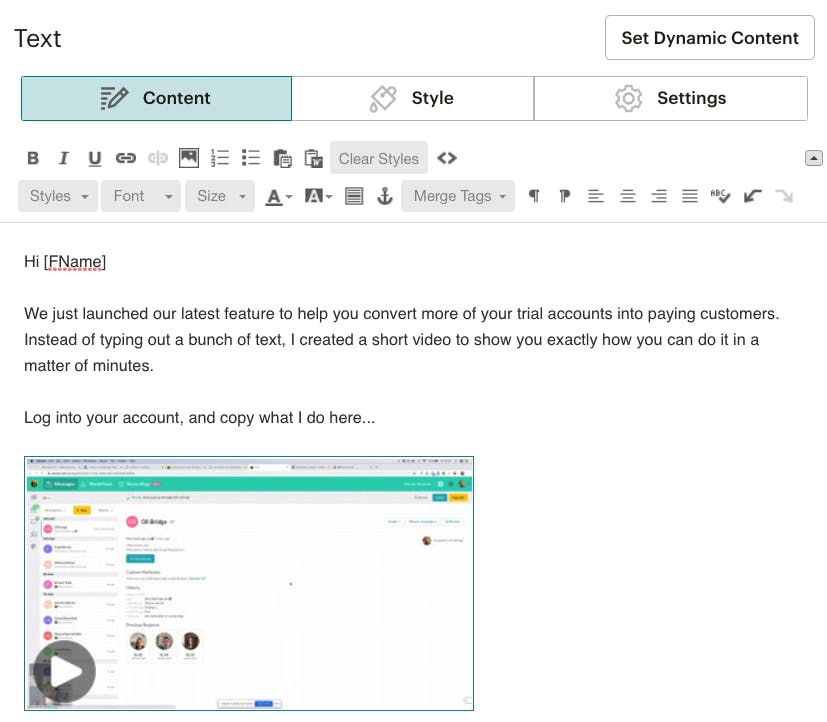 Pro Tip: Use a Call-to-Action on your screen recording landing page to drive them to the next stage. For example, you could embed a video of your latest feature into your newsletter, and then use the CTA of the landing page to get them to "Download Now" or "Login and try it".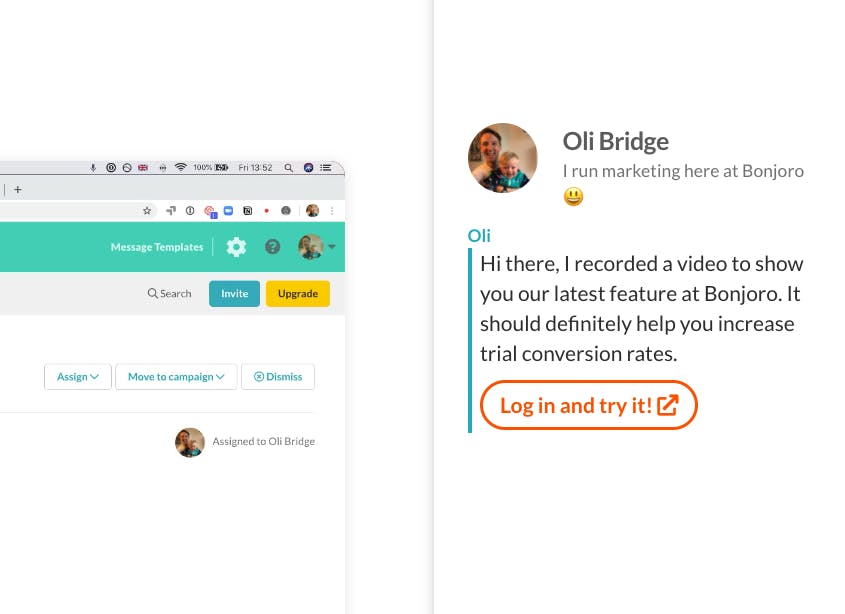 Guides for new partners and affiliates
This is something I do myself here at Bonjoro. Whenever a new affiliate signs up I send them a personal video using Bonjoro's app. I have Bonjoro hooked up to my Tapfiliate account, so I get notified whenever there is a new affiliate to welcome.
Then when I send my personalised greeting, I welcome them by name, tell them all about the programme and how they get paid, and link out to an affiliate walkthrough video I pre-recorded using our screen recorder.
This gives them a double whammy of engagement and activation: a personal welcome from me and a detailed walkthrough of the affiliate program itself.
Here's an example of the welcome video I send to new affiliates. You can see the CTA linking to my screen recording.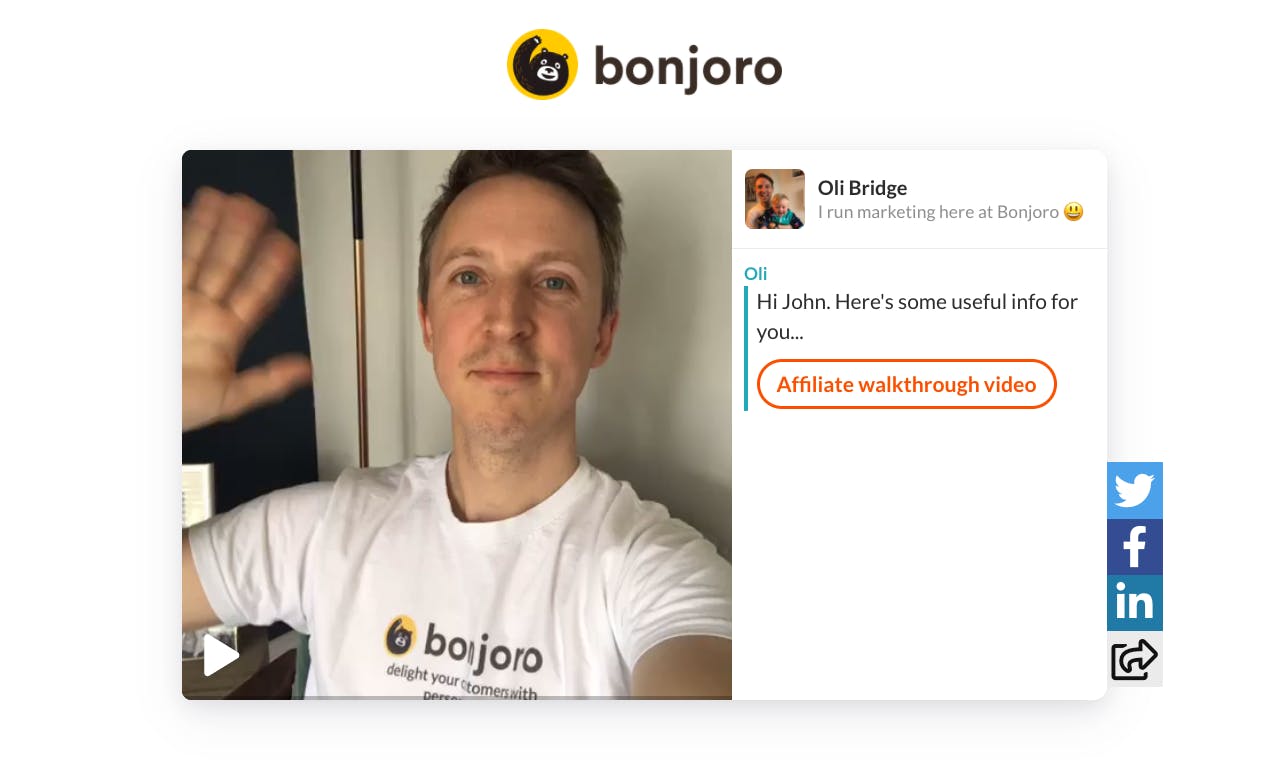 Uses for Sales
Personalized social media & email prospecting
I love this use-case. If you are in sales and you are not personalising your prospecting with screen or webcam videos, you should be. Using video for prospecting gives you the unique opportunity to do two things:
1. Demonstrate you care about your prospect and have taken the time to learn about them and their business
2. Physically show them how your product can help solve a specific problem for them.
Here's an example I received recently from a sales rep recently. It's super compelling and meant that I just had to take the call with him. As you can see, video can create an experience that no plain text email could hope to match.

Lead ad follow-ups
This one was shared with me by the awesome Dylan Hey of HeyDigital. Dylan is super clued up on video, particularly for SaaS sales, and when I told him I was writing this article and he shared a killer use-case with me, and even recorded an example video to show how it plays out.
Basically you set up a lead magnet on your site or social, or a lead ad on social media, and then run your follow up engagement using a personalised webcam and/or screen recording.
The key is that after that initial interest from your prospect (downloading your content), you go above and beyond to win their attention and seal the deal.
Here's the funnel Dylan uses with Lead Ads working in tandem with personalised video:
He runs a Linkedin conversational ad to his target audience
If someone responds to the ad and matches the criteria they then complete a Linkedin lead gen form that collects name, linkedin profile url, email address and company details.
He gets an alert in slack via the Linkedin lead form and Zapier integration
He then sends them this video using Bonjoro 👇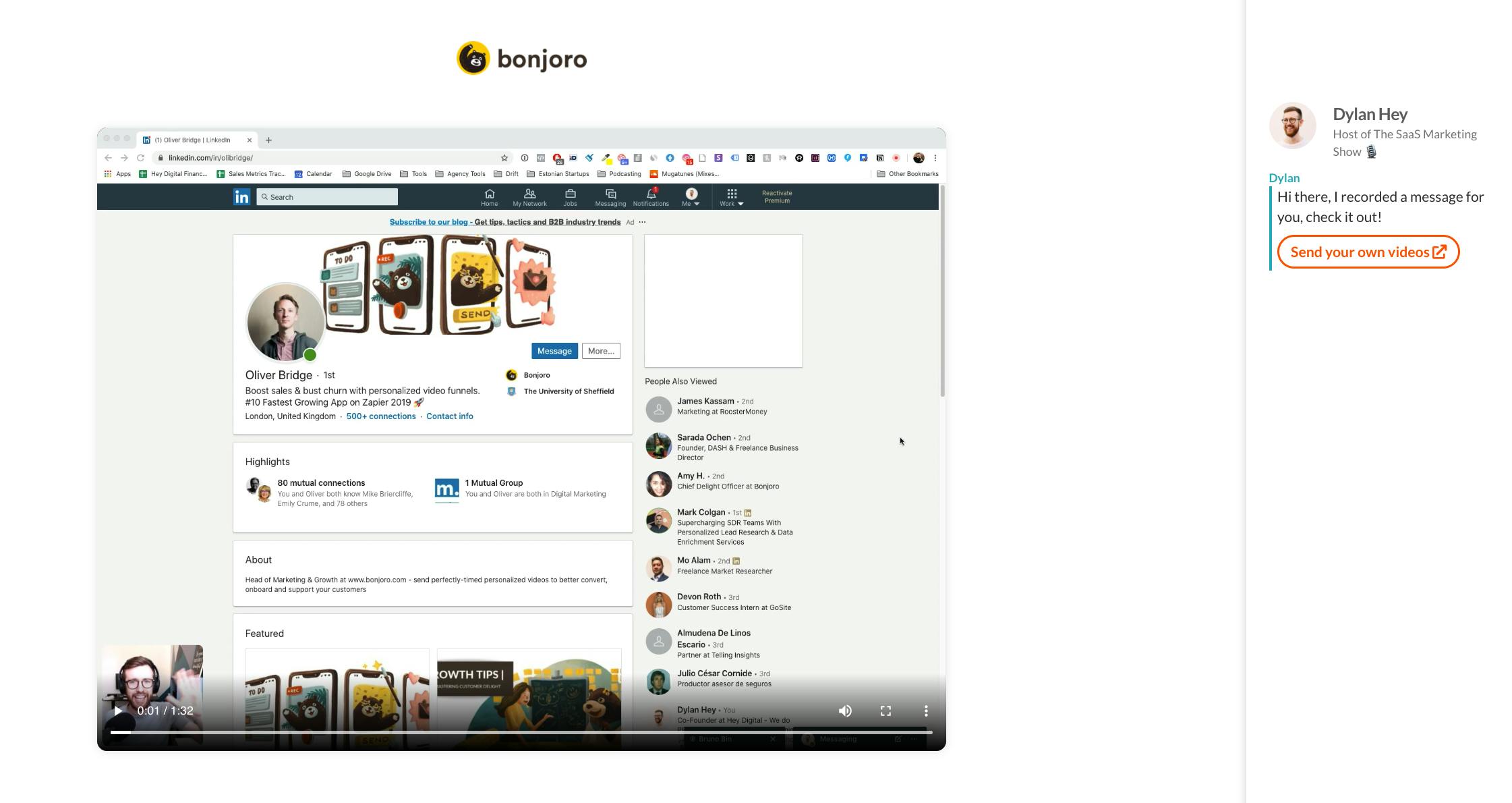 Asynchronous product demos
This one is more relevant than ever right now. If you need to show someone your entire product but can't be there in person (like right now, when we're all working remote), you can record a full product run-through once, and share it whenever a prospect asks for a full demo.
Sure a Zoom or Skype sales demo is preferable, but many people with busy schedules might prefer a recorded demo they can view in their own time.
Here's a perfect example of a screen recorded demo I found by Trello. They hosted it on Youtube, but if you're just sending it to a prospect there's no reason you couldn't just use a simple screen recorder to do the same thing.
Uses for Customer Success
Customer support responses (troubleshooting)
If you're anything like us, the quality of your customer support will be paramount. Here's a simple way to make it next-level for your customer.
Instead of typing out a long response, or worse directing your customer to a generic help doc that doesn't directly address their issue, why not record a quick screen recording to show them exactly how it's done.
This is so important when you consider that "The average user retains 95% of the messages in a video; when it comes to text, this percentage drops to 10%".
Here's a great example of this approach courtesy of Amy on our team. She quickly shows a customer how to assign Bonjoro Tasks without having to do a call or send along email.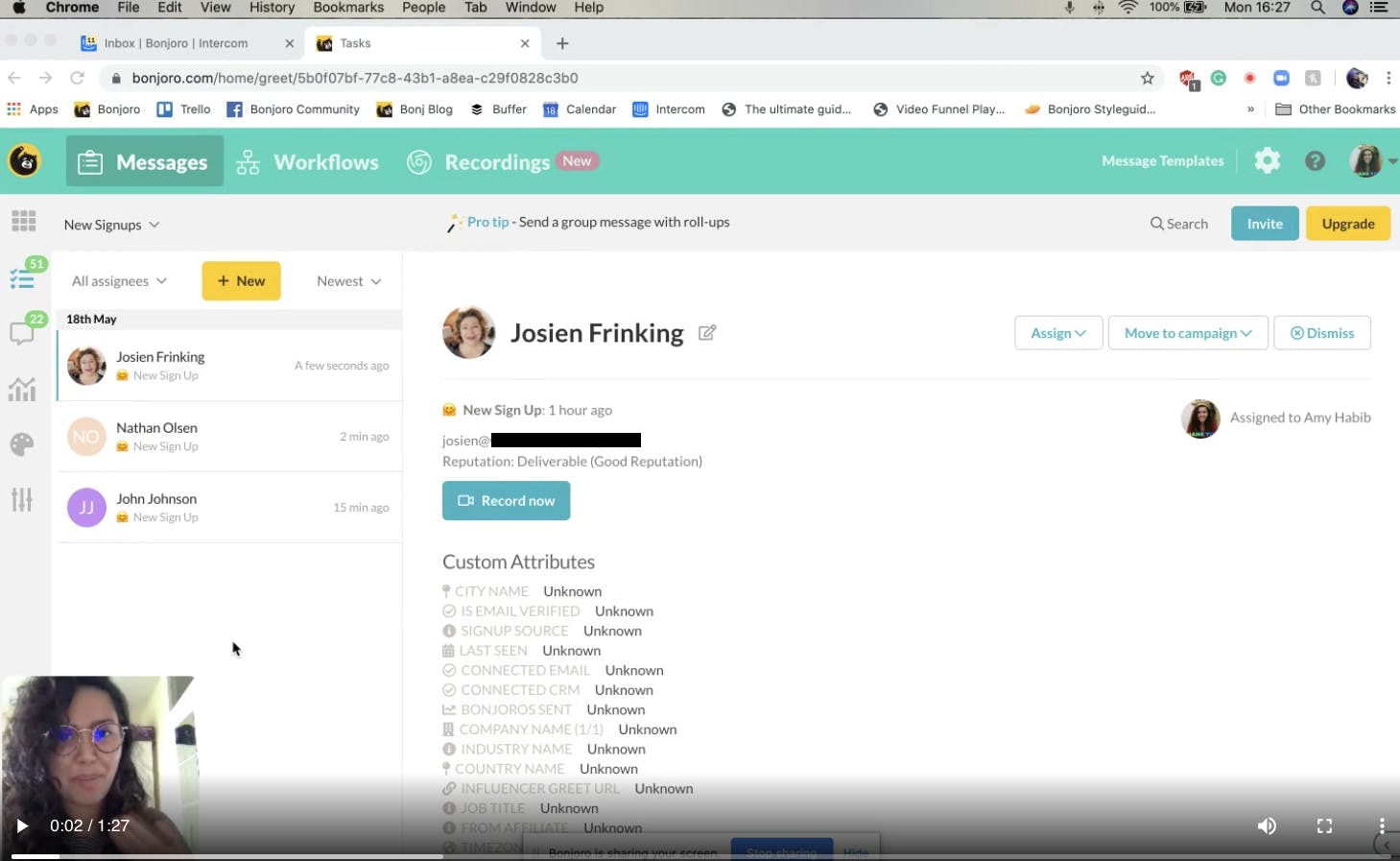 Customer action triggered videos
This is an amazing customer success hack.
Here's how to do it….
First, identify those moments where customers fail to take action in your product, which reduces their chance of converting. Here's just a few simple examples:
Failing to connect their CRM to your tool
Failing to create a their first campaign
Failing to invite their team members
It could be anything for you. But here's the key.
Set up an automation in your CRM/ESP to ping them a screen recording showing them how to do it, based on a set interval or other event. For example, you might do "Wait 5 days, if email not connected -> send screen recording showing them how to connect email."
It's such a simple idea, but will give you huge lift in terms of customer activation.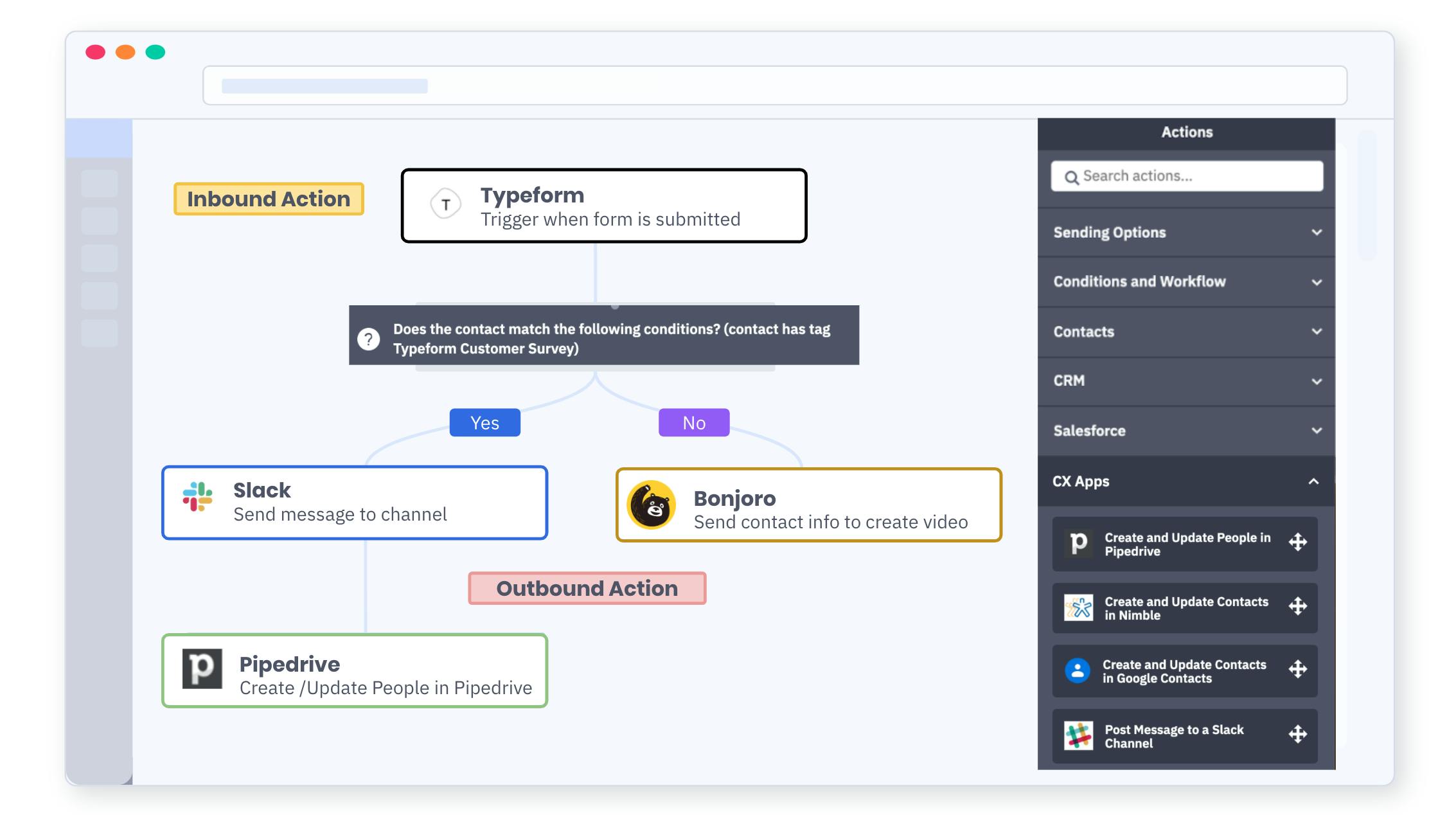 Personalised onboarding walkthroughs
This one is similar, but one level higher in terms of impact.
Here's what to do.
Identify your best fit customers. This might be done via a lead score, or based on another indicator.
Instead of letting them have the same experience as every other lead, create a workflow to ping your sales team or CS team to send this user a truly personalised walkthrough. Your script will look something like this:
"Hey [Name]. I noticed you signed up for a trial of [product name] yesterday. You look like an awesome fit for our product so I wanted to reach out personally to guide you through how to get started. I recorded a video just for you right here, and made it super relatable to your company and use case. Watch it here."
Hey and if you don't have time to record a unique walkthrough for each new customer. Here's a quicker way...
Connect Bonjoro to your CRM and send a quick welcome video to every new trial, and use the call-to-action button to direct them to a walkthrough you already created. That way, you still give them the hyper personal experience, but save yourself time crafting a unique recording for each one.
Has any company ever done this for you? Probably not. But it's SUPER effective! Imagine getting a tailored video instead of poking around for 14 days on your free trial.
Here's an example from one of our customers Promoter.io.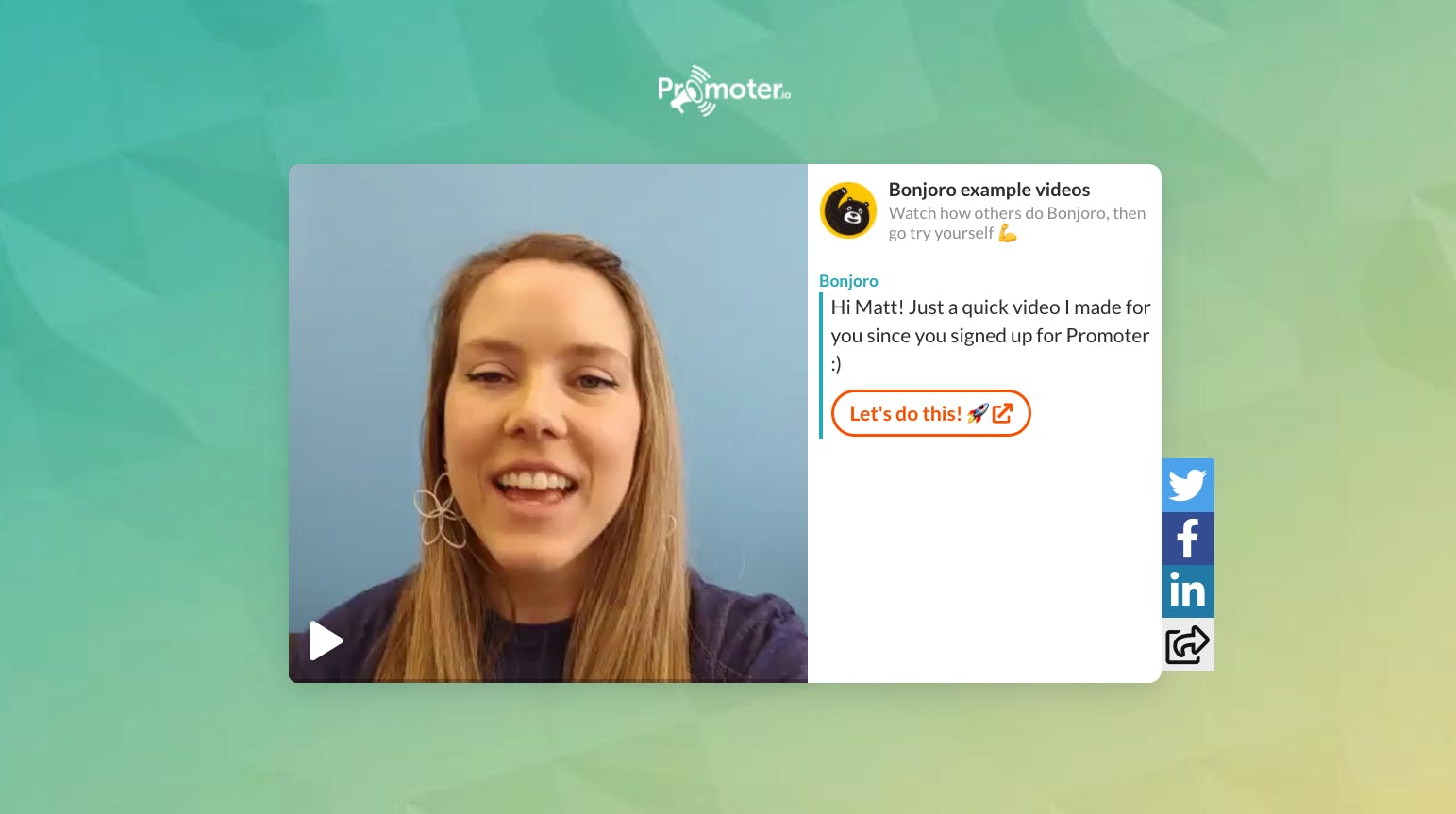 Uses for Remote Teams
Bug reporting
This is pretty self explanatory, and we do it TONS here at Bonjoro!
Instead of writing our a long winded Slack message to our developers, our Sales, CS, and Marketing teams use our screen recorder to show our dev team exactly what went wrong.
So long to the age old dev response: "can you dot-point exactly what you did before it happened?" 🤮
Team training videos (embed into existing docs)
Don't let your screen recordings go to waste.
Chances are if your team already uses screen recordings, you already have the beginnings of some amazing team training docs.
Put a shout out on your team Slack channel, and ask everyone to send over any useful help guides they have put together. Add these into a training doc for new joiners.
You can record some fresh videos if needed, and embed them into the docs.
Top Tip: If you're a remote team, ask each team member to record one video introducing themselves and giving an insight into what they do. Add this to your team training doc, so any new joiners can quickly work out who's who without having to nag everyone in their first few weeks.
BONUS: Share stuff you love!
This one is something I do personally all the time.
If I spot something I like from another product I'll ping a screen recording to the team to show them what it is and why I like it.
This is so much better than asking your team to go and signup and run through the whole process themselves. Here's an example, where I found a beautifully crafted upgrade trigger on a product called Hello Bar. Take a look for some inspiration: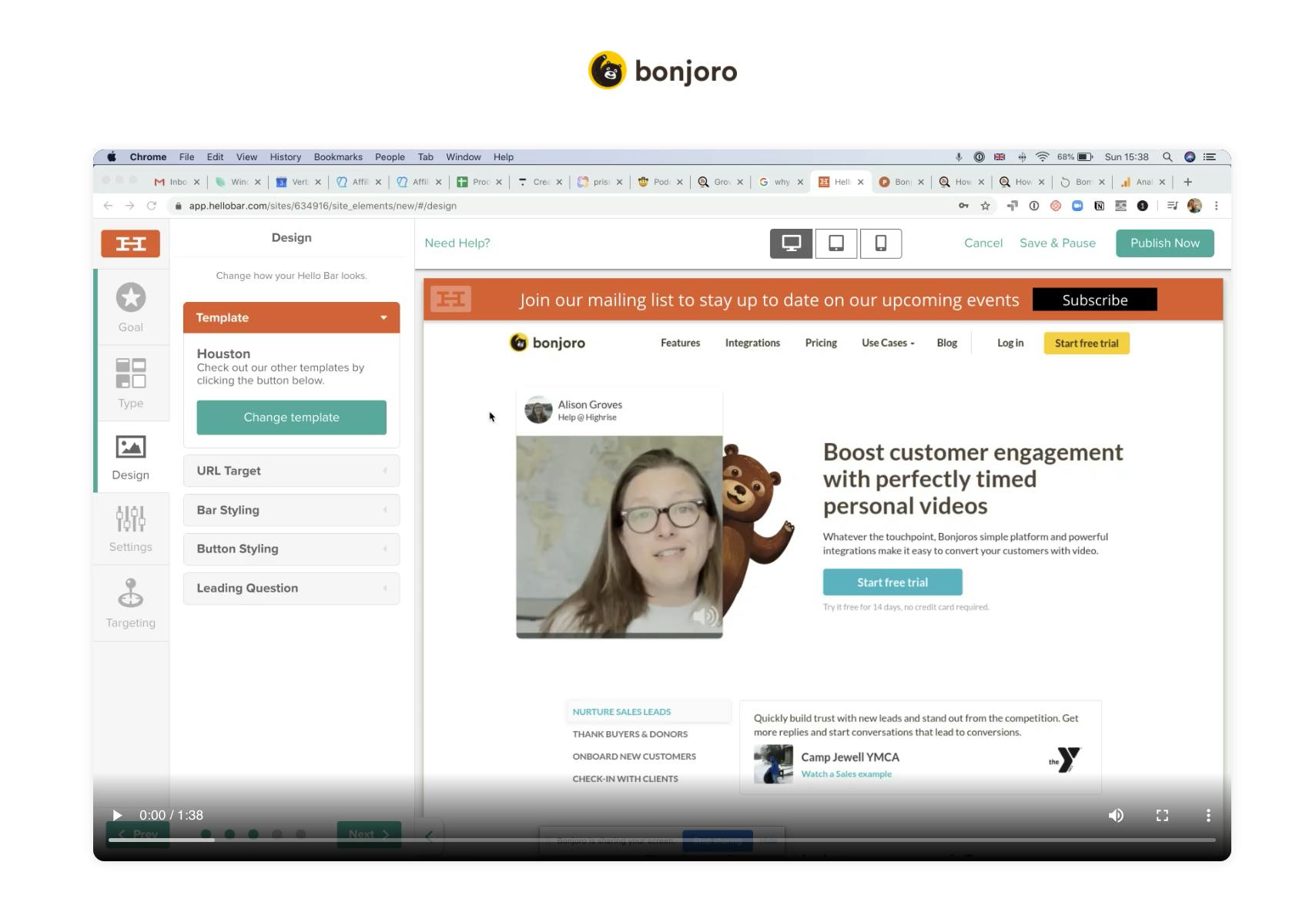 Download our free HD screen recorder
You can get your own Free HD screen recorder right here.
And if you're ready to move onto the next-level of video mastery, check out our video funnel playbook where you'll find over 35 proven ways to use video to grow every part of your business, from sales, to retention, to referrals, reviews and beyond.
Head here to grab your copy (no email required)