10 Super-Handy Video Scripts for Bonjoro Creators
If you're reading this, you're probably already convinced of the power of personal video.
It's amazing for engaging new leads, thanking customers for buying from you, and a whole range of other points in the customer journey.
But where we hear most people get stuck is knowing what to say in their videos:
Should I start by saying their name?
Should I tell them what to do next?
How much information is too much?
Well, we're here to save your blushes, and get you recording great videos for your specific use-case.
We've broken down some simple scripts that you can use verbatim, or tweak to suit your own vibe. Each script fits a specific use-case, so just scroll down to find one that suits your business objective.
P.S. Don't forget to read our Video Funnel Playbook for more inspiration on where and when to use videos in your funnels.
10 super-handy video scripts for Bonjoro creators
Five rules you should know first
After recording 50,000+ videos ourselves here at Bonjoro, there's a few things you should know about personal video scripts before we start:
You will only be able to retain and easily repeat a video of about 30-60 seconds in length.
This length of video should be between 3-6 sentences long. Any more and you will struggle to deliver it consistently without retakes.
You should stick to a maximum of two call-to-actions. Let's say for example you want them to reply to your video AND click on a call-to-action button, that counts as two.
Make sure to say their name right away. If you've taken the time to record a video for them, at the very least say their name so they know it's personal.
For maximum impact try to add some extra context about their specific situation. Bonjoro custom attributes help you do this, by showing your customer information right at the time of recording your video.
OK with that out the way, let's dive in!
Video script #1: New enquiry follow-ups
Up first, the bread and butter of Bonjoro videos, the new lead or enquiry follow-up. The name of the game here is to turn more of your inbound leads into sales.
"Hi [Name], it's [your name] from [your company] here! I wanted to reach out personally to let you know I've got your enquiry. I see that you need [context about their enquiry]. I can definitely help you with that because [insert reason why you are specifically qualified to deal with their enquiry]. The best first step to take is to [CTA 1 - e.g. 'book a call with me']. Just click on the button below to grab a time in my calendar, and if you need anything else just hit reply and we can go from there. Thanks again and hope to speak with you soon!"
CTA example used: [Book a call with me]
Inspiration (including example videos): Wedding Photographers That Never Get Ghosted with a 96% Open Rate
Video script #2: Webinar follow-ups
Webinars are an amazing way to attract leads into your funnel, but how many leads just ghost you and go quiet? A follow-up video here is the perfect way to close that distance, and make each attendee feel super special.
"Hi [Name], it's [your name] from [your company] here! We just wanted to send you a quick message to THANK YOU so much for checking out the [webinar name]! I noticed you [context 1] and [context 2], and I'd love to personally invite you to [CTA 1 - e.g. join our community]. The community is jam-packed with [context about your community and how it will help them]. Click on the link below this video to join the community, or if you have any questions at all, simply reply! Thanks again, and see you on the inside!"
CTA example used: [Join our community]
Inspiration (including example videos): How a marketing agency used Bonjoro to get hired by the CEO of #24 on Inc 5000
Video script #3: Demo booking follow-ups
So you got someone to book on a demo. Yay! But, how many of those turn into no-shows? Data shows that 20-35% of people fail to show up to sales calls. Sending a personal video 24 hours before your call is the perfect way to show that person your face, and ensure they feel more obliged to show up.
"Hi [Name], it's [your name] from [your company] here! I noticed that you booked a demo with me on [X date]. I wanted to reach out and introduce myself before the call, and to let you know what we'll be covering. The demo will work like this: [explain process in 1-3 points]. I also put together a short agenda for you - just hit the button to see that, so you know what to expect! If you have any questions before the session, just hit reply to this video, and I'll get right back to you. Cheers!"
CTA example used: [See agenda] - link to a Google doc with dot point agenda on it, including timestamps.
Inspiration (including example videos): How a SaaS Sales Team Achieves 85% Open Rates with Video Emails
Video script #4: New customer onboarding
Looove this use-case! What better way to make your new customers feel welcome into your product and community than by sending them a personalized welcome via video? It's so easy to do, but has an outsized impact. In fact our own data shows that leads that have a conversation with us off the back of our onboarding videos convert at 78%!
"Hey [name]! This is [your name] from [your company] and I saw you recently opened a trial. I am excited to have you onboard and starting your journey of [your value prop]! Attached below is a calendar link if you want to book a 1:1 strategy/demo session with one of our team. If you don't have time for a 1:1 session, let me know if you'd like me to share a personalized screen recording showing you around the platform and I will send that over! Thanks again for joining [your company name], and feel free to reply if you have any questions."
CTA example used: [Book a strategy call]
Inspiration (including example videos): How Clickfunnels Added $20,000 to their MRR With a Unique Onboarding Approach
Video script #5: Thanking buyers
When was the last time you bought something online and received a proper thank-you? As in a real thank-you, said with real human words, that made you feel appreciated. Personally I can't remember the last time. So imagine the impact of sending your own buyers a real, personal thank-you video. This is what some of our most successful customers are doing. Here's a sample script for you.
"Hi [Name], it's [your name] from [your company] here! I wanted to say thank you so much for your recent order of [their order SKU]. I like to take the time to thank each of our customers for their purchase and support - every order truly means so much to me! If you have the time, once you've received your order and you love it, please leave a positive review. And please post a picture of you (wearing/using/opening) your [their order SKU] - we LOVE to see real pics from our customers! Thank you so much again, and if you have any questions feel free to reply to this video. Bye!"
CTA example used: [Leave a review]
Inspiration (including example videos): How an eCommerce company turned a £3 purchase into a £1000+ customer
Video script #6: Celebrating milestones
An absolute doozy for you online course creators, and shout out to the absolute heroes, Julian and Bob, over at Pybites, for inspiring this one. They run a python coding community and send their students lovely little motivational videos whenever they complete a coding challenge - they've got it all hooked up to Bonjoro using Zapier so they can send the videos from their mobile wherever they are in the world at that moment. Go check out this example, and then use this script yourself.
"Hi [Name], it's [your name] from [your company] here! I saw that you hit [milestone] on our platform - congratulations! I hope you're having fun and learning a lot of [insert your product/course content]. Remember you can do [action you want them to take - e.g. sharing their progress on social]. Let's aim for the [next milestone] - I challenge you, you can do it! Good luck!"
CTA example used: [Take the next course!]
Inspiration (example video):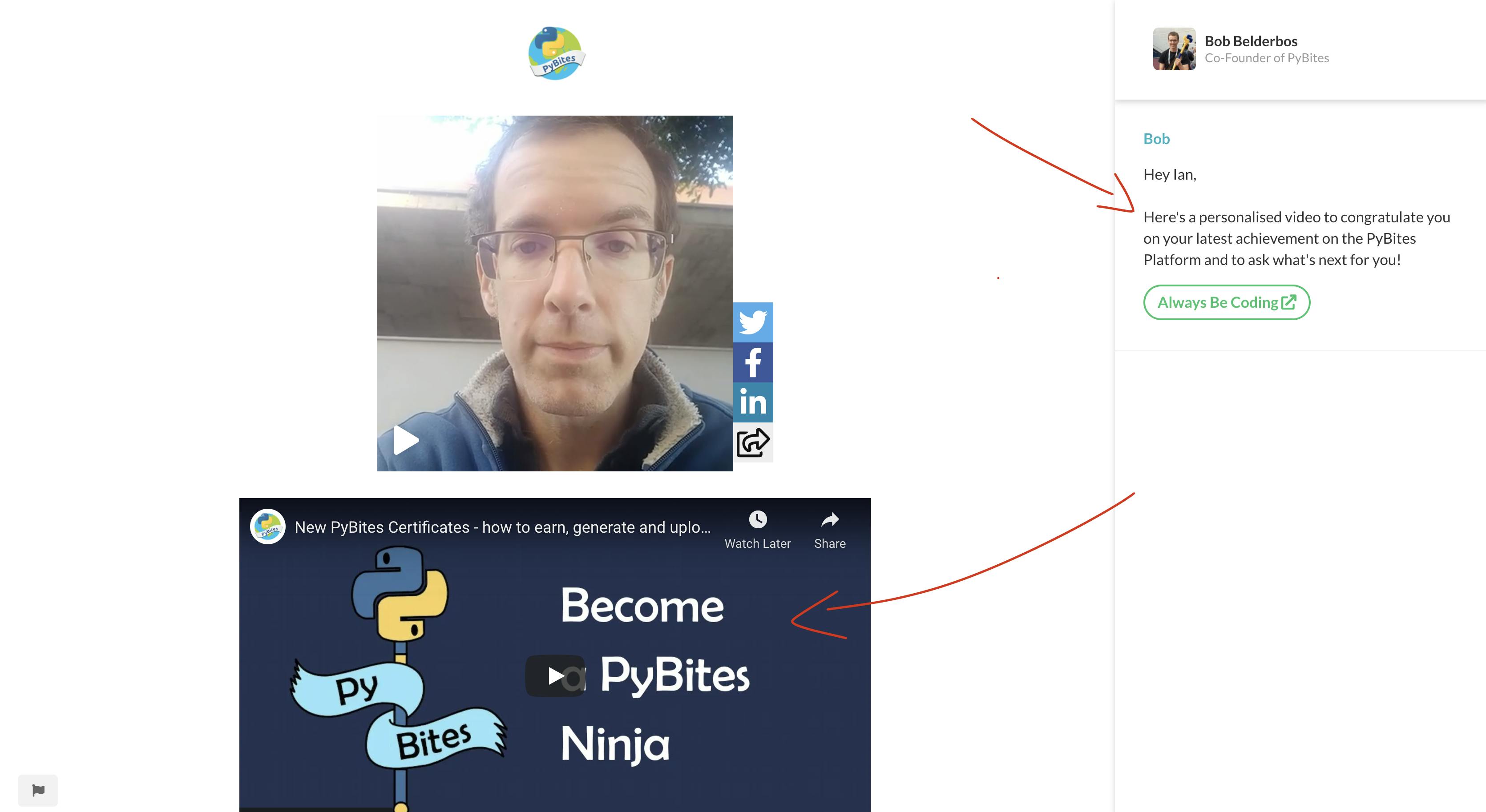 Video script #7: Cancellation feedback requests
If you don't know why your customers cancelled, you can never really fix what you did wrong, and your business will have a hard time growing. But there's a problem, cancellation insights can be notoriously difficult to get a hold of - after all, the person you're asking is leaving your business. Personal video changes this - taking the time to follow up personally with each cancelled customer brings you way more responses and insight, and can also lead to saving that customer.
"Hi [Name], it's [your name] from [your company] here! I noticed you just cancelled your subscription with us. We're very sorry to see you go, but wanted to personally thank you for your support this past [time period - use custom attributes] - it genuinely means a lot to us. If you have 30 seconds free now, please fill in the form below to give your feedback - it would be a huge help to me and the team, and help us improve our product. Thanks again, and best of luck with your business too!"
CTA example used: For this one simply embed your feedback form below your video using a Next Gen template + Google Form or Jotform, or use the CTA [Leave feedback]
Video script #8: New product launches
Sure you can ping out a big email blast to let your audience know you're launching something awesome. Or you can do a ton of social posts. But what if you let your VIPs know what's coming in a much more personal way. That's what our customer Abbey Ashley did, and saw a HUGE $350,000 increase in course sales vs. a launch without the personal video touch. Just wow!
"Hi [Name], it's [your name] from [your company] here! I wanted to personally reach out to let you know about our latest product here at [your company]. It helps you do [insert value proposition], and I thought you'd love it specifically because of [context a] and [context b]. If you'd like to learn more about it and give it a try just hit the link below my video to check it out! And of course if you have any questions, just reply to this video! Take care!"
CTA example used: [Learn more]
Inspiration (including example videos): How a membership business increased launch sales by $348,000
Video script #9: Testimonial requests
Customer testimonials are one of the most critical parts of your conversion funnel. In fact they can lead to a 34% increase in conversions and 45% more traffic according to research. Yet many companies struggle to implement a system for gathering and publishing them. The key is to look for signals that a customer is having a great experience, and make a super-personalised "ask" at the perfect moment. Just like this:
"Hi [Name], it's [your name] from [your company] here! Here at [your company] we're forever blown away by how our customers use [your product], and inspired by the stories they tell us about how it's helped their business. Now that you've [completed X milestone], we'd love to hear your story, and give you your own special place on our website with a testimonial! If you're keen to help us out, just click the link to share your story via our super-simple testimonial request form! Thanks so much, and just hit reply if you have any questions!"
CTA example used: [Give testimonial]
Video script #10: At-risk customer engagement
We all know how much it stings when a customer hits that cancel button, or emails you to say they're jumping ship. The key is to jump in before that happens. Think about key signals that might show a customer is becoming inactive and in danger of churning, then send them a video just like this.
"Hi [Name], it's [your name] from [your company] here! I noticed that you haven't [at risk milestone - e.g. logged in for X days]. I wanted to personally reach out and see if you need help with anything inside your [your product] account. If you'd like to hop on a 1:1 strategy call, just book in via the button below. Or if you'd like me to send over advice with a personalized screen recording just say the word, and I'll send that over so you can view it in your own time! Take care, and hope to hear from you."
CTA example used: [Book 1:1 strategy call]
How to use your perfect video script
So there we have it!
10 simple but super effective moments to use personal video in your funnels, and 10 easy-to-adapt scripts that you can use yourself.
When you're ready to test them out, you can grab yourself a free 14 day trial of Bonjoro. Our team is on-hand to answer any more questions you might have about using video to grow your business in a fun and delightful way!